To quote Peter Lynch of Magellan Fund:
During the Gold Rush, most would-be miners lost money, but people who sold them picks, shovels, tents and blue-jeans (Levi Strauss) made a nice profit.
Hence instead of investing in drillers, we are going to invest in the modern day shovel makers, in this case, Spectra Energy Partners (NYSE:SEP).
Background of Spectra Energy Partners
Spectra Energy Corporation (NYSE:SE) is a Fortune 500 company, and Spectra Energy Partners is a Master Limited Partnership formed by Spectra Energy Corp. as its dedicated investment arm. By and large, they can be seen as one company, even when they are listed separately, as the management of both companies is essentially the same.
Spectra Energy Partners, based in Houston, is one of the largest fee-based MLPs in North America, and its mandate is to supply energy to underserved markets with high demand for natural gas, liquefied natural gas [LNG] and crude oil. As such, its assets cover more than 17,000 miles of transmission and gathering pipelines, approximately 150 billion cubic feet of natural gas storage and approximately 4.8 billion barrels of crude oil storage.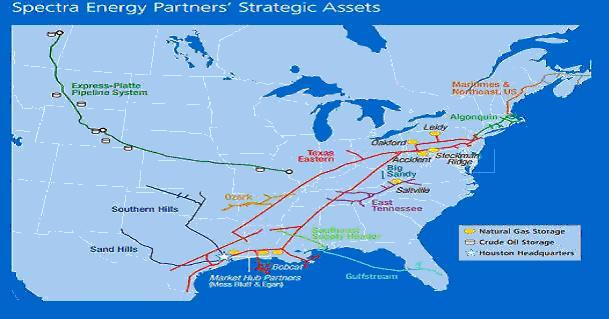 Source: Spectra Energy Partners
Significance of natural gas in electricity generation
The major raw materials for electricity generation are oil, coal, renewables, nuclear and natural gas. According to the Energy Information Administration [EIA], the natural gas portion of the pie increased from 16% in 2000 to 30% in 2012. It is further projected to increase from 30% to 35% in 2040.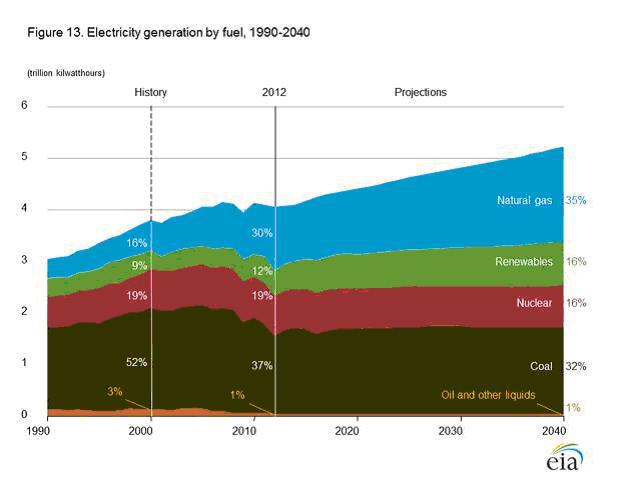 Source : EIA
This would clearly play into the strength of Spectra Energy, as its pipeline would the most economic and reliable form of delivery to the power generators once it is up and running. Environmental concerns would continue to push down coal's portion in electricity generation.
A contributing factor to LNG's prominence is largely due to the U.S. fracking boom. A large supply of natural gas has been unlocked. It would serve to push down the cost of natural gas as seen in this 2-year chart from Nasdaq below. This would help natural gas to gain traction, as it becomes the most significant fuel for electricity generation.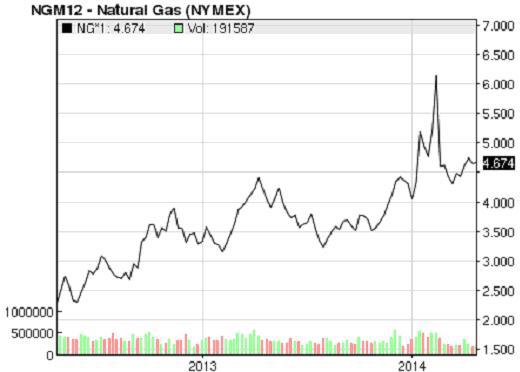 Source : NASDAQ U.S. National Average natural gas price
(Note: Actual current price may change when the link is clicked. Still, the fact remains that the peak price of $6 is behind us.)
Buying Opportunity Amid Environmental Concerns
On May 12, 2014, the Associated Press reported a regulatory oversight in the oil and gas fields on federal and indian lands. This has lead to concerns over water contamination and other environmental impacts. The implication for investors in this development is the uncertainty over new rules for fracking and shale oil and gas production for oil exploration companies. For the drillers, it would mean that they would have to set aside more funds for environmental safety. This would raise the barrier of entry. Weaker drillers may be driven out of business.
This does not have a direct impact on SEP, as it is in the pipeline business. At the end of the day, whichever company has the oil and gas would have to use their pipeline to move them to the end users, such as utility companies.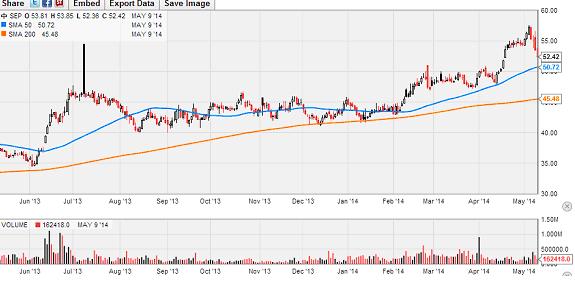 Source : Yahoo Finance dated May 09, 2014
This chart shows the price of SEP has broken down from the high of US$57.56, 3 trading days before to the current price of US$52.42. From the volume chart, it is clear that there is no heavy selling into the price decline.
This pause in the uptrend is an excellent opportunity to buy into SEP, as it shakes out the weak longs and presents a good opportunity for profit-taking since its steady rise from USD$42.50 (+35.43%) in January 2014.
Entry by Selling Put Options
In this investment climate, there will be investors looking to buy put option protection. For an astute investor, it would be a good time to provide them with this 'insurance' and lower the cost of entering into the position.

Source : Yahoo Finance dated May 09 2014
Right now, the price of the $50 would be a recommended price to enter the market, as it is the natural support level for SEP, as seen on the price chart above.
The seller of the put option would be obliged to buy it at $50, but with the option premium, the real cost would be $48.65 per unit. It is likely for the option to be filled in this month, as the selling gathers momentum as weak longs get margin calls along the way.
Fundamental Upside of SEP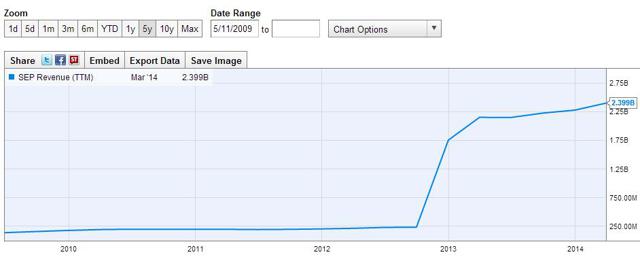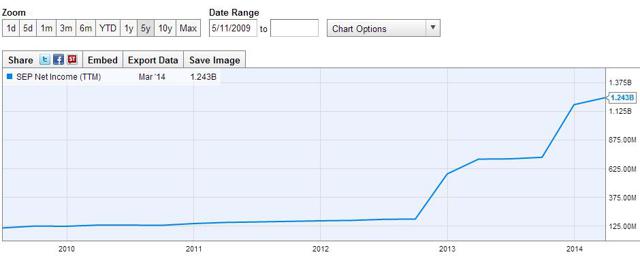 Source : Y-chart
Rising revenue and rising net income implies that management kept a tight lid on costs during its expansion.

Source : Y-chart
For the past 5 years, dividend has grown steadily from 0.375 to 0.556 per unit. This rewards long-term holding of the unit.
In addition, SEP has plans to expand into Florida, New York, New Jersey and Ontario, as released in the latest shareholder's meeting in April 2014.
In just 5 months from the beginning of the year, SEP has risen 35%. After this environmental issue gets out of the headlines, at the latest by the end of May, we are likely to see the resumption of the upward trend. Assuming that SEP rebounds from $50, growing at 35% again, we could see SEP at $67.50 by end of October 2014.
Downside Risk
The major downside risk for this company would be if the U.S. decided to allow the export of natural gas that is currently banned. Producers would naturally prefer to sell it to the highest bidder to maximize profit and that would clearly not be the U.S.
Just look at how much Japan is willing to pay for its LNG. The U.S. (Henry Hub) is paying around $5/MMBtu while Japan has to import its natural gas at $15.70/MMBtu. The price premium of $10.70 is enough to swing any excess capacity that is not locked up in contractual agreements.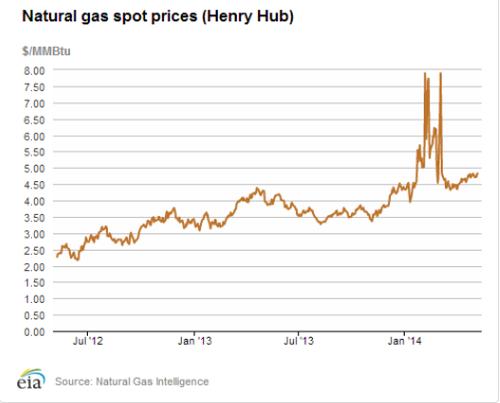 Source : EIA


Source : Y-Chart 5 Year View
Historically, the U.S. has been lucky to pay amongst the lowest prices for LNG consumption.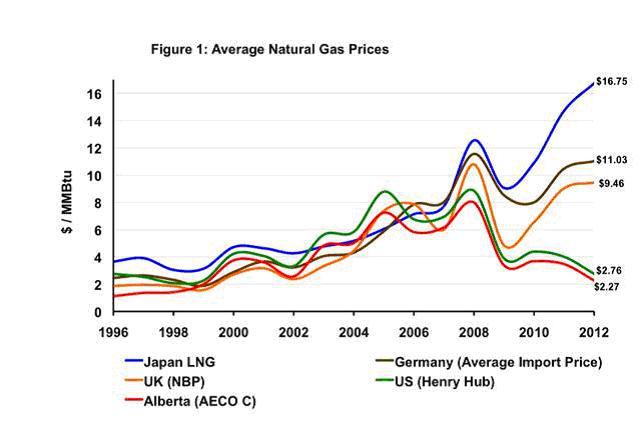 Source: RBN Energy
However, this position is still going through the rounds in Congress. We have to keep our eyes peeled for any action in this aspect and adjust our plans accordingly.
Conclusion
Spectra Energy Partners would be the beneficiary of the U.S. fracking boom, which transformed the U.S. from a net energy importer to near self-sufficiency within a span of 3 years. It has the expertise to transport and store LNG to other parts of the country that need it. This is an entity created to milk the high growth potential of supplying to underserved regions of the U.S., making it the crown jewel of Spectra Energy.
An experienced, deep and dedicated bench of management talent would ensure the steady execution of projects coming up in the pipeline. They have a proven record of being able to increase revenue while keeping a lid on costs and increasing profitability. Given management's track record and current conditions, we believe that it has more deals coming up that will be announced in the near future.
The media attention can turn out to be a blessing in disguise for SEP as it gets into the radar of fund managers who will realize that SEP is wrongly punished for an issue that does not affect them.
In life, success can sometimes mean being in the right place at the right time and the ability to seize the opportunity when it comes knocking on the door. We believe that Spectra Energy Partners fits the bill and would be a valuable inclusion in any diversified portfolio that seeks exposure to the U.S. fracking boom.
Disclosure: I have no positions in any stocks mentioned, and no plans to initiate any positions within the next 72 hours. I wrote this article myself, and it expresses my own opinions. I am not receiving compensation for it (other than from Seeking Alpha). I have no business relationship with any company whose stock is mentioned in this article.