Abbott Laboratories (NYSE:ABT) has been relatively quiet since spinning off its U.S. drug business, which included Humira, AndroGel, and Kaletra. Since the spin-off, which occurred 1/1/13, shares of Abbvie (NYSE:ABBV) are up 50%, while Abbott has seen shares rise 22%. Abbott announced its first acquisition since the split on Friday with CFR Pharmaceuticals. The deal will significantly boost Abbott's international presence and will boost sales and earnings, which should see shares move 20% higher.
Abbott Laboratories announced the acquisition of CFR Pharmaceuticals, a Chile-based drug company. The deal more than doubles Abbott's Latin America branded generics presence. The deal also makes Abbott a top ten pharmaceutical company in Latin America. Abbott is paying $2.9 billion, plus assuming $430 million in outstanding debt to acquire the company.
CFR Pharmaceuticals had sales of $768 million in 2013. Abbott estimates that CFR will add $900 million to sales in its first full year (2015). Abbott then expects double digit sales growth for several years. The company's CEO Miles D. White had this to say:
This acquisition will significantly enhance and broaden Abbott's Latin American footprint, and is well aligned with our long-term strategy and commitment to fast-growing markets.
The deal gives Abbott a huge boost in Latin America, where CFR has a strong presence in 15 countries. The company has key areas of focus in women's health, central nervous system, cardiovascular and respiratory diseases. The key to the press release on Friday for me was the growth being seen in Latin America. The Latin America pharmaceutical market is expected to hit $73 billion in 2014. That number is expected to grow to $124 billion by 2018, or a growth of 70% in four years.
Here are the countries where CFR Pharmaceuticals has a presence:
Argentina
Bolivia
Chile
Colombia
Costa Rica
Ecuador
El Salvador
Guatemala
Honduras
· Nicaragua
Panama
Paraguay
Peru
Venezuela
Vietnam
The company lists Chile, Peru, Argentina, and Colombia as its strongest markets. Emerging market sales were 30.5% for CFR in fiscal 2012. That number is expected to grow to 41.4% of total sales by fiscal 2017. Colombia is becoming one of CFR's strongest markets, after a 2012 acquisition of Lafrancol. In December 2013, CFR had a market share of more than 8% in Colombia. This ranked better than large pharma companies like Pfizer (NYSE:PFE), Sanofi (NYSE:SNY) and Bayer (OTCPK:BAYZF). Also considering Abbott had a share of 4%, CFR could be dominant in Colombia for the future.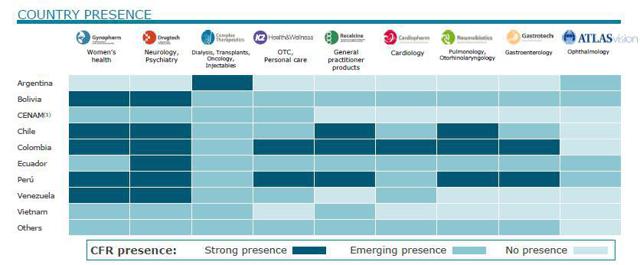 Abbott will also try to bring its own products to new markets and better compete against foreign rivals with the deal. The company expects the deal "to provide opportunity to expand each company's portfolio across Latin America."
CFR Pharmaceuticals has over 1000 products available for sale. CFR has 14 manufacturing facilities. The company also has 2300 medical representatives who visit over 140,000 physicians every month. The company has five core divisions:
Drugtech
Gynopharm
Recalcine
Complex Injectables
Biomedical Sciences
The company's top ten brands made up 16% of 2013 sales. Here is a look at how sales breakdown for several units:
CFR has grown from a Chile drug company to a dominant force in Latin and Central America. The company started its international expansion in 1988 by entering Paraguay. In 2007, the company entered Asia with a joint venture in Vietnam. A deal to acquire 39.5% of Allergy Therapeutics (OTC:AGYTF) also gave CFR a presence in the United Kingdom.
Here is a look at financials for CFR Pharmaceuticals:
| | | | | | |
| --- | --- | --- | --- | --- | --- |
| | 2009 | 2010 | 2011 | 2012 | 2013 |
| Revenue $mil | 313 | 378 | 491 | 571 | 768 |
| EBITDA $mil | 61 | 96 | 99 | 100 | 170 |
| Net Income $mil | 43 | 65 | 91 | 80 | 96 |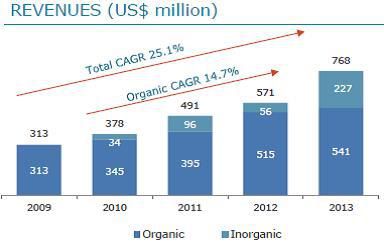 Here are some highlights from the CFR Pharmaceuticals March Presentation:
Cardio Pharma saw growth of 26% to $39.9 million with Central America, Peru, Chile, and Colombia being key areas.
Neumobiotics saw growth of 39% to $37.7 million with Chile, Peru, Colombia, Paraguay, and Bolivia key areas.
Entered aesthetics area in Chile, Colombia, and Peru with launch of Reage
EBITDA grew 70.4% in fiscal 2013
I am incredibly bullish on this deal, as it gives Abbott a huge door open to growth markets in Central and Latin America. CFR's joint venture and presence in Vietnam could also help Abbott expand in the Asian region as well. Rather than go after companies with huge market capitalizations, like other large pharma companies are, Abbott is going for strong growth in the years to come.
Abbott saw first quarter sales fall 2.5%, hurt by currency weakness of 3%. Earnings per share of $0.41 were in-line with company guidance. Here is a look at how sales break down by unit (international sales are based on operational and not reported):
| | | | |
| --- | --- | --- | --- |
| (in $ millions) | U.S. Sales | International Sales | Total Sales |
| Total | 1,489, -2.9% | 3,755, +1.8% | 5,244, +0.5% |
| Nutrition | 689, -4.0% | 942, -0.1% | 1,631, -1.7% |
| Diagnostics | 310, +6.0% | 807, +4.7% | 1,117, +5.1% |
| Established Pharma. | N/A | 1,151, -0.7% | 1,151, -0.7% |
| Medical Devices | 468, -6.8% | 844, +4.7% | 1,312, +0.3% |
Abbott is seeing recovering market share in international markets and nutrition, which could significantly boost third and fourth quarter revenue and earnings. A new adult nutrition brand is launching in Japan soon and recent infant formula brand Eleva launched in China last week. Diagnostics was one area of significant growth, where Abbott reported a 5% gain. The company's bioresorbable vascular scaffold ABSORB is making significant progress towards approval in the United States, Japan, and China. This approval could provide huge growth for the Diagnostics unit over the next few years. Vision care sales were also strong, with a 10% gain for the company.
For the full fiscal year, Abbott Laboratories sees earnings per share hitting a range of $2.16 to $2.26. The acquisition is not expected to impact fiscal 2014 earnings per share. Analysts on Yahoo see the company reporting earnings per share of $2.20. In fiscal 2015, earnings are expected to hit $2.46, based on sales growth of 5.5% to $23.7 billion.
This acquisition is incredibly important for Abbott as it recognizes a new direction. The company saw declining sales in the United States in two of its three main business segments. The acquisition will give international sales a lift and give the company a focus on growing its brands in Latin and Central America with an open door to 15 countries.
The growth from CFR will continue for many years as the company is in the middle of key growth markets for diagnostics and drugs. This is a deal that will reward shareholders for years to come.
Shares are now trading for 17.7 times the $2.20 projected by analysts. Abbott will update fiscal 2015 guidance in the fourth quarter, and I expect it to be higher now with the near $1 billion in added sales from the acquisition. Shares trade at 15.9 times the earnings projection for 2015 before the deal. I think earnings per share will jump to at least $2.60 and could be much higher than that. I think a price-to-earnings of 18 is more reasonable for this company, which would equal a $51 price target for 2015. Shares of Abbott Labs trade around $39. Over the past 52-weeks, shares have traded in a range of $32.70 to $40.49.
Disclosure: I have no positions in any stocks mentioned, and no plans to initiate any positions within the next 72 hours. I wrote this article myself, and it expresses my own opinions. I am not receiving compensation for it (other than from Seeking Alpha). I have no business relationship with any company whose stock is mentioned in this article.