As Seeking Alpha has reported here, AT&T (NYSE:T) is all set to buyout DirecTV (DTV) for $50 billion. We've already had bullish and bearish articles for AT&T on Seeking Alpha as well as elsewhere. One particular article on Marketwatch.com caught our attention, especially since we hold AT&T in multiple accounts.
That article argues that the deal is actually good for AT&T as it could beef up AT&T's free cash flow [FCF], the basis for sustainable dividends. We covered AT&T's free cash flow in detail in this article based on 2013 numbers.
Why is Free Cash Flow so important for AT&T?: Investors usually look at earnings per share to see if the dividends are safe, also known as the payout ratio factor. But companies like AT&T are capital intensive, meaning it takes a lot of cash to make cash. Plus, depreciation is a big part of the expenses in telecom. Hence, earnings per share will appear a lot lower than what the company's day-to-day business generates in recurring revenue.
AT&T has vowed repeatedly that capital expenses will not impact dividends paid to shareholders, and with a 30 year dividend streak, investors must trust the management when they say so.
How does the Cash Flow look right now?:
AT&T currently has 5.19 billion shares outstanding and that means the company is committing $2.38 billion/qtr to shareholders in dividends. (5.19 times 46 cents).
The minimum quarterly free cash flow in the last 5 years stands at $2.22 billion in 2011, when the quarterly dividend per share was 44 cents. In other words, even the minimum quarterly free cash flow already looked sufficient to cover dividends in the worst case scenario.
This is where things get better, as the average quarterly FCF over the past 5 years stands at close to $4 billion, and looking at that number, the dividend appear very safe already.
The maximum quarterly FCF came in at $6.5 billion in 2012 and that is almost triple the current dividend commitment to shareholders.
To summarize, FCF already gives a very healthy picture to AT&T's dividend sustainability.
(Source: YCharts.Com)
How will the deal impact FCF?:
In the Marketwatch article linked above, the bullish analysts expects AT&T will use only 55% of its FCF to fund future dividends. The bearish analyst expects about 85% to be consumed. Put those percentages with the FCF numbers shown in the section above, and you only get rosier things.
At present, dividends consume close to 60% of the average quarterly FCF of $4 billion. Obviously, a 55% consumption of FCF will leave more room for dividend increases, which has been just around 2% for a few years now. And with DirecTv (expectedly) adding more to the FCF, even the 85% payout looks comfortable and will end up pushing the dividend more.
Extrapolation: The table below shows the expected yield on cost for investors buying AT&T here. We are assuming 3% annual dividend growth rate (a rather low number, but safer to err on the side of caution) and the yield on cost will likely go past 7%. This is nothing to laugh at as the safety in this yield is almost unmatchable.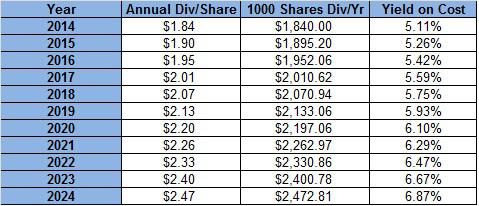 (Source: Current dividend and share price data from Yahoo Finance.)
Capital Gains?: As Seeking Alpha contributor Alex Cho has explained here, the deal might actually end up boosting earnings per share and even assigning a market average PE is likely to boost the share price past the $50 mark. A win-win?
Conclusion: After being initially skeptical about the deal, we are beginning to warm up to the new world order. If the stock tanks on Monday, we believe long term investors need to back up the truck and load more shares. If the market ends up welcoming the deal, we might see the shares run up in price for existing shareholders. A win-win again?
Disclosure: I am long T.
Business relationship disclosure: The article was written by Tradevestor's analyst. Tradevestor is not receiving compensation for it (other than from Seeking Alpha). Tradevestor has no business relationship with any company whose stock is mentioned in this article.