Gold and silver prices continue to be range-bound, for gold around $1,300 an ounce and for silver between $19 and $20 an ounce, but with the recent break-out for another safe-haven in Treasuries last week, it's possible the metals will soon break free of their recent trading ranges as well. Unfortunately for gold bulls, a move to the upside has been made more difficult by the U.S. dollar that is again strengthening, and this appears set to continue amid talk of monetary easing by the European Central Bank that could lead to a weaker euro.
The situation in the Ukraine is not improving, but gold traders seem to be getting bored with this story again despite escalating violence and there being no peaceful resolution in sight. Instead, traders pored over a bevy of U.S. economic data last week but, despite clear signs of accelerating inflation in the U.S., this generated little buying interest for gold and silver.
China gold demand has been steady, and U.S. hedge funds made few changes to their gold holdings in the first quarter. Investment banks remain mostly negative about the prospects for precious metals, though less negative than they've been over the last six months, as this market seems to be "stuck in neutral" heading into the traditionally slow summer months. The recent elections in India could liven things up if, as expected, the new government relaxes the draconian gold import curbs that have stifled demand there for more than a year.
For the week, spot gold rose 0.2 percent, from $1,290.10 to $1,292.70, and silver jumped 1.0 percent, from $19.15 an ounce to $19.34. The gold price is now up 7.2 percent so far in 2014, some 33 percent below its record high of over $1,920 an ounce in 2011, and silver moved closer to even for the year, now down just 0.5 percent, still 61 percent below its all-time high near $50 an ounce reached just over three years ago.
Precious metals remain stuck in narrow ranges that have become even tighter in recent weeks and, when this happens, the result is normally a break-out of some sort. At this juncture, the downside appears to be limited due to ongoing geopolitical concerns and all-in mining costs not far below current metal prices. Similarly, the upside seems limited by generally good U.S. economic data and expectations that the Federal Reserve will continue on its current course of reducing its money printing effort through the summer and fall in advance of raising interest rates sometime next year.
Seasonality is also a factor and, as shown below, though May has been a positive month for metals since the bull market began, June has been the worst month of the year by a wide margin, particularly last year when gold tumbled 15 percent.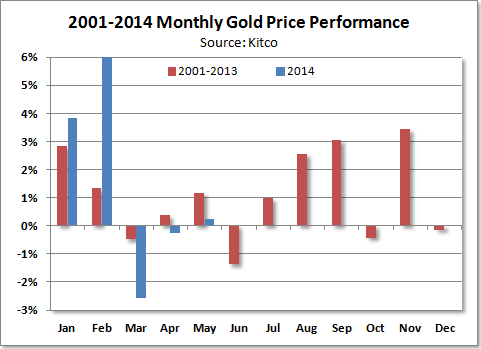 Beginning in July, however, the best stretch of the year will commence, and it's worth pointing out that October isn't quite as bad as it looks. The average October decline of 0.4 percent turns into a gain of 0.9 percent when removing the single worst month for the metals since the century began - October 2008 when the gold price tumbled 17 percent and silver plunged 28 percent.
The recent rally in Treasuries that pushed yields sharply lower and out of their trading range could prompt a similar move out of the recent trading ranges for gold and silver. Something shook loose in markets last week and that may spread.
Investors are now jittery and traders have become twitchy after a number of warnings from high-profile hedge fund managers last week about stocks and some of the money that has flowed from equities into bonds might be diverted into another safe haven in gold, particularly if the on-again, off-again crisis in the Ukraine heats up.
The trade-weighted dollar has strengthened over the last two weeks after it appeared bound for new multi-year lows and, since there is a strong inverse correlation between precious metals and the dollar, this may limit any upside break-out based on safe-haven demand.
The dollar reached its highest level since February against the euro, and those gains will continue if the European Central Bank takes any of the steps they've been talking about for months now, a move that is more likely after Germany's Bundesbank said it was ready to back new stimulus measures.
Inflation in the U.S. is clearly on the rise as detailed in What Today's Inflation Report Could Mean For Precious Metals a few days ago, however, markets seemed little interested. Granted, there was a deluge of economic data last week and much of it was positive, but if the surge in both wholesale and retail prices continues, pushing the year-over-year inflation rate to a multi-year high as soon as next month, investors in the West are sure to take note. Rates for Treasury Inflation-Protected Securities have been rising since the beginning of the year in anticipation of rising consumer prices, and this could also spur more buying of gold and silver after this sector had fallen out of favor amongst U.S. investors over the last year or so.
Gold holdings by large hedge funds were little changed during the first quarter as SEC filings showed Paulson & Co, the largest institutional investor in the SPDR Gold Shares ETF (NYSEARCA:GLD), maintained its stake in the fund valued at over $1 billion. The GLD ETF added to its holdings for the first time in a month on Thursday with the addition of two tonnes, however, it saw a net outflow of one tonne for the week and is now down 16 tonnes for the year. The "tonnes in the trust" for the iShares Silver Trust ETF (NYSEARCA:SLV) were again unchanged and they remain up 351 tonnes so far in 2014.
U.S. investment banks remain quite bearish on precious metals, with Goldman Sachs leading the way and Bank of America not far behind. Goldman reiterated its weekly call for a $1,050 gold price by year-end and BofA's MacNeil Currey said the gold price could fall to below $1,200 an ounce.
UBS analysts were much more constructive than strategists at U.S. banks, but they downgraded their gold price forecasts anyway, dropping their one-month outlook from $1,280 to $1,250 and their three-month forecast from $1,350 from $1,300. In a sign of changing sentiment toward precious metals in Europe (if not yet in the U.S.), French bank BNP Paribas revised its 2014 average gold price forecast up from $1,095 to $1,255, citing strong technical support at around $1,200 an ounce.
Jewelry buying in China was widely reported to be down 30 percent last month versus a year ago, however, it should be noted that April of 2013 was an exceptional month for gold sales as the price dropped by over $100 per ounce in short order, spurring huge demand. According to this IBT report, net gold imports from Hong Kong to mainland China during the first quarter rose from 211 tonnes in 2013 to 276 during the first three months of 2014 as the Middle Kingdom continues to be the important source of global gold demand.
Probably the most encouraging development that could get precious metals prices out of "neutral" and into "forward" rather than "reverse" was the result of elections in India last week that saw Narendra Modi's Bharatiya Janata Party win in a landslide. This sets the stage for a rollback of the many gold import curbs enacted over the last year that have curtailed official gold demand but boosted smuggling to levels last seen 20 years ago.
No action is imminent, but just the expectation of rising demand in what was once the world's leading gold buyer (until being overtaken by China last year) could boost prices in advance of the fall buying season that should see the release of "pent up demand" that stretches back over a year.
Disclosure: I own gold and silver coins and bars.I have no positions in any stocks mentioned, and no plans to initiate any positions within the next 72 hours. I wrote this article myself, and it expresses my own opinions. I am not receiving compensation for it (other than from Seeking Alpha). I have no business relationship with any company whose stock is mentioned in this article.