I probably owe my regular readers an apology. I have produced a paucity of articles on SeekingAlpha in May compared with previous levels of monthly investment ideas. My time has been taken up by the work on two new upcoming monthly newsletters providing deep dives on my best small cap and turnaround plays that will launch at the end of June. Although I look forward to launching these new services, I realize I am much behind in my regular commentary as well as my investment reading.
I am particularly behind on perusing Barrons for good starting points for new ideas and investments. That is unfortunate, as the past few weekly issues have had a bevy of attractive possible turnaround stories highlighted. Two retailers that were recently profiled particularly stand out for possible attractive long-term returns for patient long-term investors.
Last weekend, Barrons did a piece on Big 5 Sporting Goods (NASDAQ:BGFV), a retailer with some 425 sporting goods stores and a market capitalization now of less than $300 million. The stock has been cut in half since its highs last summer, with most of the decline coming recently on back of a disappointing earnings report that saw same store sales decline some 8% year-over-year.
However, this was entirely due to gun and ammo sales plummeting more than 40% from last year. Last year, these sales skyrocketed on fears the Obama administration would be successful in passing significant gun control legislation on the back of the Newton massacre. When this did come to pass - sales fell off a cliff.
However, taking out these sales, overall same sales actually went up in the low single digits year-over-year. Lower comparisons should help the stock in the quarters ahead. The stock is too cheap at around 9x trailing earnings. In addition, based on price-to-sales ratios, Big Five is valued at approximately one quarter to one third that of competitors like Dick's Sporting Goods (NYSE:DKS). A good floor for the stock falling further besides rock bottom valuation is its 3.3% dividend yield. I started accumulating shares in this cheap retailer last week.
This week Barrons shines the light on beaten-down Avon Products (NYSE:AVP). The magazine points out the door-to-door retailer is selling for a 25% discount to the amount Coty (NYSE:COTY) offered to buy the company for two years ago. The company is in the third year of a turnaround effort initiated by its new CEO that was recruited from Johnson & Johnson (NYSE:JNJ) where she was a well-regarded executive.
The company's goal is to get operating margins back up in the double digits by 2016 from under 8% currently. These margins were at over 15% at their heyday in the mid-2000s. Avon also recently settled longstanding bribery litigation with the Justice Department for $135mm. Avon spent over $300 million over the years on investigating the matter internally and on legal expenses. Obviously this will be a big boon in reducing operating expenses going forward.
Insiders seem to be buying into the turnaround story. Myriad insiders have purchased a total of ~$1 million in shares in May so far. The company is also a good long-term play on emerging market demand where it gets 85% of revenues, one fifth of overall sales come from Brazil. Finally, the stock has good long-term technical support at these levels. I will probably start accumulating shares on Monday as it appears a good long-term value for patient investors.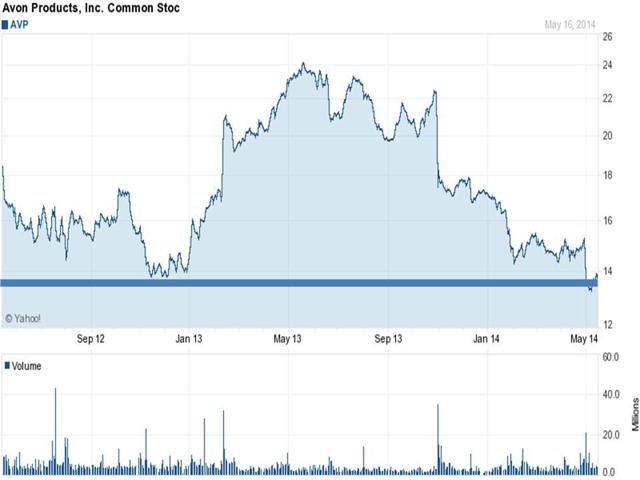 Click to enlarge
Disclosure: I am long BGFV. I wrote this article myself, and it expresses my own opinions. I am not receiving compensation for it (other than from Seeking Alpha). I have no business relationship with any company whose stock is mentioned in this article.