Obama's Federal prosecutors and bank regulators-who may have once thought progress was elusive when it came to holding big banks accountable for flaunting national laws and regulatory standards-recently experienced an unprecedented victory.
Credit Suisse Group AG (NYSE:CS) appears willing to settle in a landmark tax-evasion case. They are expected to pay $2.5 billion as a settlement, including paying our aggressive Department of Justice $1.7 billion and US regulators $700 million.
The deal is still under discussion; however it is expected that the Federal Reserve will receive $100 million, while the New York State Department of Financial Services will receive $600 million.
It is interesting to note that the state agency is getting six times as much-an indication that regulators are finally closing the accountability gap.
The "Too Big To Fail" Loophole
The primary reason why megabanks managed to skip accountability measures time and again was because revoking a bank's charter might have created an economic domino effect. Should the bank go out of business, the massive interruption in employment and the cash flow could have caused a negative impact on the broader economy.
What makes things different in this Credit Suisse case is that federal prosecutors and banking regulators have found a way to impose strict penalties without crippling or killing the bank. The idea is to punish the bank, not destroy it. As part of the deal, the bank will plead guilty in return for some kind of structured payment.
It is expected that the bank will plead guilty this week.
The Attorney General's Relentless Push for Justice
In the past, Attorney General Eric Holder's office has been frustrated in its attempts to make multi-billion dollar bank settlements come to pass. However over the past few months, prosecutors pursuing a wide range of violations of banking and security laws, have managed to quicken the tempo and make many megabanks pay significant fines.
However, the Credit Suisse case takes the accountability issue to another level.
In prosecuting Credit Suisse, which allegedly helped numerous wealthy Americans avoid paying taxes, Mr. Holder had to listen to European government officials try to make a case for their home-country bank.
On May 2, he met with a Swiss minister to talk about the case and told the minister that he would not slow down his push to resolve the Credit Suisse case.
It remains uncertain whether the names of the American tax-evaders will remain anonymous, despite violating US law, because there is a conflict with Swiss law, which guarantees the anonymity of bank account holders.
A Landmark Case
What makes the Credit Suisse case a landmark one is actually not the size of the fine, but the guilty plea. This is unprecedented. Even when J.P. Morgan (NYSE:JPM) agreed to pay $2.6 billion to settle criminal charges for lax security which enabled Bernard Madoff to pull off his multibillion dollar Ponzi scheme, they did not have to admit to the charges, but simply signed an agreement of deferred prosecution.
If U.S. prosecutors are fully successful in structuring the settlement, while preventing a revocation of the bank's license in the US, it will create a powerful precedent for accountability for large-scale fraud.
Outlook For The 'Guilty' Credit-Suisse
Credit Suisse has long been underperforming for shareholders. The bank has missed its earnings-per-share estimates for the past seven quarters in a row.
As the economy has gradually recovered post-collapse, Credit Suisse's market performance has slowly declined.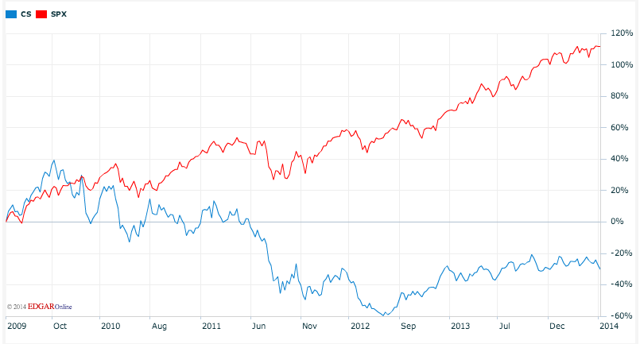 Click to enlarge
(Nasdaq.com)
Dividends for shareholders have also been stagnant at best since 2009.
Although Credit Suisse has come forward with a 'guilty' plea, which we believe is a worthy step toward greater transparency for current and potential investors, we are not confident the bank is in a strong position to deliver for shareholders in 2014.
We recommend that Credit Suisse shareholders should consider selling their shares at this point in 2014.
We invite readers wishing to join the discussion on megabanks to click the +Follow button above the title of this article.
Disclosure: I have no positions in any stocks mentioned, and no plans to initiate any positions within the next 72 hours. I wrote this article myself, and it expresses my own opinions. I am not receiving compensation for it (other than from Seeking Alpha). I have no business relationship with any company whose stock is mentioned in this article.