Early in the year I noted Apple (NASDAQ:AAPL) was stuck in a fairly narrow trading range ($500 to $570 a share) that probably would remain in place until some positive catalysts appeared on the horizon. Fortunately for Apple shareholders, the predicted catalysts came to pass and the stock broke out of its trading range on the upside a few months later.
Apple announced earnings in late April that beat expectations and iPhone sales came in ~6mm units above the consensus. The company also raised its stock buyback authorization by $30B, hiked its dividend by 8% and announced it would split its stock 7 to 1 - the perfect split to get into the price weighted Dow Jones Industrial Average eventually. Not surprisingly the stock jumped from the low end of its previous trading range to burst through the range's ceiling ($570 a share).
However, in the three weeks since the earnings driven rally, Apple appears to be stuck once again in an even narrower trading range (See Chart) of ~$570 to $600 a share. I think this range could continue for a while. While this may not tickle the fancy of Apple shareholders who were looking forward to more short term gains, this is not a long term negative.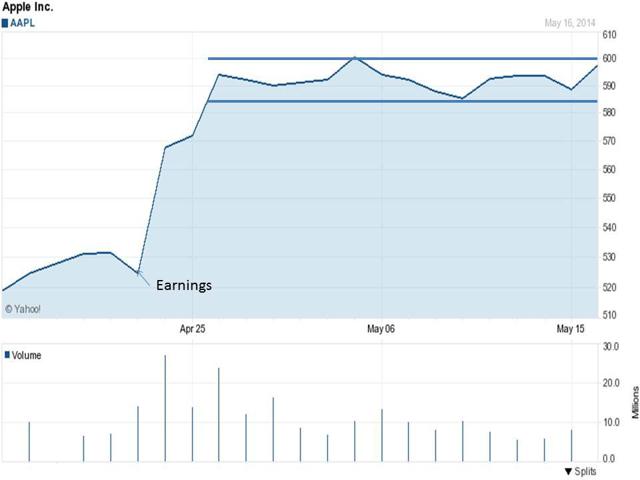 First the ceiling in the previous range of $500 to $570 a share should now act as a solid floor in the new trading range. Second, Apple and other blue chips that have outperformed the overall market all year as money has rotated out of momentum led sectors like biotech, alternative energy and small caps and should continue doing so. This tech giant should also be a strong port in the storm should we get a significant downturn in the market.
In addition, this tight trading range can be used to make additional premium income by selling short term just out of the money puts or bull put spreads every time the stock gets close to the bottom end of the trading range at just over $570 a share. Closing these positions when the stock then moves to the top end of the range should be nicely profitable.
Finally, this breather in the rally in the shares that have taken the stock from under $400 a share in late June to the current ~$600 a share is likely to be temporary. The company will be reporting earnings again towards the back end of July. Given how aggressive Apple has been with their stock repurchase program, I think the company will retire ~2% of its float this quarter which should boost earnings by 2% in and of itself. I don't think this is factored into all analysts' estimates.
In addition, next quarter will be the first one with a full three months of iPhone sales from China Mobile (NYSE:CHL) will be seen in the results - the phone launched on that network on January 17th. Between now and the next earnings report (or during it) I also expect the company the company to announce the launch date of the iPhone 6 with much anticipated larger screens. I think this launch will be bigger than the previous one due mainly to the demand for these larger screens. The tepid reviews and sales of the latest Galaxy phone from Samsung also bode well for Apple's upcoming launch.
Finally, given Apple's reported interest in Beats to leverage its iTunes ecosystem; I would not be surprised if Apple gets into the mobile payments in a big way. This would be greeted with enthusiasm by investors as the ~800mm iTune registered users would give it a huge potential base to get into this business.
In summary, Apple looks like it will be "stuck" in a narrow trading range for some time. However, Apple shareholders should take heart as it appears the stock is just taking a temporary reprieve from its ~$200 a share move since its lows of last June and there are profitable ways to play this tight trading range as well.
Disclosure: I am long AAPL. I wrote this article myself, and it expresses my own opinions. I am not receiving compensation for it (other than from Seeking Alpha). I have no business relationship with any company whose stock is mentioned in this article.