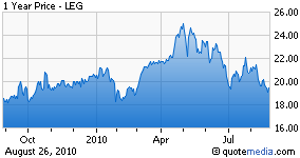 Leggett & Platt (NYSE:LEG), a diversified manufacturing business which is also a S&P 500 Dividend Aristocrat, reported favorable Q2 results. Key points are:
EPS of 34¢
Sales of $874 million, 15% above last year
Repurchased 2.3 million shares
Net debt was 27% of net capital on 6/30/10, below target range of 30-40%
Increased 2010 EPS guidance to $1.0-1.30 on sales of $3.2-3.4 billion
Each of the 4 divisions had a good quarter (coming off a terrible quarter last year):
Annual Sales increase--EBIT increase
Residential: 8.9%-------------86%
Commercial Fixturing: 7.7%------------412%
Industrial Materials: 28.6%------------22%
Specialized Products: 38.2%----------1006%
Total:15.4%-----------109%
The quarterly dividend was increased a penny to 27¢ ($1.08 annualized) in Q3 (traditional time for increasing the dividend). 2010 is the 39th consecutive year of dividend increases. While LEG brags about a compounded growth rate of 14% for dividends over this period, that is just a mathematical calculation which means little going forward. Their dividend target payout is 50-60% of earnings and EPS will need substantial gains before future quarterly increases will be more meaningful than just a penny (roughly 4% increase).
An active program to buy treasury stock is a sign of financial strength and LEG has had such a program for many years. This year LEG anticipates purchasing 5-7 million shares, approximately 3 million will be used for employee stock purchases and options. The remainder are expected to reduce outstanding shares by up to 4 million shares.
LEG businesses are not exciting but the company is in a recovery mode. Management raised guidance for sales and earnings in 2010. In addition, LEG is guiding for 4-5% long term sales growth and improving profit margins (incremental sales have very high margins). The current dividend provides a generous yield of 5.6%, one of the highest for a Dividend Aristocrat.
With a yield over 5%, there is a degree of risk that all investors should understand. But cash flow is good and financials are strong. Improving results in Q2 suggests that even with thin coverage of the dividend, LEG is in good shape and the streak of higher dividends will be extended. LEG has an annual report which includes 12 pages explaining business results in front of the standard 10-K.
In addition, the website has an outstanding Factbook (PDF file) with 110 pages containing a wealth of information. For those who expect an investment to earn 10% annually, a high dividend yield with annual dividend increases is a good start on realizing that goal.
Disclosure: No position