This has to be a maddening time for anyone who invests based on fundamentals. It seems harder than usual to get a handle on what's happening with the economy, and that, of course, will make it hard to handicap corporate earnings prospects. And when we finally do think we know what's going on, we don't like what we're seeing, as has been the case in the past week, when data suggested that maddeningly persistent weakness in employment was restraining the willingness of consumers to spend, especially on big things like housing.
Interestingly, among the strategies I'm working with right now, the one that has been causing zero angst is the only purely technical model I ever used with real money, the ETF Pullback model I introduced I introduced on Seeking Alpha a little more than month ago. It backtests great (see Appendix below) and has met expectations in subsequent real-world use.
As one might expect for a technical model, the weekly list of names can be a head-scratcher for anyone who wants things to make sense based on what appears to be going on the world. This week's list is no exception:
Here's last week's conservative collection, which is now being sold.
The current list is a primarily cyclical collection. If we go into a double dip recession, I could easily see the first four going over a cliff, and even EWD may not be a great choice (hard to say: I'm not up to speed on Sweden).
Whatever the logic, it is what it is. A similar list two weeks ago, which left me just as perplexed, rose 2.85% on average for the week in the past week, with CUT and SEA (both of which I bought then) up 3.70% and 3.43% respectively versus 0.43% for the S&P 500.
As the market opens right now, stocks are up based on a better than expected employment number, so maybe the technicals are, once again, signaling something that's upcoming on the fundamental side. We'll see what happens in the week ahead.
APPENDIX
To create this model, I started with a very broad-based ETF screen I created in StockScreen123.com.
Eliminate ETFs for which volume averaged less than 10,000 shares over the past five trading days

Eliminate HOLDRs (I don't want to be bothered with the need to trade in multiples of 100 shares)

Eliminate leveraged and short ETFs (I think of these as hedging tools rather than standard ETF investments of even trading vehicles)
Then I sorted the results and select the top 5 ETFs based on the StockScreen123 ETF Rotation - Basic ranking system, which is based on the following factors:
120-day share price percent change - higher is better (15%)

1-Year Sharpe Ratio - higher is better (15%)

5-day share price percent change - lower is better (70%)
The idea of using weakness as a bullish indicator is certainly not new. But often, it's an add-on to other factors that, on the whole, emphasize strength. Here, the weakness factor is dominant, with a 70 percent weighting.
This model is designed to be re-run every week with the list being refreshed accordingly. I trade through FolioInvesting.com, where I pay a flat annual fee rather than a per-trade commission, so I don't care about the fact that turnover form week to week is often 80%-100%. If you want to follow an approach like this but do have to worry about commissions, the strategy tests reasonably well with three ETFs, or even with one. (Cutting the number of ETFs is far preferable to extending the holding period.)
Figure 1 shows the result of a StockScreen123 backtest of the strategy from 3/31/01 through 7/22/10.

Figure 1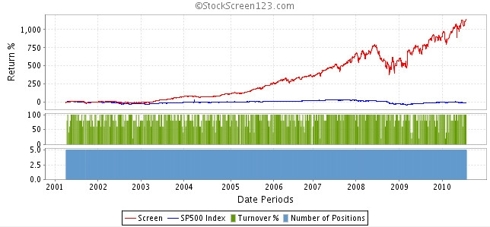 (Click to enlarge)
Figure 2 covers the past five years, a very challenging market environment that witnessed the fizzling of many strategies that had succeeded for a long time.
Figure 2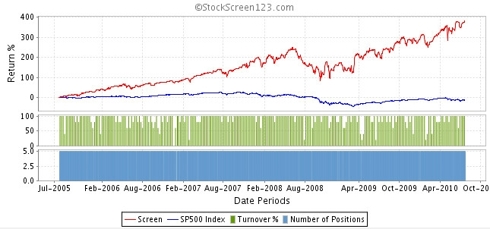 (Click to enlarge)
Disclosure: Author long CUT, SEA, FAA, XLI and EWD