Back in March, I wrote an article about Apple (NASDAQ:AAPL) detailing why the next two months were critical. Obviously, the main issue was going to be the fiscal Q2 earnings report, but investors were also looking for a major update on capital returns. Now that investors have had a chance to digest the tremendous earnings report, it is time to look at Apple again. Today, I'll take a look at the remainder of Apple's fiscal year, where things get really interesting.
A quick recap of the Q2 report and capital returns:
For all of those Apple bears out there, you probably don't want to read this section. Apple reported a tremendous quarter thanks to the iPhone, smashing revenue and earnings estimates. While many were looking for a year over year decline in revenues, Apple posted nearly 5% growth. Fiscal Q3 guidance was about as expected.
Perhaps the biggest news was that Apple raised the buyback by $30 billion and the dividend by about 8%. I recently examined why this was a dividend raise disappointment. Let me explain my stance again briefly since I received a lot of negativity in regards to this article, and I believe the overall point was missed. Apple's dividend raise, on the face of it, was a disappointment as it was way below many expectations. I noted that Apple may not even pay out more in total dividends during fiscal Q3 than the year ago period, but I also fairly stated that Apple chose to go the buyback route. This probably will set up Apple for another light raise next year and perhaps for the following year as well. Apple had a low domestic cash position, and the company will be using that cash for the buyback and perhaps an interesting purchase. More on that later. However, the dividend raise was less than expected, and with the rise in the stock, Apple is not a tremendous dividend investment when compared to industry peers.
Beats acquisition - so much noise!
I don't want to spend a tremendous amount of time on this, because there has been a lot of coverage of Apple's interest in Beats. Apple is acquiring a world class brand in music, and the streaming service seems to be the major driver here. However, I was a bit surprised at those that make it seem like this is the end of the world for Apple. I guess the Apple bears have to complain about something. I'd be curious to hear from the bear camp if the purchase price was $2.5 billion or even $2.8 billion instead of the rumored $3.2 billion. Would those complaints be less in that case? What if Google (NASDAQ:GOOG) was the potential acquirer? I'm sure Google would get praised for it.
In the end, if this was a $30 billion acquisition, I'd be a bit more worried. But if Apple really is only paying about 3 times Beats' revenues, that's almost what Apple is trading at currently. This acquisition would represent around 0.6% of Apple's market cap, and just 2% or so of Apple's cash balance. Yes, I know that most of Apple's cash is outside the US, which is why Apple's recent debt deal makes even more sense now. I'll cover the debt deal in greater detail in the buyback section later. While this acquisition would be much larger than Apple's previous acquisitions, a $3 billion or so deal is extremely small in the world of Apple. When all is said and done, I believe many of the critics of this deal will be silenced.
A staggered iPhone launch / current estimates:
Even though we are still months away from any potential launch, investors know that rumors of the next iPhone will come in bunches. The current expectation is that Apple will launch two larger screen phones, one a 4.7 inch version and another being approximately 5.5 inches. Many rumors state that the smaller of the two will be launched first, with the larger one to follow in the weeks/months after. A recent rumor states that the smaller version will launch in August, with the larger one in September. In recent years, Apple has launched the iPhone with a week or so to go in its fiscal Q4 (September ending quarter) in select markets. This gives a late quarterly boost to sales, but the majority will then come in fiscal Q1 as Apple launches in additional markets. Last year was a bit different as China got the iPhone right away.
As long as Apple doesn't launch in either May or June, the iPhone 6 will not have an impact on the current fiscal Q3. However, additional carriers like China Mobile (NYSE:CHL) and NTT Docomo (NYSE:DCM) will be bullish for iPhone sales over the prior year period. In fact, a recent report states that Apple has increased its iPhone share in Japan to 36.6% for the year ending in March, up from 25.5% a year earlier, thanks to Docomo selling the iPhone.
So there will be a couple of competing forces in the current quarter. You have increased year over year iPhone sales, which were much stronger than expected in fiscal Q2, versus potentially weak iPad and heavily declining iPod sales. Apple reported revenues of $35.32 billion in the year ago period, and the company guided to revenues of $36 billion to $38 billion for this year's period. You can see in the table below how analyst estimates have fared in recent months. The yellow line is the day Apple reported fiscal Q2 results which included fiscal Q3 guidance.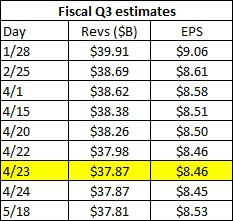 Currently, analysts are looking for a revenue number at the high end of Apple's range, a roughly $2.5 billion increase or 7% growth. That would be an acceleration of fiscal Q2's 5% growth, and this could be possible thanks to increased iPhone shipments. There could be some extra revenue potential if a Beats deal is closed during the quarter. Beats revenues won't add much in a short time, but any revenues generated would make it easier for Apple to beat estimates. It would obviously be easier to beat if analysts take down their estimates towards the midpoint of Apple's range. Analysts have been known for reducing estimates into the quarter, although after last quarter's huge beat, I don't know if it will happen this time around.
Obviously, the launch date of the iPhone 6 will have a huge impact on fiscal Q4. Should an August launch occur, millions of iPhone sales will be pulled into fiscal Q4 and out of fiscal Q1. Since the day after Apple reported fiscal Q2, Q4 estimates have not changed too much. The average revenue estimate has decreased from $40.74 billion to $40.60 billion, with the average EPS estimate up a penny to $9.32. In the prior year period, Apple reported $37.47 billion and $8.26.
The buyback and debt sale:
As I've detailed in many prior articles, a majority of Apple's cash balance is located outside the US, unavailable for dividends or buybacks without repatriation. At the end of the most recent fiscal quarter, Apple had just over $150 billion in its cash pile, but only a little over $18 billion inside the US.
The other way to "use" these foreign funds is to borrow against them, which Apple did in 2013, taking out $17 billion. This year, Apple took out another $12 billion in debt, primarily to help with the buyback. I also suppose this year's offering could help with any acquisitions, including Beats. Apple did pay a bit more in interest this year, as rates did rise and Apple was adding more debt to the balance sheet. In the table below, I've compared the fixed rate debt from these two offerings, the 2013 version here and the 2014 version here. Apple also took out floating rate debt in both years, but I'm not focusing on that here.

Apple took out $14 billion in fixed rate debt last year, with a weighted average interest cost of about 2.10%. This year, Apple took out $10 billion in fixed rate debt, but the average interest cost was up to 2.74%. Both of those numbers do not include any tax savings. Apple can use this debt to buy back its shares, which as of Friday's close, were yielding 2.20%.
In terms of the buyback, Apple is at an interesting crossroads. When the stock fell in January, Apple held a line in the sand and defended the stock with a huge purchase around $500. As everyone knows, and you can see in the chart below, Apple shares are not near $500 anymore. Shares are just a few bucks from their 52-week high.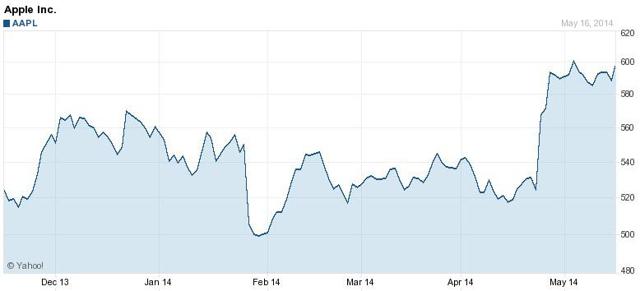 (Source: Yahoo! Finance)
Apple increased the buyback total to $90 billion, but still expects to finish it by the end of 2015. But with shares rocketing higher recently, what does Apple do? Does the company buy now, hoping that shares continue higher, or does Apple try to wait for a pullback? Another interesting item to consider is the upcoming 7 for 1 stock split. Right now, it doesn't take as many shares to buy back $1 billion worth of stock. Apple's average volume is around 10 million shares right now. Post-split, I don't think it will average 70 million shares a day, once we get a few weeks past the split. Apple buying back 1 million shares a day now represents about 10% of the stock's daily volume. But what if volume dips to 50 million on average post-split? Then, 7 million shares bought back a day represents about 14% of daily volume. The split may factor into Apple's decision. Apple had $14.1 billion left as part of the $60 billion plan at the end of fiscal Q2, according to the 10-Q filing. When you add in the $30 billion increase, you're talking about $44.1 billion left. If Apple only had a few billion left, some of the questions I detailed may not be as critical. But with this much left, Apple has some interesting decisions to make.
Where Apple stands now:
In that dividend article above, I detailed how Apple's dividend yield will trail industry peers like Microsoft (NASDAQ:MSFT), Cisco Systems (NASDAQ:CSCO), and Intel (NASDAQ:INTC) for quite some time. I noted that for dividend only investors, that's a bad thing. However, right now, investors get more from Apple in terms of the buyback, so as a complete package, is Apple the best investment right now? Let's look at some current growth and valuation numbers. For the table below, the Google numbers are based on Class A shares (NASDAQ:GOOGL), as that is where Yahoo! Finance has them. You can get to Apple's current estimates in the link provided above. From that page, you can get to estimates for all of the other names.

*EPS growth and P/E are non-GAAP.
In terms of valuations, Apple is either the cheapest or second cheapest. It depends on what GAAP conversion you use for Cisco, and if you look at calendar year 2014 valuations the two are fairly comparable. Apple's revenue growth slots in third place currently, and that's thanks to Microsoft's recent acquisition which is boosting Microsoft's revenue growth numbers. In terms of EPS growth, Apple slots in second currently, mostly thanks to the buyback.
So back to my original question. Does Apple offer the best overall package of these names currently? Honestly, the answer depends on your thoughts about the buyback. If you think Apple is going to execute the buyback fairly evenly between now and the end of 2015, then I would definitely say Apple has the best package currently. However, if you believe Apple's buyback may be a bit slower (waiting for a potential pullback) through the summer and then start to speed up late in 2014 and throughout 2015, then I would say Apple doesn't offer the best package in the short-term (next few months). I do believe Apple offers the best overall package through the end of 2015, so it is just a matter of what's the right buy point.
Intel and Cisco are starting to turn things around, and both offer higher dividend yields, with the buyback edge to Cisco right now of those two names. For investors purely looking for income, I think Intel is your best bet for the next few years. Microsoft actually shows the most revenue growth right now thanks to the acquisition, with its buyback speeding up a bit and a dividend raise expected later this year. For the next couple of years, Google will most likely be the growth leader, but it offers no dividend and no buyback currently, along with the highest valuation.
Updating my Apple price target:
For those that have read my prior coverage of Apple, you know that I use a floating price target for Apple. I have a multiple table, and to get the target, you apply the given multiple to whatever the current estimate is for Apple's fiscal year earnings. If Apple does that level of earnings, my price target reflects where I think Apple would be when it reports fiscal Q4 earnings in October. I've updated the target table, as seen below.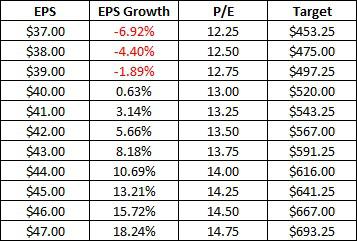 With a current analyst average estimate of $44.11, my Apple price target is a little under $619. That means that if Apple does just what analysts expect, I think there is about $20 or so of upside in this stock. That doesn't seem like much, but again, that's only if Apple just meets current estimates. I will update this table again after Apple splits to show the split-adjusted numbers.
Final thoughts:
Apple's fiscal Q2 is in the rear view mirror. While the dividend raise was disappointing, Apple's buyback increase will support shares and boost EPS through the end of 2015. When it comes to the Beats acquisition, I think it will be positive in the end, and even though it might be a larger than normal purchase for Apple, it's small in the grand scheme of things.
The focus will now start to shift to the upcoming iPhone launch. Two larger phone screens are expected, but the important question is when? Fiscal Q3 will be impacted more by the China Mobile and Docomo deals, and Q4 will all be about the new iPhone. The timing of the launch will be critical for revenues and earnings, so investors and analysts will need to adjust accordingly. Right now, Apple offers the best total package through the end of 2015 thanks to the buyback. Like Apple, investors need to decide whether or not to buy shares now, or wait for a pullback. A decision is also required on whether to buy pre or post-split. In this article, I updated my price target on Apple shares to approximately $619, so I believe this stock has more upside.
Disclosure: I have no positions in any stocks mentioned, and no plans to initiate any positions within the next 72 hours. I wrote this article myself, and it expresses my own opinions. I am not receiving compensation for it (other than from Seeking Alpha). I have no business relationship with any company whose stock is mentioned in this article.
Additional disclosure: Investors are always reminded that before making any investment, you should do your own proper due diligence on any name directly or indirectly mentioned in this article. Investors should also consider seeking advice from a broker or financial adviser before making any investment decisions. Any material in this article should be considered general information, and not relied on as a formal investment recommendation.