I recently read a Seeking Alpha article that discussed the possibility of an interesting pair trade: long Pepsico (NYSE:PEP) and short Coca-Cola (NYSE:KO). As someone who has covered Coca-Cola a bit on this site, this article got me thinking. Today, I will examine a couple of short- and long-term reasons why investors might want to short Coca-Cola.
An eventual buyout?
You've probably heard by now that Coca-Cola upped its stake in Keurig Green Mountain (NASDAQ:GMCR) to 16% from 10%. This has fueled speculation that eventually Coca-Cola will look to acquire all of Green Mountain. Green Mountain is about a year or so away from launching its Keurig Cold platform, which will likely be reliant on Coca-Cola products thanks to the partnership between the two.
The original deal got Coca-Cola into Green Mountain at a price that was less than $75 a share. It seemed like a good deal for Coca-Cola at the time, especially considering the pop that Green Mountain shares received on the news. Although, one must not forget Green Mountain shares were around $15 a couple of years ago. Also, this additional purchase was not at that original price. In fact, the open market purchase portion of this deal was at prices ranging from more than $96 to more than $110. In fact, over 400,000 shares were bought at a price of $110 or higher. It was one thing for Coca-Cola to get Green Mountain shares under $75, but the argument changes quite a bit when you buy shares that are 47% higher. Should Green Mountain shares fall back, Coca-Cola may look very foolish. We've seen Green Mountain shares collapse before, and there are some red flags right now. I don't think Green Mountain will plunge from more than $110 to $15 like it did a few years ago, but shares could drop a little.
There are two issues that I would potentially have with a Coca-Cola acquisition of Green Mountain. First, I must admit that it would provide a boost to Coca-Cola's revenues, although Green Mountain is not the fast grower it used to be. There's an important item to consider, and it is margins. In the table below, I've compared margins for Coca-Cola to Green Mountain and SodaStream (NASDAQ:SODA) for their most recently reported quarters. These are all calendar Q1 2014 margins, and that quarter is actually fiscal Q2 for Green Mountain. I also included Green Mountain's calendar Q1 from two years ago to make an important point.

In the latest quarter, Green Mountain actually had a higher operating margin than Coca-Cola. However, gross margins were way less, and net profit margins were lower as well. In recent years, Green Mountain has seen a huge gross margin spike thanks to a drop in coffee prices, which has recently started to reverse in a big way. While Green Mountain is becoming more efficient in its operations, gross margins are likely to take a hit in 2015. Also, look at SodaStream's margins in its most recent quarter. When Keurig cold launches, that will add more expenses for Green Mountain, and the battle with SodaStream will likely lower margins for all.
Additionally, there's another consideration that investors in Coca-Cola may not like, and that's the cost of the acquisition. Green Mountain's market cap as of Friday's close, excluding the 16% stake, was almost $16 billion. If you put any sort of acquisition premium on the deal, you're talking close to $20 billion. Does that work for Coca-Cola? Let's take a look at the balance sheet at the end of Q1 compared to recent years. Dollar values are in millions.

*Liabilities to assets ratio.
Of that cash pile amount, approximately $14.1 billion was located outside the US at the end of Q1. That would require the company to repatriate and pay a huge tax bill. While Coca-Cola isn't in any financial trouble currently, a $20 billion acquisition might be tough to swallow right now. It would either require a large amount of debt, or a sizable amount of equity. Coca-Cola's market cap was around $180 billion at Friday's close. The equity route also doesn't seem likely considering the company's buyback in recent years. In addition to potentially shrinking margins, the added cost of either debt or equity may not be worth it to investors for the extra growth.
Growth versus valuation:
What are you currently getting with Coca-Cola shares? Well, in the table below, I've compared Coca-Cola against Pepsico and Dr. Pepper Snapple (NYSE:DPS) in terms of growth and valuation for 2014 and 2015. I've also included Green Mountain and SodaStream to make a further point about this space. You can view current Coca-Cola estimates here, and get to all others from that page.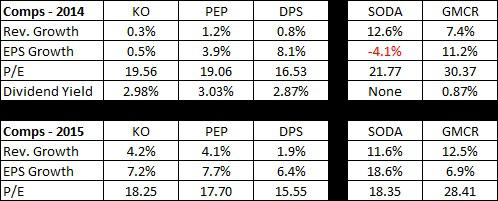 A couple of numbers jump out at you right away. First, of the three more established names, Coca-Cola trades at the highest valuation. Coca-Cola trades at a premium to Pepsico, while having a slightly lower dividend yield and less growth expected over the two year period. Additionally, you'll notice on the right side that Green Mountain has the highest valuation of all of these names. To be fair, when Coca-Cola made the initial GMCR purchase, GMCR shares were trading at about 19.63 times this fiscal year's expected earnings and about 17.16 times the next fiscal year. However, the latest purchase was at a much higher valuation, and if you think Coca-Cola will buyout Green Mountain, what will that price be?
If Coca-Cola shares were trading at half a P/E point lower than Pepsico, this argument might be completely different. At that point, Coca-Cola shares would be worth about $38.79 based on current 2014 earnings estimates. With Coca-Cola shares more than $2 above that now, it does look like shares are a bit expensive. I wouldn't be arguing for a short position if this stock was in the $36 to $39 range, but at nearly $41 it is a different story.
Higher end of the range:
Coca-Cola shares have been on the rise in recent months, and they seem to be topping out a bit near $41. The stock is close to its upper bollinger band, which usually is a level of resistance for the stock. Looking at a longer-term chart tells a similar story. The chart below goes back two years and is shown with the 50-day moving average.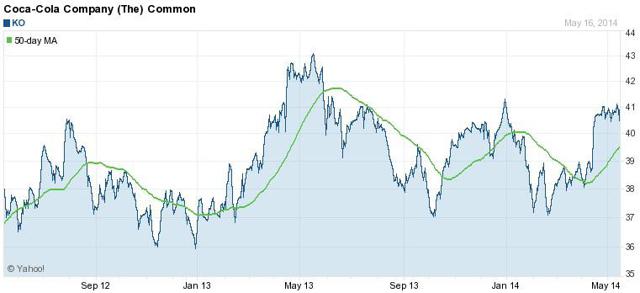 (Source: Yahoo Finance)
There have been three major rollovers in this stock once it clears $40 a share. In these cases, the stock has turned and headed lower before the moving average line did, which makes sense. The last couple of times Coca-Cola was near $41, it lost roughly $4 a share. At the upper end of the recent range, Coca-Cola may be worth a short position for a couple of bucks.
Final thoughts:
While some may never think of shorting Coca-Cola shares, now may be a good time to do so. Shares of the beverage giant look expensive when compared to peers, and technicals show a pullback may be coming. Coca-Cola recently increased its stake in Green Mountain at much higher prices than its original purchase. While a purchase of Green Mountain may provide new growth opportunities for Coca-Cola, a deal seems expensive and may be a negative margin wise. While I don't see shares of the beverage giant falling off a cliff, investors looking for a short idea may find a few points of downside here.
Disclosure: I have no positions in any stocks mentioned, and no plans to initiate any positions within the next 72 hours. I wrote this article myself, and it expresses my own opinions. I am not receiving compensation for it (other than from Seeking Alpha). I have no business relationship with any company whose stock is mentioned in this article.
Additional disclosure: Investors are always reminded that before making any investment, you should do your own proper due diligence on any name directly or indirectly mentioned in this article. Investors should also consider seeking advice from a broker or financial adviser before making any investment decisions. Any material in this article should be considered general information, and not relied on as a formal investment recommendation.