After such a great deal of time, we are finally looking at what should be a good day in the market. I will get to my intro in a bit…
We have two buy picks for you today: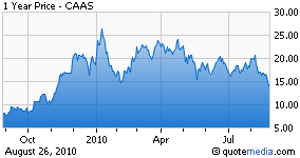 Buy Pick of the Day #1: China Automotive Systems Inc. (NASDAQ:CAAS)
Analysis: One of our long term positions that has been very troubling is China Automotive. Over the past three weeks, the stock has dropped 33% in value. The company had some strong earnings three weeks ago, but the company disappointed on forecast. Ever since then, the market started to fall and the stock got into a technical rut that has sent this one flying downwards. The stock is now hitting its lower bollinger band and is severely undervalued to the point that it is almost ridiculous. A buy of CAAS, today, will also help to hedge my losses I have accrued on our long term position we have in this company.
Today, the company is poised to benefit from a market that is expected to open higher and should move higher on some great news from unemployment claims, which some of the best news the market has heard in quite some time. Claims were a 473,000 versus the expected 485,000. Additionally, the company was rated by Fortune Magazine as the 23rd "Fastest-Growing Company in the World." This honor is definitely a small catalyst, but when combined with a strong market and heavily undervalued stock, it could ignite.
How undervalued is CAAS? The stock at 21 had a price to earnings of about 20. At 14, the stock's price to earnings is about 13.5. The company's RSI has dropped below 50 all the way to just above 30. I rarely see stocks below 35, so this is a very low relative strength reading. Fast stochastics have been sitting at oversold for three straight weeks, and the stock's bands have been breaking apart and widening. They should contract and narrow now.
Today should be a redemption day for CAAS. If the stock can get some buyer interest and start to make a move, it will have a wildly fantastic ride back up to the top as it did down. China and Asia had a decent day overseas, unemployment claims are sparking the market, and this is a technical anomaly. We want to take advantage.
Entry: We are looking to enter CAAS at 14.15 - 14.30.
Exit: We are looking to exit for a 2-4% gain.
Stop Loss: 3% on bottom.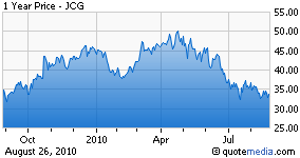 Buy Pick of the Day #2: J. Crew Group Inc. (JCG)
Analysis: J. Crew Group is one of a handful of companies that is slated to report earnings this evening along with our Play of the Week friend (NYSE:IRF). Typically, on days before earnings, companies expecting to make a nice move year-over-year or stocks that have been selling get a nice boost before earnings. Buyers speculating on the stock want to jump the gun and get some of that earnings day bounce if they think it is safe not to disappoint. JCG is a company that is definitely very safe this quarter.
The company is slated to report EPS at 0.46 vs. 0.29 one year ago. The company, like many other apparel stores, is looking to benefit from a strong start to the summer before the slow down. Apparel companies have been hit or miss, but we are not earnings playing this. So, we just want it to be able to rise before earnings. What we need, therefore, is undervaluation and interest in the stock. I have covered interest, and it will be there. The stock is looking at a 30% increase in earnings from one year ago per share, higher revenue, and the company has a history of beating earnings (13%+ last four quarters at least).
Undervaluation is also there. JCG like most other stocks has been hit as of late with the market's decline. The stock has lost about 4% since the beginning of August, and it has had no run up into earnings. The company has been hit with bad day after bad day, so on a day when it is the day before and claims come out positive, a run up is in order. The stock is under 50 on RSI, fast stochastics show a neutral stock neither overbought or oversold. Additionally, the company has about 8-10% movement to its upper band.
It looks like it is all lined up for JCG to move upwards today.
Entry: We are looking to enter at 33.70 - 34.00.
Exit: We are looking to exit for a 2-3% gain.
Stop Loss: 3% on bottom.
Disclosure: No positions