AT&T (NYSE:T) only wants to keep its leadership position in the Game of Thrones. The $48.5 billion buyout of DirecTV(DTV) is an expensive but necessary marriage of convenience and survival. The threat posed by the Comcast (NASDAQ:CMCSA) and Time Warner Cable (TWC) alliance requires a defensive move on the part of AT&T.
Like the old game of thrones of medieval age kingdoms, territorial warfare requires competing lords of the land to often marry queens or princesses in neighboring kingdoms. This is to make an ally out of a potential rival. The never ending fight for supremacy and continued profitability requires companies to consolidate.
The shift towards to streaming media delivery to cater to smartphone and tablet users also calls for AT&T to quickly find an experienced content provider with a huge library of content and licensing deals with content providers. This move is seen by many as strategic but AT&T's marriage to DirecTV also drew pessimism.
A 40% premium payment for DTV is a gamble that may still pay big time when the synergy between these two companies gets maximized. There's a big risk that these two companies' services won t easily get integrated quickly. In my own opinion, DTV is worth betting on. DirecTV is a beautiful queen with a debt handicap. However, she is very successful in generating lots of money from her twenty-million strong monthly-paying subscribers.
DirecTV is an Accretive Acquisition
DirecTV is a queen of the pay-TV genre. AT&T just bought itself a ticket to winning the game of thrones. DTV ended 2013 with 20.25 million American subscribers and the company is earning average monthly revenue of $111.74 from each U.S. subscriber. DTV is under pressure from cable companies and mobile streaming - but it is still cash-cow kingdom with many loyal subjects.
AT&T also gets exposure to DirecTV's Latin American subsidiary which saw a 2013 gross revenue of $6.84 billion. AT&T can bundle its mobile plans with DTV's library of content. Likewise, the DTV customers can also gradually shift towards a bundled pay-TV, broadband internet, and mobile plans from a single company.
Please study the charts for DVT below from Morningstar. DirecTV consistently grew its sales from the last 10 years. Its operating cash flow is healthy considering its heavy debt load.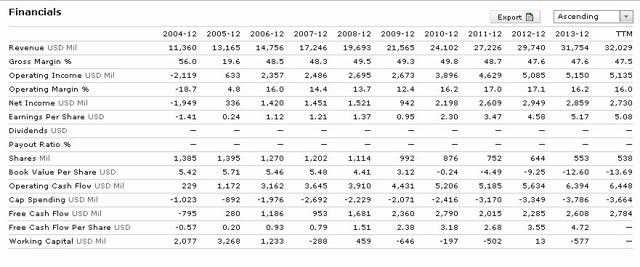 Click to enlarge

Click to enlarge
This tenacity has given DirecTV a Strong Buy recommendation from Alpha Omega Mathematica's (NYSEARCA:AOM) market-comparative high-math valuation system. DTV has a high score of 87% so AT&T is paying rightfully for a high-quality queen. A queen that might just improve AT&T's 72% score from AOM's evaluation algorithm. Even the lord of high-brow journalism, the Wall Street Journal is predicting DTV will bolster the dividends of AT&T.
Please look at DTV's chars and statistical scores from Alpha Omega Mathematica. The $48.5 billion price tag is a fair bet for a fair lady. DVT is underpriced compared to its peers in the technology sector and CATV Systems industry.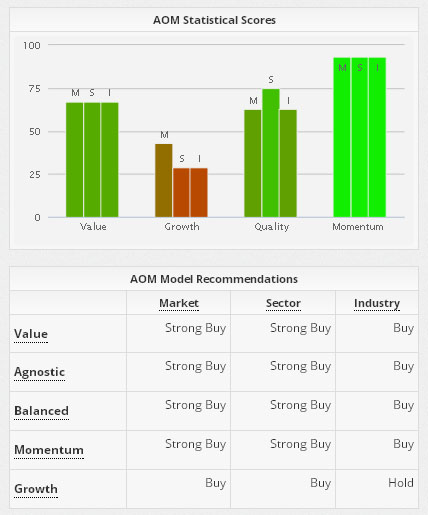 DirecTV also enjoys great management because of its better return and operating margins. DTV's Return on Assets and Return on Investment is double that of its industry peers.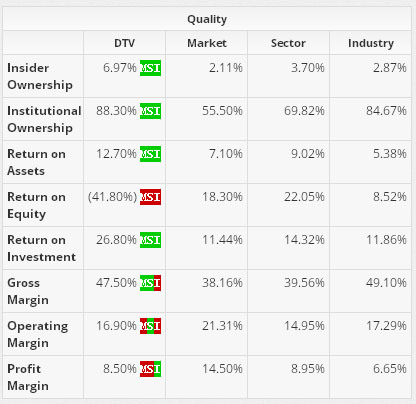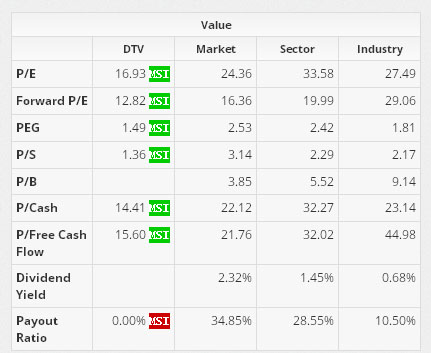 On a mathematical basis, DTV is highly accretive to AT&T's future growth as one of the kings of streaming media. The high debt of DTV is a risk that doesn't negate the overall potential of these two kingdoms uniting towards ruling over the wired and wireless video streaming industry.
Conclusion
The $67 billion gambit on DTV should not be a reason to go short on AT&T. Like the hyper-growth of smartphone and tablet sales, people will gradually migrate to watching their TV shows and movies on their mobile devices. Netflix (NASDAQ:NFLX) has stratospheric valuation because of its leadership position in the streaming video industry.
DTV and AT&T's marriage will likely produce a Netflix clone which will target households and smartphone users. Furthermore, the current pay-TV industry is still a worthy market to be involved in. AT&T is a long-term Buy.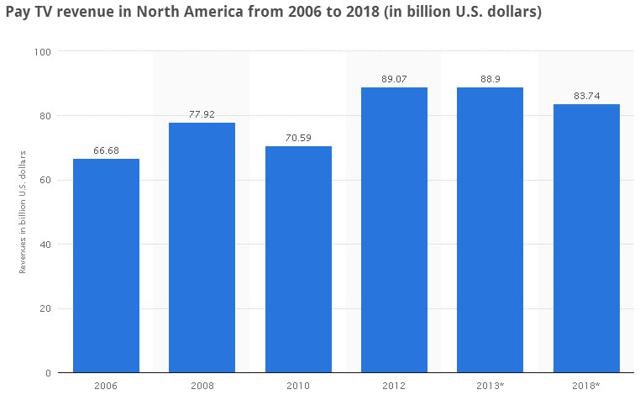 Click to enlarge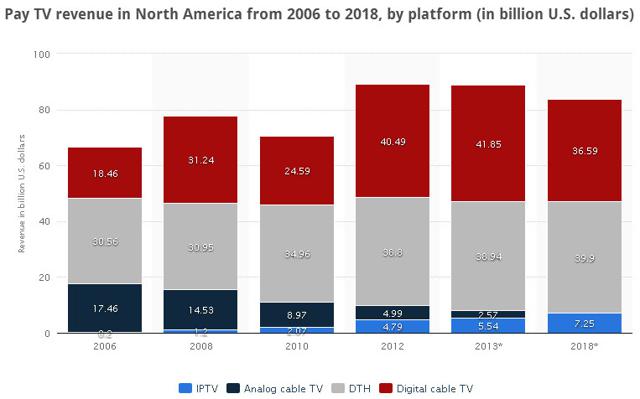 Click to enlarge
Charts from Statista.com
Current DirecTV subscribers will significantly add to the revenue growth of AT&T. There's also a great opportunity for more growth in the IPTV which is growing at double-digit CAGR. A Netflix-like market appreciation for the union of DTV and AT&T might help T improve its next 10-year performance.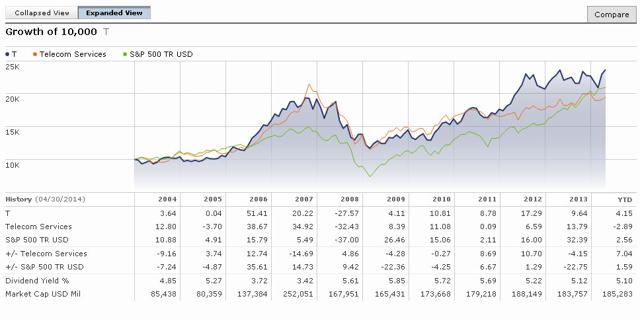 Click to enlarge
Source: Morningstar.com
Disclosure: I have no positions in any stocks mentioned, and no plans to initiate any positions within the next 72 hours. I wrote this article myself, and it expresses my own opinions. I am not receiving compensation for it (other than from Seeking Alpha). I have no business relationship with any company whose stock is mentioned in this article.