Business Overview
AutoZone (NYSE:AZO) is a retailer and distributor of auto parts and accessories, mainly in the US, but also in Mexico, Puerto Rico, and Brazil. The company began operations in 1979 and has about 5,000 stores. The company's trademark slogan is "Get in the Zone" and most would agree the company has an industry leading brand.

Corporate Culture & Governance
The company seems to have exceptionally strong corporate governance and culture. From the 2013 Chairman's Letter:
Our culture, where we dress alike, routinely and enthusiastically perform our Cheer and Pledge, recognize contributions, large or small, of fellow AutoZoners and put our customers first in everything we do, is our secret weapon!
Current CEO and Chairman Bill Rhodes seems very big on culture. This is likely the ideal way to manage retail. It can get annoying and border on BS but I think it is necessary to be successful in a retail environment where competitive advantages are hard to come by. The culture can seem a little excessive at times though. For example, the company consistently refers to its employees as "AutoZoners" and every corporate officer has "Customer Satisfaction" at the end of their title.
EX: William C. Rhodes, III, 48-Chairman, President and Chief Executive Officer, Customer Satisfaction
I wonder if the company's in-store labor force feels patronized. It's a fine line and the company's ratings on Glassdoor.com don't indicate a wholly-satisfied labor force.

That said, I have to consider the culture a net positive. Most retail companies don't have the greatest of Glassdoor ratings because of the nature of the business. For comparison, Wal-Mart (NYSE:WMT) has a comparable 2.9 and Costco (NASDAQ:COST), widely recognized for having a business model of treating employees extremely well, only has a somewhat lower than expected 3.8.
Governance
Rhodes serves as both CEO and Chairman, but he does not seem to be abusing his power. According to Morningstar, he made $5.3M last year and the entire executive team made $14M. That does not seem like much relative to AutoZone's size (>$1B net income). Rhodes has served as Chairman since 2007, CEO since 2005, and has been with the company for about 20 years.
Rhodes and his team seem committed to the company, and that is confirmed by their ongoing investments and rather large current holdings in the firm. Many of the insider buys are disguised as option conversions unaccompanied by an immediate sale. In these cases, insiders have technically not put up cash to buy the shares, but foregoing the immediate proceeds of selling at the moment the options vest is equivalent to buying in my opinion. They gain nothing from holding on to the shares from that point other than if the stock price increases. Those 'equivalent buys' are listed below:

Click to enlarge
They total 15,525 shares since December 2012, worth $8.1M at the current market price.
There have also been a few hundred thousand dollars worth of direct insider buys in the last year, but these are far outweighed by direct insider sales. Notably, Rhodes exercised and immediately sold stock worth $13.2M in early March:

Click to enlarge
He does however still have a direct ownership stake worth about $22.8M.
On the whole, I think the insider activity is also a net positive. There has been lots of buying and selling but the ratio of buys to sells is far less skewed towards sells than has been typical of large US companies in the last year or two and many insiders still hold large direct stakes.
Economics
Competitive Position
Both the auto parts retail/distribution and auto repair industries have been going through consolidation in the last few decades and there is little reason to believe this trend will not continue. 20-30 years ago, independent auto parts stores and repair shops were commonplace and chains were far less common. Now AutoZone, Advanced Auto Parts (NYSE:AAP), and O'Reilly Automotive (NASDAQ:ORLY) have large share in auto parts retail/distribution and Pep Boys (NYSE:PBY), Monro Muffler Brake (NASDAQ:MNRO), and dealerships have significant share in auto service. Wal-Mart also has a significant presence in both markets. However, there is still quite a bit of room for further consolidation, with over 50% share in both markets still controlled by independents and regionals: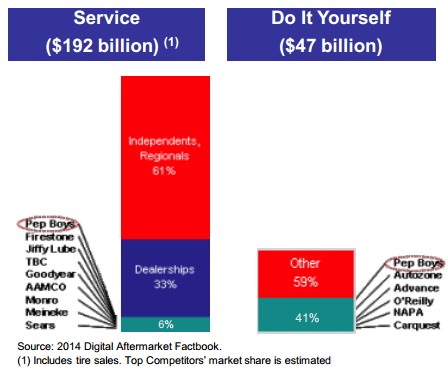 An excellent article by Morningstar projects continued consolidation in the retail/distribution industry and sees it eventually turning into an oligopoly of sorts. I agree with this outlook. AutoZone, Advanced Auto Parts, and O'Reilly are large, have strong brand recognition, loyal customer bases, and logistical efficiencies through hub and spoke distribution networks that give them significant advantages over smaller companies in the industry. The Morningstar article concluded that growing scale gives AAP and ORLY 'narrow moats.' The article did not cover AZO, but I think AZO possesses similar but slightly stronger competitive advantages as it has stronger brand recognition (no data to back that up, anecdotal) and is about 50% larger than both AAP and ORLY. This brings me to my next point.
When considered alone, AZO seems to have easily identifiable competitive advantages with plenty of market share left to take, but the company is not competing against a bunch of slouches. I have not researched AAP or ORLY in detail but these companies seem to have been very successful in growing at a high rate both organically and through smart acquisitions. Growing up, I easily recognized the AutoZone brand but I was not familiar with either AAP or ORLY. Now I see Advanced Auto Parts stores all over the place (and often aggressively positioned next to AutoZone stores) and am seemingly constantly listening to the O'Reilly jingle on the radio. From AutoZone's 2013 10-K:
The sale of automotive parts, accessories and maintenance items is highly competitive and is based on many factors, including name recognition, product availability, customer service, store location and price. Competitors are opening locations near our existing stores. AutoZone competes as a provider in both the DIY and DIFM auto parts and accessories markets.
The Morningstar article (I've referenced it many times - a must read if you're interested in the industry) does well in detailing the rise to fame of both AAP and ORLY. Finally, both ORLY and AAP stocks trade at high forward P/E multiples of 18 and 15, respectively. The market seems confident in their continued success.
Besides immediate competition from these two players, AZO also faces competition from the likes of Wal-Mart and Amazon (NASDAQ:AMZN).
Overall, I think AutoZone has excellent strategic direction and competitive qualities operating amongst high quality competition. I think the AutoZone vs. independent/regional retailer battle is won by AZO handily, but it is far less clear how the company will fare against the likes of AAP, ORLY, and WMT. It is also unclear whether there will be one clear winner in the long term or if AZO can co-exist profitably with its peers in an oligopoly-like structure. Structure of more mature industries like telecom suggests the latter, but I don't think that is a given yet, especially considering how aggressively AAP is behaving.
Prospects
I already mentioned that AutoZone has the opportunity to grow much more in the US through market share gains as much of the US auto parts retail/distribution industry is still controlled by independents and regionals. The company also has growth avenues through its presence in Mexico, Puerto Rico, and Brazil.
Much of demand for auto parts comes from older vehicles where manufacturer warranties have typically expired and worn parts are more likely to fail. Other companies identify vehicles between 5-13 years old as being the 'sweet spot,' whereas AutoZone cites 7+ years. I don't think this is too important. It is probably more productive to just look at data for old vehicles in general. There are two main factors affecting the average age of cars on the road:
improved automotive engineering and design increasing the working life of vehicles
Cyclicality in new car purchases related to economic health
According to Polk/IHS, average light vehicle age in the US steadily increased from 9.6 years in 2002 to 11.4 years in 2013: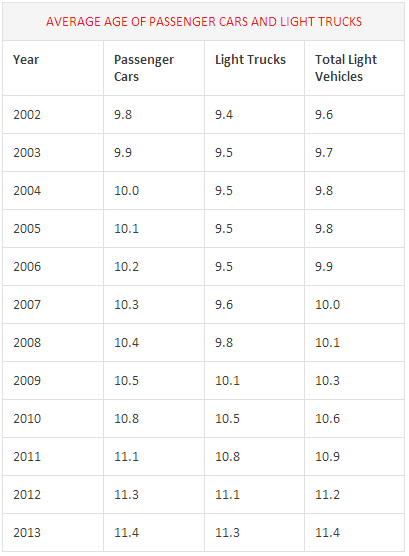 Separate data from the USDOT's Bureau of Transportation Statistics goes back even farther to 1969 and shows that in 1969, average vehicle age was only 5.1 years: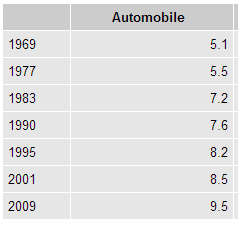 I have a somewhat mixed outlook. The cyclicality in new car purchases related to economic health is not all that promising.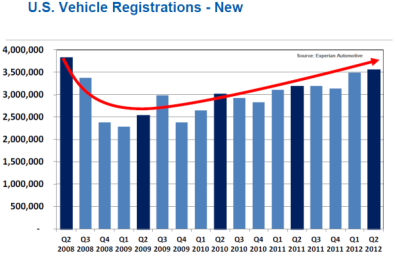 Since the financial crisis in 2008-09, new vehicle purchases in the US (as indicated by new vehicle registrations) have been steadily increasing. Thus, the gains in average car age in the last few years have come despite this increase, but it will likely continue to serve as a headwind as the economy is still recovering and new car sales don't seem to have peaked yet. Polk estimates are also negative, calling for 22% decline in 6-11 year old vehicles by 2018 offset by 11.6% growth in 12+ year old vehicles.

The secular growth in average vehicle age since 1969 looks very good on the surface, but it's not as if vehicles are failing at double the rate they did 45 years ago. In other words, average vehicle age is at 11.4 years now compared to 5.1 in 1969, but automotive engineering and design have likely made parallel improvements such that parts in a 10-11 year old vehicle today fail at a comparable rate to a much younger vehicle in 1969. That means that the increases in average car age do not perfectly correlate to increases in demand for aftermarket auto parts. It's an imperfect indicator (but likely the best one we have).
Again here regarding the company's economic prospects, for better or worse, I've come to a mixed conclusion.
Performance & Valuation
Let me begin by saying that AutoZone's historical performance is beautiful and what originally attracted me to the company. Substantial organic growth requiring little reinvestment combined with heavy share repurchases at a reasonable price is the stuff of most investors' dreams and that is exactly what AutoZone has done year after year in the past.

Click to enlarge
From 2009-2013:
Net income grew at a CAGR of 11.5%
Share count was reduced at a CAGR of 11.1%
As a result of the two above, EPS grew at a CAGR of 24.1%
Comps were up an average of 4.02% and never down
The company operated on negative working capital and an accounts payable/inventory ratio >1 for most of the period and both numbers trended favorably, indicating efficient and improving distribution and inventory management
Total assets grew far less than earnings and ROIC was strong and improving throughout from 24.4% in 2009 to 32.7% in 2013, indicating better use of capital
The company expanded both its store count and number of commercial programs consistently
Taken as a whole, the 5 year performance is nearly flawless, but I do have some qualms. My primary concern is that earnings growth has trended down a great deal from 27.6% in 2010 to 17% in 1H 2014.

This is the result of both lower net income growth and lower share count reductions. The company has been spending a consistent amount on share repurchases, but the stock price has increased such that it has translated into far fewer shares repurchased. The company has increased capital expenditures but it has not translated into the growth I'd like to see. Potential for market share take aside, the company already has 5000 stores, is expanding into other countries, and made an acquisition last year. It seems like it may be nearing saturation in the US.
Paraphrase from the Q2 conference call:
As we continue to execute on our financial model, we look to routinely grow EBIT dollars in the mid-single digit range or better, and we leverage our very strong and predictable cash flow to repurchase shares, enhancing our earnings per share double digits.
I understand the 'under-promise and over-deliver' method of communication that most executives maintain with investors but 'double digit growth' is vague and implies low teens growth, disappointing compared to what AZO has done in the past.
I think the company will probably be able to maintain mid to high teens per share growth but I am not confident in that number. I do not like the idea of buying against a trend (that being the deceleration in earnings growth over the last 5 years that my forward growth estimate assumes will stabilize). At $527.20, the stock trades at 17.7x trailing earnings, 16.7x 2014 consensus estimated earnings, and 14.8x 2015 estimated EPS. If I was extremely confident that future earnings growth will be closer to 20% than 10%, I would say the stock seems very cheap, but I'm not at this point.
The stock is also very close to a 52 week high. I typically shy away from stocks at 52 week highs and find the stock performance strange despite growth decelerating by the quarter this year.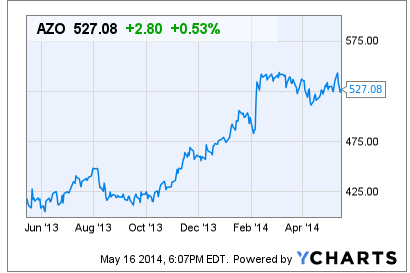 A 5-10% pullback to $475-500 would get my interest though and there is plenty of room for retracement on the 1 year chart.
Conclusion
A strong case can be made for AutoZone as an ideal long term investment. The company has strong corporate culture and governance, engaged and capable executives, several identifiable competitive strengths that give the company an industry leading competitive position in my opinion, decent economic prospects, and impressive historical performance. Conversely, the company's culture borders on excessive and may generate resentment in in-store employees, CEO Bill Rhodes sold a good chunk of his shares a few months ago, the company faces high quality competition, demand for auto parts may be pressured by increasing new car purchases, and the stock only looks like a strong value at this price if you believe the long-term deceleration in EPS growth will reverse itself. Overall, I cannot get past the uncertain guidance and 1 year chart. I typically only own 1-3 stocks at a given time, so those that I do own must be conviction buys. I do think the company can continue to grow >15% annually in the next 5 years but am not completely confident in that. Even if the company grows 12-15% it is probably fairly valued at this price, but I have no desire to purchase assets at fair value. The chart indicates to me that AZO stock may be due for a pullback and I would certainly reconsider with a 5-10% decline. For now I am staying away.
Disclosure: I have no positions in any stocks mentioned, but may initiate a long position in AZO over the next 72 hours. I wrote this article myself, and it expresses my own opinions. I am not receiving compensation for it (other than from Seeking Alpha). I have no business relationship with any company whose stock is mentioned in this article.