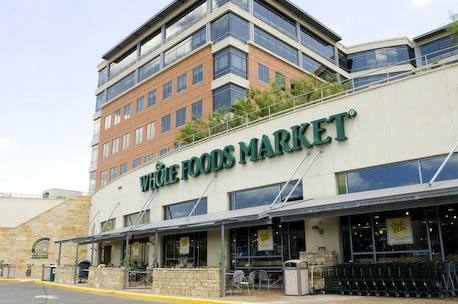 By Mike McDermott
As the economic recovery shows signs of stalling (or maybe it wasn't really a recovery at all…) Retailers of all shapes and sizes are feeling the pinch.
Not only is the consumer struggling with tight discretionary capital, but rising costs for some firms are likely to crimp profit margins and lead to unpleasant surprises. We have already noted potential weakness in restaurant stocks, as well as the long-term growth in demand for agricultural products. An emerging market population growth coupled with a global standard of living increase will place significant strain on our ability to produce enough resources.
With that as a backdrop, Whole Foods Market, Inc. (WFMI) has built a reputation of offering high-quality organic produce to a relatively affluent customer base. A stable growth rate coupled with impressive profit margins and geographic expansion have led to a stock price that shares a similar premium to the price of the natural and organic merchandise.
The impressive historical growth is in sharp contrast to current economic realities – a fact that is not lost on shareholders. WFMI's stock price has begun to experience weakness and with a little bit of help from price-sensitive shoppers, could easily drop to a half price special as investors begin to price in future stale earnings.
A Cut Above the Competition
At last count, Whole Foods operates 298 stores in the US, Canada and the UK. Management expects to open one additional store in the fourth quarter (the company operates on a September 30 fiscal year end). On average these stores enjoy gross profit margins near 35% and when accounting for overhead expenses, the expected operating margin is relatively stable near 4.8%
The company relies on a relatively urban and affluent customer base to pay a premium price for a healthier assortment of fresh foods. When researching a market for opening new stores, the goal is to place the location within a 20 minute drive of at least 200,000 people – and a large number of these residents should be college educated.
Investors have rewarded the company's niche focus with a five-fold increase in the stock price since the 2008 low. An expected recovery for affluent shoppers has led to increasing growth expectations – and to some extent WFMI has delivered.
The company has posted five straight quarters of revenue growth (although the highest year-over-year growth has been 15%) and earnings have been growing between 23% and 52% over the last four quarters. Investors are currently paying 26 times expected 2010 earnings – indicating confidence in the company's growth strategy.
Challenges Ahead
Unfortunately, this earnings growth is only likely to bring the firm back to it's earnings level of 2006. Management is guiding investors to expect a 17% increase in earnings next year which is based more on a reduction in interest expenses than on growth in revenue. Walter Robb, Co-CEO of Whole Foods, said:
We are projecting steady sales growth for next year and are committed to delivering incremental operating margin improvement as well as earnings growth in excess of sales growth…

We believe this guidance appropriately reflects a tempering of our enthusiasm over current sales growth trends with conservatism due to the competitive environment and the economy
While investors in WFMI seem to be incorporating this "tempering of enthusiasm" into the price action, Wall Street's analysts are still relatively bullish. Over the last month, a full 10 analysts have increased their earnings expectations for the current year, and 12 have increased their 2011 earnings projections.
At the same time, executives at WFMI are putting their money where their mouth is and using available capital to pay down debt instead of opening new stores. This is probably a wise move from a business standpoint, but will likely lead to an unpleasant realization for investors as they are forced to accept lower growth rates.
If the company's guidance is accurate – and the WFMI earns a profit near $1.61 per share in 2011, traders will likely apply a lower multiple to the stock based on a slower long-term growth rate. Modest growth and good stability would likely command a multiple of 15 – which corresponds to a stock price near $24.00.
On the other hand, during the last recession WFMI saw earnings actually decline by more than 30%. If we experience a double dip recession in 2011, consumers will be even more likely to reduce spending because of the natural human resignation to a more difficult environment.
In this context WFMI would have to reinvent its approach to groceries – or see a dramatic reduction in its customer base. Assuming WFMI saw earnings drop 30% again, and using a still relatively robust double digit price/earnings multiple, WFMI could trade once again as a teenager – more than a 50% decline from current levels.
Looking at the current trading pattern, WFMI appears to be incorporating a more bearish outlook. The stock has backed off significantly since it gapped higher on the positive Q2 earnings report. Support is between $34 and $35 and if the stock breaks this level momentum traders are likely to send the stock down to $26.
Jack and I don't have a position quite yet as we are waiting for price action to confirm, but if WFMI breaks down on strong volume we will likely add exposure to this name as we go for the jugular and increase our horizontal exposure to weakening retail names.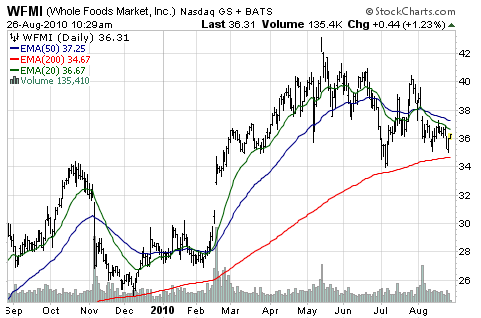 (Click to enlarge)
Disclosure: As active traders, authors may have positions long or short in any securities mentioned. Full disclaimer can be found here.