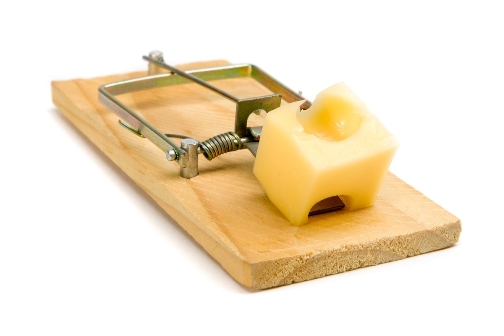 I have the learned the hard way that just because a stock is cheap does not mean it is a good investment. It can be tough sometimes to distinguish between a value play and a value trap. Value plays are stocks that are trading below their true value and will eventually reach this value. Value traps meanwhile are companies that appear to be trading cheaply but are trading at their current level for good reasons.
Here are 3 stocks that have been cheap for a long, long time.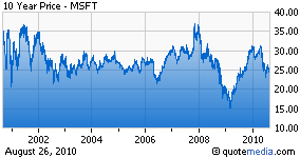 Click to enlargeMicrosoft (NASDAQ:MSFT)
How many times have you heard that Microsoft is cheap right now and that you should add it to your portfolio? It was rated as a buy when the Zune, Xbox, Windows XP, Windows 7, and Bing were all unveiled. None of these things have done anything to move the stock. It seems like Microsoft has been cheap since 2000 and the stock has done absolutely nothing. I am convinced that Microsoft is simply a cash cow with limited growth potential. The company should finally admit that its growth days are over and increase its dividend.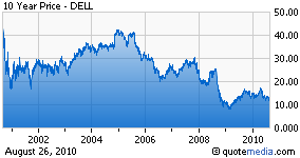 Click to enlargeDell (NASDAQ:DELL)
Dell has been dead money for the last decade as well. Dell has always had a great balance sheet and looks cheap based on most financial valuations. Dell was cheap at $20 a share. It was even cheaper at $15. Now it's even cheaper at $11. The company has huge amounts of cash to deploy. At least Dell is finally trying to do something with its cash hoard. The company is trying to purchase 3PAR Incorporated (NYSE:PAR). Now will this spur growth at Dell? I highly doubt it.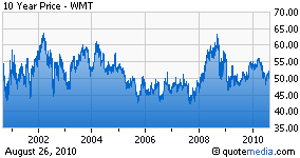 Click to enlargeWalmart (NYSE:WMT)
Walmart has a different problem. Unlike Dell, the company has been able to grow its earnings organically. The problem for Walmart is that the company is just too big.. One of Walmart's problems is that it growth no longer impresses investors. 1 to 2% same store sales growth is billions in revenue but it is just not enough growth to spur the stock. Recently, the retail giant has had trouble hitting those numbers with comps being negative at domestic locations. Walmart is the defensive stock that investors run to when scared and then sell when the fears subside.
Disclosure: No positions