With the market at all -time highs, it becomes increasingly dangerous to own certain high priced stocks.
In my opinion Autodesk Inc. (NASDAQ:ADSK) is one of those companies. Autodesk, Inc. operates as a design software and services company worldwide. Its Platform Solutions and Emerging Business segment offers AutoCAD software, a computer-aided design application for professional design, drafting, detailing, and visualization; and AutoCAD LT, a professional drafting and detailing software. The company's Architecture, Engineering and Construction segment offers Autodesk Building Design Suites that give customers the ability to manage various phases of design and construction.
With a P/E ratio of 51, you would think that the company has 50% revenue growth and exploding profits. Not the case here. The buzz on the Conference call was 89,000 new subscriptions but where is the profits? Net profit dropped almost 50% from the year ago period and no one bothered to mention it. Not one analyst asked about insider selling.
Look at this clip from Yahoo Finance.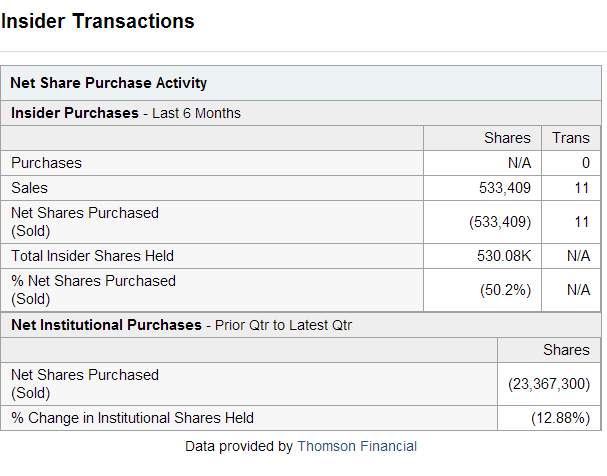 Here is what I find interesting: you have no purchases and 11 sale transactions for 533,409 shares, representing 50.2% of the total shares held by insiders. Institutions are dumping this stock with 23,367,300 shares being sold prior to latest quarter a 12.88% reduction. The question is this: who is going to be left holding the bag?
Here is a list of sales which add up to much more than 11, I find it all a little confusing. I will try to clear it up. As an investor it is of paramount importance to have your eyes open, trust yourself and your intuition first. In my humble opinion, something doesn't seem right. Things are not always as they appear. After reading the quarterly report I understand why insiders and institutions are selling.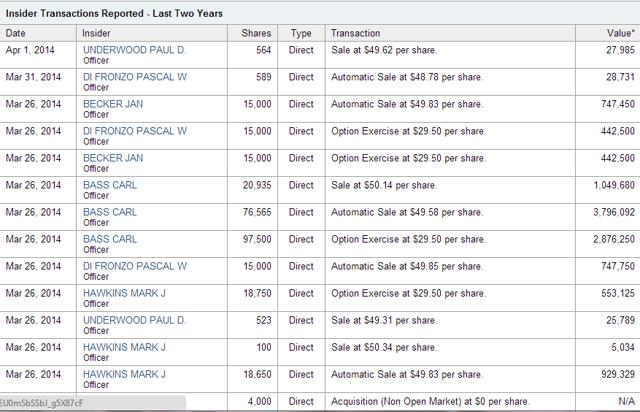 Click to enlarge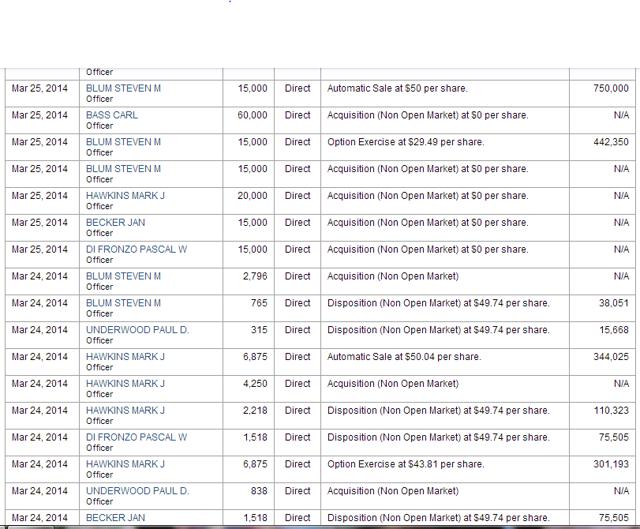 Click to enlarge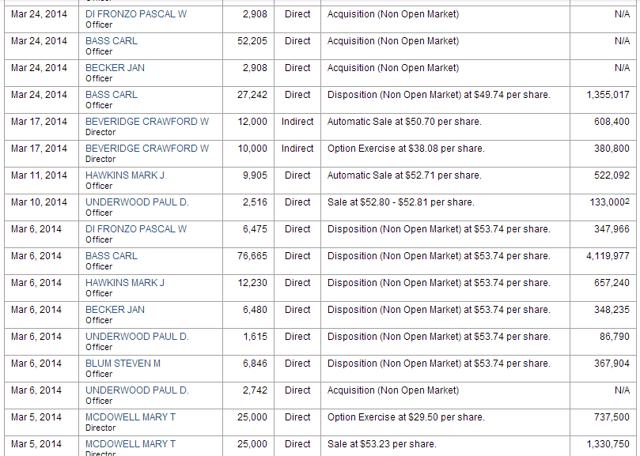 Click to enlarge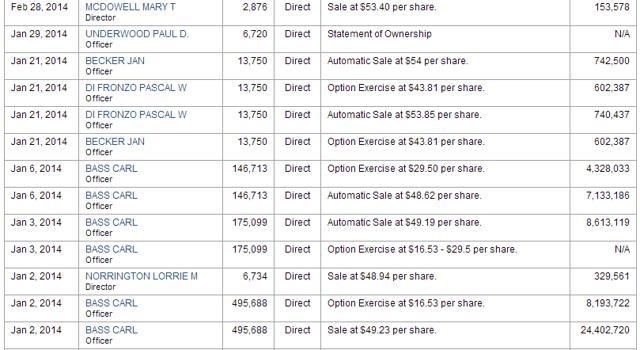 Click to enlarge
That looks like a lot more than 11 transactions to me. I for one have some questions; why is Carl Bass unloading such a large sum of shares in the quarter. It appears he is cashing out. Does he know something we don't know?
Another question: Why did the company buy back 2 million shares at an average price over $51 a share? It seems to me they are buying their stock back at multi- year highs, all the while selling their own personal stock and lavish stock options. Even with the buyback the company was unable to generate any significant revenue growth; the company was down on most metrics that count to me, like earnings and revenue growth.
Autodesk Inc. reported tepid earnings last week. The company reported net income of $.12 cents a share, down from $.24 a year ago. The stock gapped up and rallied 8% or $3.90 to $51.67 a share.
I listened to the conference call and heard a whole lot of smoke and mirrors. The CEO did quite a job of spinning the earnings call, totally avoiding the dismal comparisons and making projections out to 2016 and 2017. I for one am not buying it, I saw very little to be excited about. Bottom line, net earnings were dismal.
Although I imagine for him it was wonderful, selling around $60,000,000 in stock. Yes, $60 million in the quarter. Over half of the stock buyback went right into his pocket, what a deal.
I am slightly perplexed at the analysts from all of the big named banks. For the most part, they sound like young college graduates afraid to ask any tough questions. Not one analyst asked why the company's net profit declined nearly 50%. No mention of all the institutional selling or massive insider trades.
This is not a fast growth company. I don't see the growth to justify a multiple 51 times earnings. I am downgrading this stock to a sell with a $28 price target. In my opinion the stock is in bubble territory, with insiders selling so many shares in the last 4 months I see trouble on the horizon. The company would have to execute flawlessly for the next 3 years to trade at the price where they trade today.
Let's look at some valuation metrics compared to its peers.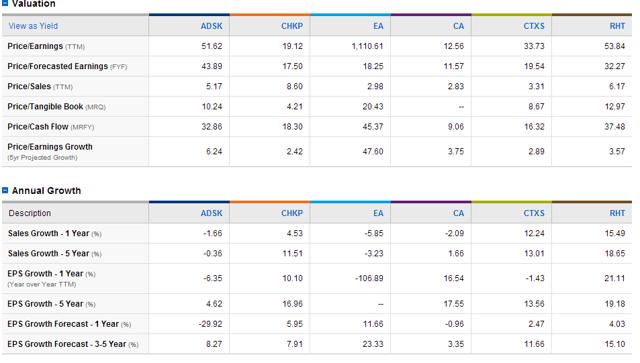 Click to enlarge
As you can see Autodesk is expensive by any measurement, at 32x cash flow, and 43.8 x FYF, the company's stock price is in the stratosphere. With -29.92% forecasted negative EPS growth it could be a very dangerous stock to hold.
Electronic Arts (NASDAQ:EA) may be turning their business around, and then again, maybe not. Checkpoint software technology Ltd (NYSE:CKP) a high flyer with continuing growth prospects is trading at a 17.5 FYF multiple. The market is full of uncertainty, and anomalies, my job is to find companies that are mispriced with insider activity. In my opinion, investors would be wise to sell or avoid this company.
Here is a 5 year chart comparing with the NASDAQ and Checkpoint Software Ltd.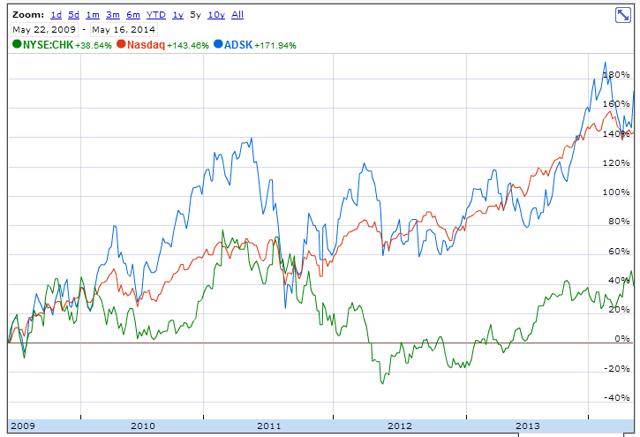 Click to enlarge
As you can see above, the last 5 years have been epic. Currently Autodesk is about 24% above the NASDAQ, in part due to the gap up last Friday. Autodesk has outperformed Checkpoint Software Ltd by over 124% in the last 5 years. It looks like Autodesk and NASDAQ like to trade in close proximity to each other, crossing back in forth over the years. I'm calling a long term double top in this range.
Short squeeze
According to shortsqueeze.com there are 3.39 million shares short, or 1.6% of the float. At normal volume it would take 1.5 days to cover. In my opinion, that makes the stock more vulnerable to profit taking.
Conclusion
The market is near all-time highs; I believe many tech stocks are in bubble territory. Institutional and Insider selling along with a decline in net profit lead me to believe that Autodesk is a sell. Last Friday's 8% pop was an anomaly that had to do more about option expiration than anything else. I expect profit taking and believe we will see violent moves up and down in the market over the summer. I see a $28 handle on this stock in the next correction. Be wary of upgrades on high multiple stocks at market peaks. As always, do your own research, follow your own advice and always have an exit strategy in place before making any investment decisions.
Disclosure: I am short ADSK. I wrote this article myself, and it expresses my own opinions. I am not receiving compensation for it (other than from Seeking Alpha). I have no business relationship with any company whose stock is mentioned in this article.
Additional disclosure: I am a trader and journalist. I may go long or short on any stock at any time.