By Carolyn Austin
Coach (NYSE:COH), the maker of quality leather goods and accessories, had a good year. The company recently reported solid earnings for 2010 and outlined its strategy for 2011.
Here are the highlights from the company's recent fourth-quarter earnings report:
Sales for quarter were up 22 percent to $951 million YOY.
Net income for quarter was up 34 percent to $196 million.
Earnings for quarter were up 40 percent to $0.64 per share YOY.
For the fiscal year, sales were up 12 percent to $3.61 billion, net income was up 18 percent to $735 million and earnings per share rose 22 percent to $2.33.
The company reported modest growth in the US, flat growth in Japan, and robust sales in China. The plans to expand on developing markets in China and overseas and diversifying with its Men's store openings.
Lew Frankfort, Chairman and Chief Executive Officer of Coach, Inc., said:
As we enter FY11, we remain confident in our growth prospects and ability to drive sales and earnings at a double-digit pace, given the current strength of the Coach business and our increasing global expansion.
However, the chart tells a different story: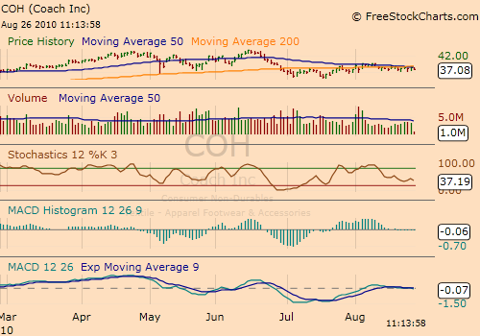 Click to enlarge
(Click to enlarge)
Comments: Coach has impressive fundamentals, including a gross margin of 73 percent, but this is lower than its historical average. Insiders and institutions have been selling shares consistently since spring.
The company's $0.15 quarterly dividend for a yield of 1.6 percent isn't quite juicy enough given the current retail environment, and is likely to be even more challenging for high-end goods.
The company has a good growth strategy, but even the best growth strategy will flounder if consumers aren't buying. Despite recent consolidation, this stock has further to slide.
Disclosure: No position