Ocean Rig UDW Inc. (NASDAQ:ORIG)

ORIG is an international mid-tier offshore drilling contractor providing oilfield services for offshore oil and gas exploration, development and production drilling. It is specialized in the ultra-deepwater and harsh environment category of the offshore drilling industry. The company is based in Nicosia, Cyprus. Ocean Rig UDW Inc. is a subsidiary of DryShips Inc. (NASDAQ:DRYS) with an ownership of 59.4% at the end of 2013.
The company has 1,477 employees.
The company owns and operates 11 offshore ultra-deepwater drilling units, comprising of two ultra-deepwater semi-submersible drilling rigs and nine ultra-deepwater drillships, Ocean Rig Skyros and Ocean Rig Athena were delivered to the Company in 2014, and two other rigs are scheduled to be delivered during 2015-2016; the Ocean Rig Apollo (Already rented to Total in Congo early 2015), and Ocean Rig Santorini.
George Economou, CEO said in the last conference call on February 19, 2014:
Our contracted revenue backlog is illustrated on the right-hand bar chart. We are in the enviable position to have our fleet fully contracted in 2014, and 72% contracted in 2015, and we expect to significantly increase contract coverage for 2015 and beyond in the next few months.

Recently, there has been some softness in the market as a result of several drilling units coming off-contract and certain newbuildings without contract scheduled for delivery in 2014. We believe that these market conditions will not last for long, due to the overall obsolescence of the offshore drilling fleet and will not be as deep as current market consensus expectations would indicate. In fact, the rates for premium ultra-deepwater unit such as ours remain firm and we expect upcoming contract announcements will provide a clear price point for premium minutes.
The next Q1 earnings' results will be released on May 23, 2014, and I will be interested to hear what George Economou CEO will say about the UDW market softness?
It is important to indicate also that ORIG decided to join the dividend offshore drillers' club, and will pay a dividend of 0.19/Q per share on May 30, 2014, which represents about 4.6% per annum. The dividend will be determined on a quarterly basis. ORIG is a rapid growth offshore driller, and grew rapidly since 2010.
Here is what Anthony Argyropoulos, Capital Markets Special Advisor to the CEO, said at the CC:
Our growth has been exceptional starting with 2 units as late as 2010, 6 by the end of 2011, and moving to 9 units with the delivery of our latest newbuilding, the Ocean Rig Athena, and then to 11 units in 2015.
Complete fleet analysis and status as of February 15, 2014.
Rig availability taken from ORIG website. (including options)
ORIG presentation Q4 2013. February 19, 2014.
Unfortunately, the day rates are not available and are estimated around $550k to $600k.
1 - Ultra-Deep Water Drillships.
2 - UDW Semi-Submersible rigs.
#
Name

Year

Built

Generation

Contract

End

Location
1
Eirik Raude
2002
5-DP class 3
4/17

W. Africa

LukeOil

2
Leiv Eiriksson
2001
5-DP class 3 or anchored
11/14

Norway

RM Norway
Fleet and Financial snapshot.
ORIG backlog at the beginning of 2014 was an impressive $5.4 billion until 2018. The average term of the contract is 2.6 years or 4.1 years including options. We will have to see if these numbers are confirmed at the next Q1 results scheduled on May 23, 2014.
The rig utilization rate was at 99% in 2014, 72% in 2015, and 36% already in 2016. This high-level utilization rates are indicative of a particularly healthy revenue growth going forward, which will protect ORIG from any market softness, at least until after 2015.
Fleet-wide operating efficiency rate or ORIG revenue earning days over the available drilling days, was 95.8%.
ORIG daily direct and onshore rig operating expenses this Q4 2013 averaged $192,000 versus $201,000 during the Q3 of 2013.
Q4 2013 Direct and Onshore Rig operating expense averaged $191,560 per day. (Details on 7 rigs.)
| | |
| --- | --- |
| Rig | Daily Rig OPEX in $ |
| Leiv Eiriksson | 184,568 |
| Eirik Raude | 149,937 |
| OCR Corcovado | 182,694 |
| OCR Olympia | 194,927 |
| OCR Poseidon | 199,031 |
| OCR Mykonos | 207,884 |
| OCR Mylos | 240,191 |
Operating expense for 2014 is expected to average $200k per day fleet-wide.
ORIG had free cash and restricted cash of $659 million end of December 2013. Total debt was $3.993 billion being refinanced in part.
Conclusion and recommendation.
ORIG is the new offshore driller on the block, with an impressive growth rate and an ultra-modern UDW fleet well-adapted to the modern paradigm attached to ultra-deepwater drilling.
I have been pleased by ORIG balance sheet, and I believe the company is well-structured to deliver a good and positive cash flow for the next several years. The rate of utilization of its rigs is an impressive 99% in 2014 and 72% in 2015, which will protect ideally ORIG against any adverse slowdown of the market. Furthermore, ORIG is now serving a dividend of 4.6% per annum, which was the last prerequisite needed to promote the stock to a value investor BUY rating.
ORIG is specializing in ultra-deepwater rigs and semi-submersible harsh environment rigs with a modern state-of-the-art and well-adapted fleet. The company doesn't own any jackup at the moment.
The company is a subsidiary of DRYS, which owns a total of 59.4% of ORIG outstanding shares.
Here is the chart YTD.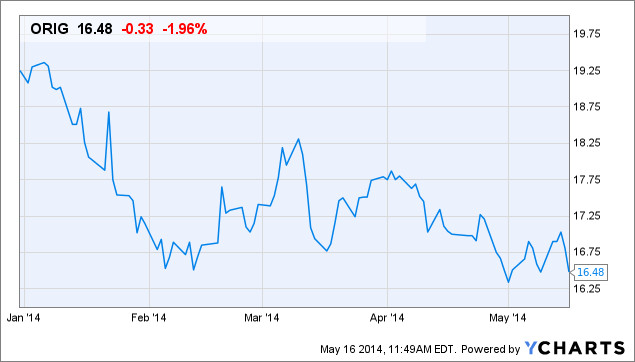 I find ORIG an attractive stock from a value investor's perspective, especially after the recent decision to pay a dividend starting this month. It is hard to find any weakness in this newly-formed company.
The PEG ratio is 0.19, and the P/E is just under 8. The total debt is $3.993 billion, easily manageable, in my opinion. The quality and modernity of the fleet will deliver a continued growth and positive cash flow, for the next five years. I do not own ORIG but will eventually start a position on any weakness in the low 16s.
Disclosure: I have no positions in any stocks mentioned, but may initiate a long position in ORIG over the next 72 hours. I wrote this article myself, and it expresses my own opinions. I am not receiving compensation for it (other than from Seeking Alpha). I have no business relationship with any company whose stock is mentioned in this article.