I tried to create a good-yielding stock portfolio that can outperform the market by a big margin, but at the same time, would have a very low risk. The following screen shows such a promise. I have searched for highly profitable large cap companies that pay solid dividends with a low payout ratio. Those stocks also would have to show a very low debt.
The screen's method that I use to build this portfolio requires all stocks to comply with all following demands:
The stock is included in the S&P 500 Index.
Price is greater than 1.00.
Market cap is greater than $500 million.
Dividend yield is greater than 2.0%.
The payout ratio is less than 40%.
Total debt to equity is less than 0.40.
The twelve stocks with the lowest payout ratio among all the stocks that complied with the first six demands.
I used the Portfolio123's powerful screener to perform the search and to run back-tests. Nonetheless, the screening method should only serve as a basis for further research. All the data for this article were taken from Yahoo Finance, Portfolio123 and finviz.com.
After running this screen on May 17, 2014, I discovered the following twelve stocks: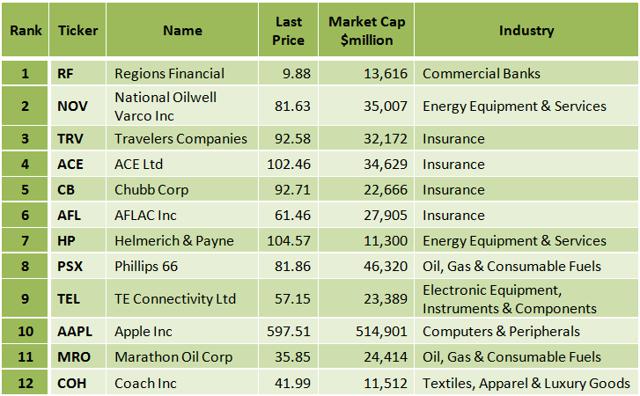 Click to enlarge
The table below presents the dividend yield, the payout ratio, the trailing P/E, and the debt-to-equity ratio for the twelve companies.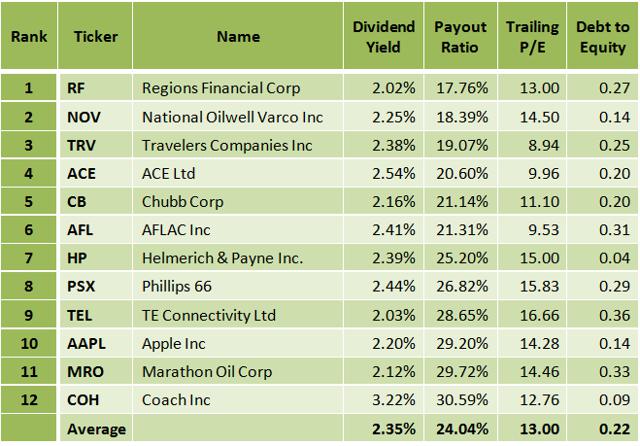 Click to enlarge
Regions Financial Corporation (NYSE:RF)
The Company
Regions Financial Corporation provides banking and bank-related services to individual and corporate customers in the United States. The company operates primarily in the southeastern U.S., with operations consisting of banking, brokerage and investment services, mortgage banking, insurance brokerage, credit life insurance, commercial accounts receivable factoring and specialty financing. Regions Financial Corporation was founded in 1971 and is headquartered in Birmingham, Alabama.
Valuation Metrics
The table below presents the valuation metrics of RF, the data were taken from Yahoo Finance and finviz.com.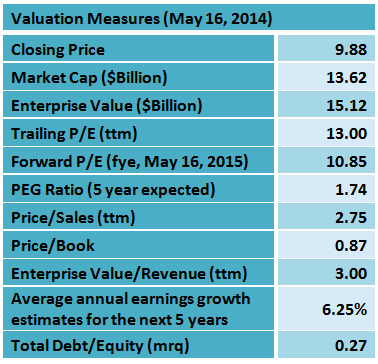 Regions Financial's valuation metrics are good; the total debt to equity is low at 0.27, the trailing P/E is also low at 13.0, and the forward P/E is very low at 10.85. Furthermore, RF's stock is trading way below book value; the price-to-book value is only 0.87.
Dividend
Regions Financial is paying dividends since 1997. However, the company has significantly decreased its payment after the global financial crisis of 2008. On April 24, the company declared a quarterly cash dividend of $0.05 per common share and authorized an equity repurchase program for up to $350 million of the company's common stock. The quarterly cash dividend of $0.05 per common share is payable July 1, 2014, to stockholders of record at the close of business on June 13, 2014. This represents an increase from the previous quarterly dividend of $0.03 per common share. The forward annual dividend yield is at 2.02%, and the payout ratio is only 17.8%.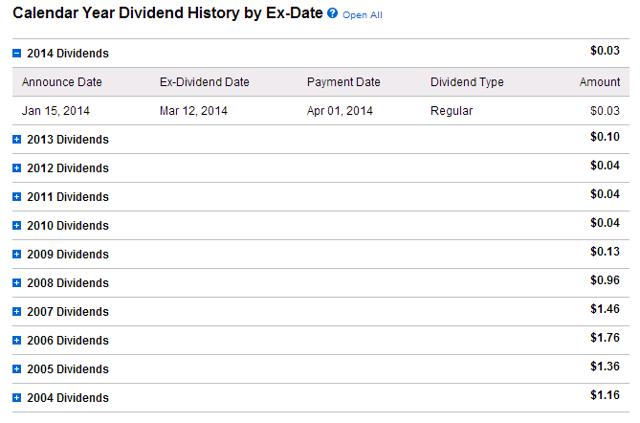 Click to enlarge
Source: Charles Schwab
Latest Quarter Results
On April 22, Regions Financial reported its first-quarter 2014 financial results, which beat EPS expectations by $0.02 (10%) and missed on revenues. The company reported net income available to common shareholders of $311 million, an increase of 42 percent over the prior quarter. Earnings per diluted share were $0.22 and earnings per diluted share from continuing operations were $0.21.
First-Quarter Highlights
Grew ending loan balances $1.1 billion from the prior quarter to $76 billion
Expense control continued as overall expenses declined 14 percent and adjusted expenses declined 4 percent
Overall asset quality improved as net charge-offs declined to 0.44 percent of average loans
Successfully completed the annual Comprehensive Capital Analysis and Review process
In the report, Grayson Hall, chairman, president and CEO said:
We are off to a solid start in 2014 and this quarter's results demonstrate that our focus on identifying and meeting more customer needs is generating steady and sustainable growth. We believe a strong relationship banking model is essential for sustainable revenue growth and we remain focused on controlling expenses and achieving positive operating leverage.
Technical Analysis
The charts below give some technical analysis information.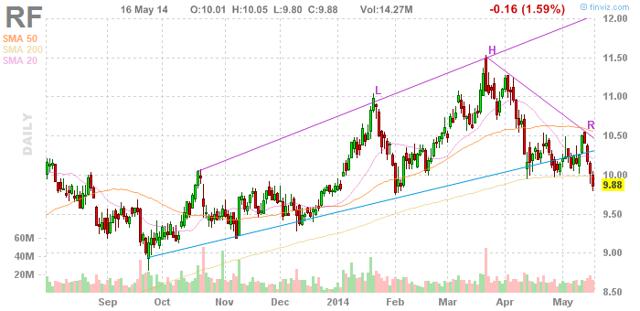 Click to enlarge
Chart: finviz.com
The RF stock price is 3.48% below its 20-day simple moving average, 6.63% below its 50-day simple moving average and 1.12% below its 200-day simple moving average. That indicates a short-term, a mid-term and a long-term downtrend.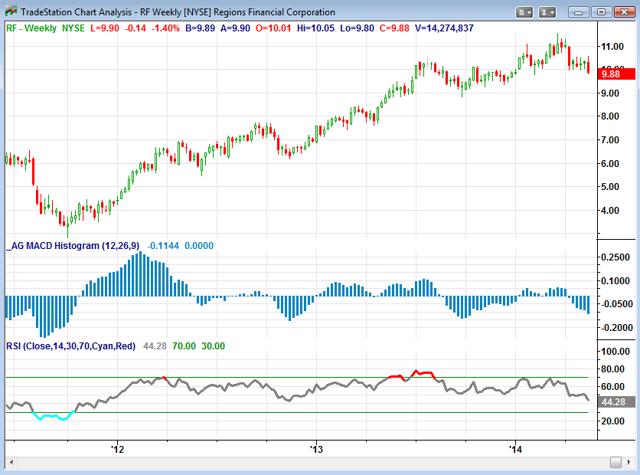 Click to enlarge
Chart: TradeStation Group, Inc.
The weekly MACD histogram, a particularly valuable indicator by technicians, is negative at -0.1144 and descending, which is a bearish signal (a rising MACD histogram and crossing the zero line from below is considered an extremely bullish signal). The RSI oscillator is at 44.28, which does not indicate oversold or overbought conditions.
Analyst Opinion
Analyst opinion is divided, among the twenty-nine analysts covering the stock, five rate it as a strong buy, ten rate it as a buy, twelve rate it as a hold, one rates it as an underperform, and one analyst rates it as a sell.
TipRanks is a website that ranks analysts according to their performance. According to TipRanks, among the analysts covering RF stock there are only six analysts who have the four or five star rating, all of them recommend the stock.
Major Developments
In April 2012, RF sold its brokerage and investment banking subsidiary, Morgan Keegan & Company, Inc., to Raymond James Financial (NYSE:RJF) for total proceeds to $1.18 billion. This helped RF to pay off its $3.4 billion TARP obligation, as did an $875 million equity capital raise. The company has succeeded to clean up its problem loans, to reduce non-interest expenses and to increase in loans. As a result, Regions' capital position remains strong; its Tier 1 ratio was estimated at 11.9 percent at the end of the last quarter. Likewise, the company's liquidity position remained solid as the loan to deposit ratio at the end of the last quarter was 81 percent. Regions Financial has experienced broader loan growth across its various product lines and markets. The company re-emphasized its goal of delivering positive operating leverage in 2014, driven by both revenue growth and lower expenses. The goal is for the efficiency ratio to trend into the low 60s by year-end (it was 67.6% in 1Q14). In my opinion, Regions Financial will show even better earnings growth than the Street's consensus of 6.25%, due to the fact that it is decreasing costs and seeing loan growth and increasing net interest margin and because its non-performing loans are now only 1.8% of loans, down from 2.3% a year ago.
Conclusion
Regions Financial has compelling valuation metrics and solid earnings growth prospect. Furthermore, Regions' shares trade at 87% of book value versus 130% for Regions' peer group. The company has succeeded to clean up its problem loans, to reduce non-interest expenses and to increase in loans. All these factors bring me to the conclusion that RF stock still has a plenty of room to move up. Furthermore, the solid dividend represents a nice income.
Back-testing of the Portfolio
In order to find out how such a screening formula would have performed during the last year, last 5 years and last 15 years, I ran the back-tests, which are available by the Portfolio123's screener.
The back-test takes into account running the screen every four weeks and replacing the stocks that no longer comply with the screening requirement with other stocks that comply with the requirement. The theoretical return is calculated in comparison to the benchmark (S&P 500), considering 0.25% slippage for each trade and 1.5% annual carry cost (broker cost). The back-tests results are shown in the charts and the tables below.
One year back-test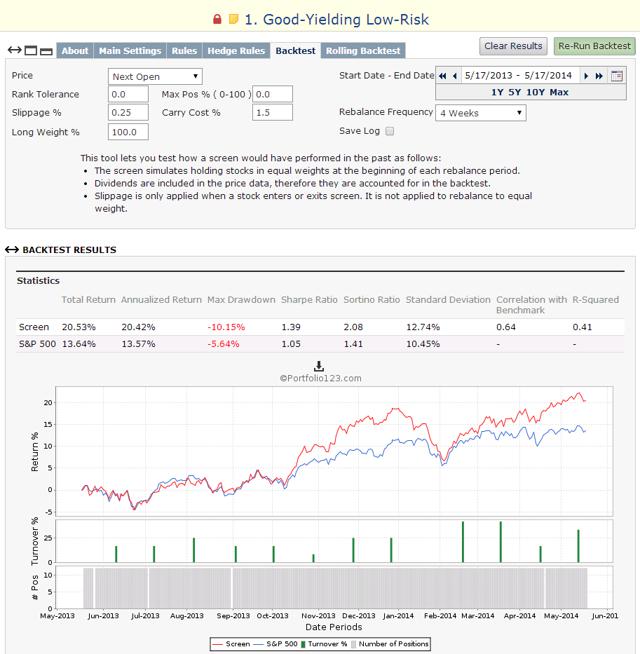 Click to enlarge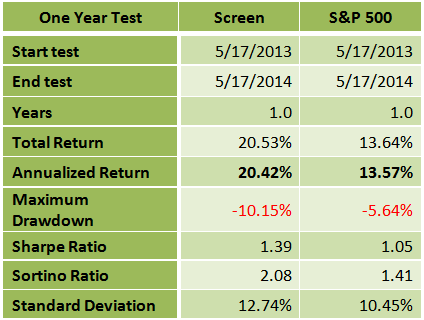 Five years back-test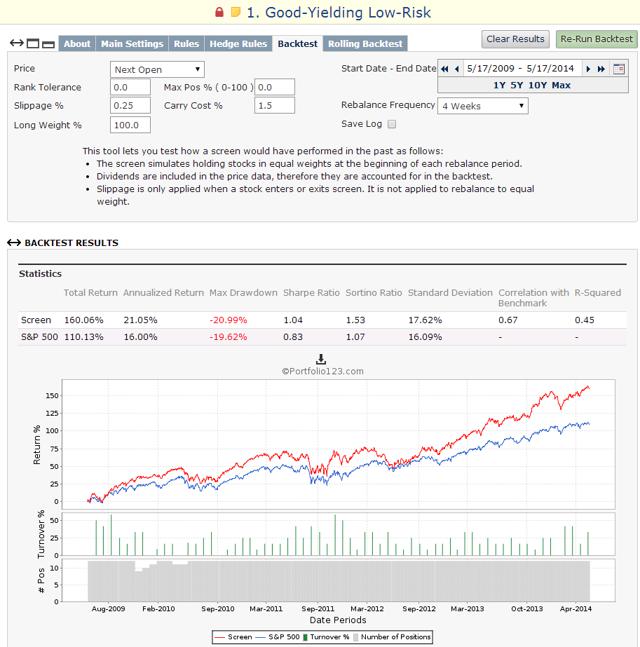 Click to enlarge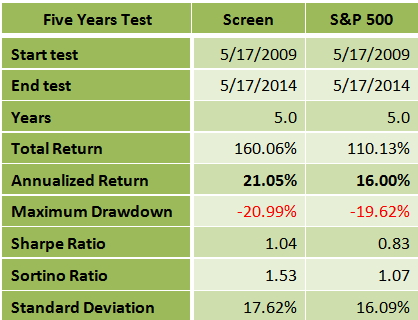 Fifteen years back-test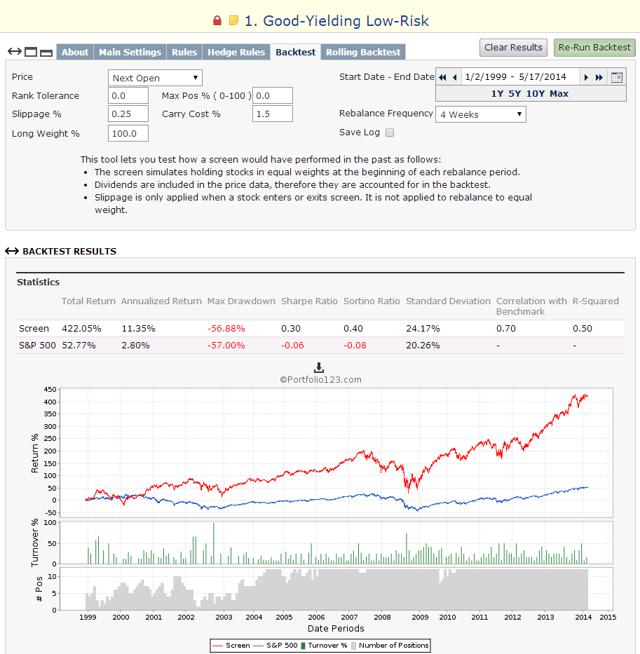 Click to enlarge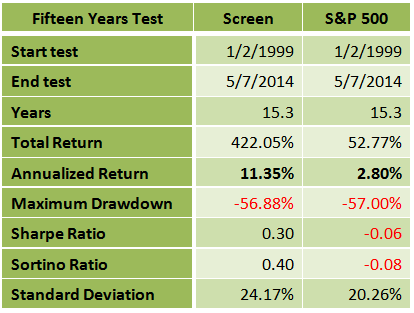 Summary
The large cap dividend screen has given much better returns during the last year, the last five years and the last fifteen years than the S&P 500 benchmark. The Sharpe ratio, which measures the ratio of reward to risk, was also much better in all the three tests. Furthermore, the maximum drawdown, which normally is much bigger in a small portfolio than in the benchmarks, was smaller in the 15-year tests.
One-year return of the screen was high at 20.42%, while the return of the S&P 500 index during the same period was at 13.57%. The difference between the large cap dividend screen to the benchmark was even more noticeable in the 15 years back-test. The 15-year average compound annual return of the screen was at 11.35%, while the average annual return of the S&P 500 index during the same period was only 2.80%. The maximum drawdown of the screen was at 56.88%, while that of the S&P 500 was at 57%.
Although this screening system has given superior results, I recommend readers use this list of stocks as a basis for further research.
Disclosure: I have no positions in any stocks mentioned, and no plans to initiate any positions within the next 72 hours. I wrote this article myself, and it expresses my own opinions. I am not receiving compensation for it (other than from Seeking Alpha). I have no business relationship with any company whose stock is mentioned in this article.