Premature Accumulation as the Scuttlebutt of the Small Investor and NovaGold
One of the three approaches to value investing is what I will term "scuttlebutt" after a concept advanced by one of the Oracle's hero's, Philip Fisher (Common Stocks and Uncommon Profits). This is where the investor knows something that will impact the financials that is not common knowledge. Seth Klarman (Margin of Safety) would find something that will "fill up" the financial statements, which I think is why you see some start-ups, biotech's or companies with a new product, in his hedge fund portfolio at Baupost. Basically, we see or think we see something that is not "priced in." For example, I opined elsewhere on this site when discussing Apache (NYSE:APA) that my DCF analysis, which used recent free cash flow data, did not reflect certain major production ramp ups under development that will come on in the near future VS a stock I was comparing it to, Anadarko (NYSE:APC), which traded at a huge premium to its DCF similarly calculated. I was reading Apache's annual report and media reporting major projects coming on line in the near future and saw no premium over the existing cash flow. I'm a weary, old NGL, oil and natural gas trader, not a big time hedge fund manager like Klarman or mutual fund manager like Bruce Berkowitz (MUTF:FAIRX). They are in a position to hear things; have access to management; have other resources, like Berkowitz, who will hire an industry consultant that can tell him "what can kill" his investment idea; and have staff and computer systems. The small investor does not. Now we can stumble on information that Mr. Market does not apparently appreciate, which I think I did with APA, or we might be able to invest in a hedge or mutual fund that benefits from the manager's position and standing. I will posit another way for a small investor to benefit from scraps of information or scuttlebutt and use NovaGold (NYSEMKT:NG), which soon will be timely, as an example.
First, the method: there are websites that track the quarterly SEC filings and the history of big time money manager purchases and sales and look for evidence of what Berkowitz described in an interview as an occupational hazard to value investing, "premature accumulation." These filings are quarterly and the data is usually 4 or 5 months old by the time we get it. We then compare the price at which they bought to the current price. If the stock has not moved much or gone down, the manager may be early to the party, hence premature accumulation, and we might then focus to the extent we can see what interests that manager or whether we think he/she stumbled. We small guys can't do such for a large universe of money managers, and I limit my analysis to a few known value investors, including Klarman and Berkowitz, due to their records and the discipline. The Oracle compared his and six other value investors results in a speech commemorating the 25th anniversary of the Graham Dodd text Security Analysis, and argued the superior results were not random but a result of the value investing discipline. But that is my prejudice, as I'm sure there are equally good reasons to follow other money managers. Tanous in his book Investment Gurus showed that all major investing disciplines work though his analysis and interviews of several of the major money managers. He also argued that the huge difference between these folks and the small investor are resources and staff; that you get what you pay for. One curious side note on the Oracle's speech was that the seven investors did not invest in the same things during the same time frame, but still got superior results. Think about it. That all said, let's look at Klarman's position in NovaGold.
Klarman started buying NG in 3Q, 2011.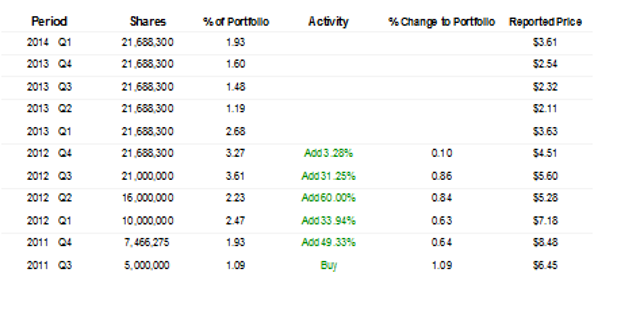 Source: Datarama Website
NG, which has been around awhile, abandoned its prior operations in favor of two mega mine developments, including what will be the second largest gold mine in Alaska. It is basically a start-up operation. The company raised money to fund the development and it appears Baupost participated. This appears to be shortly before gold started to dip. Below is a reproduction of a yahoo chart comparing the gold ETF to NG.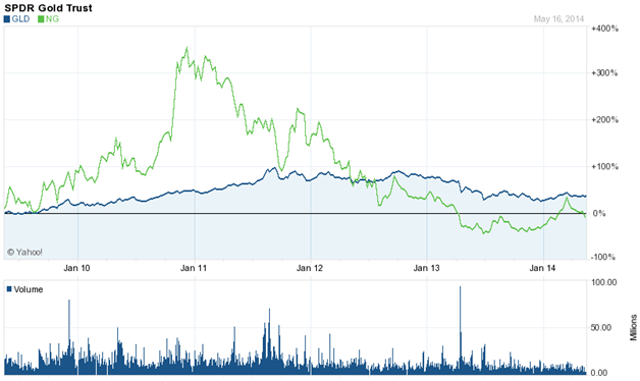 Klarman averaged down as the stock and the commodity caved. Since late 2012, the stock basically started trading in tandem with the price of gold. If you go to the NG website, the Alaskan project in particular is huge. Normally when I go through this exercise, the stocks bought by my hero's normally move up, and I'll still look at them if they have not moved up a lot. NG fell off the earth and now appears to have leveled off into discernible relationship with the commodity. I would assume, but don't know, that Klarman ran pro-forma cases, but note that he is holding. Timing error? I doubt it. He knew at the time how long it will take to bring the mines on and probably discounted his numbers appropriately under a range of potential outcomes. Ask yourself what is the real bet? The future mines will make a lot of money at any reasonable value for the commodity. What does it matter what the price of gold is now? It doesn't. NG is not selling any gold at the moment. Is gold going through the floor? If you believe that, you won't buy. The world banks continue to print money, even though inflation seems to be in check. I'm not trying to predict the price of gold or when inflation becomes rampant. We are talking about a business, which is kind of like gas processing. Two out of ten years you will make very little or even lose money; however, 2 of those same ten years, the price of ethane will spike, and you will hit a huge home run and sell your properties. Reading the pundits on gold, we still have some more downside, so maybe I wait to buy. NG went on my watch list. But my bottom line: we have ultimately a chance to buy this at a lower price than one of the world's greatest investors; a rare opportunity. I'll wait awhile, but I'll likely be buying this stock. If Klarman turns around and sells it to cut losses, then I would do the same, but I lose a hell of a lot less. Baupost owns 6.84% of NG's stock, and another well-known hedge fund headed by John Paulson owns 11.29%. They are the two biggest owners. I like being in good company.
I'll make one more point: The largest mutual fund holding this stock is the Tocqueville Gold Fund (MUTF:TGLDX) with 1.32% of the stock. The chief investment officer is John Hathaway. Hathaway invests a lot in small start-ups like NG; likens them to biotechs. Once they get something into development, it is often a question of time before big pharma swallows them up. Some of my biggest profits were on little gold stocks he was investing in which I decided to take out small positions in. Call me a copy cat. But inference like this is the closest a small investors normally come to "scuttlebutt" without knowing what the scuttlebutt is.
Disclaimers: I own APA, FAIRX and TGLDX.
Disclosure: I am long APA. I wrote this article myself, and it expresses my own opinions. I am not receiving compensation for it (other than from Seeking Alpha). I have no business relationship with any company whose stock is mentioned in this article.