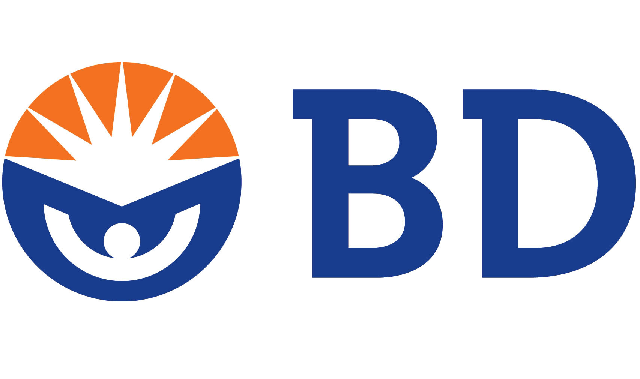 Becton, Dickinson and Company (NYSE:BDX) is a global producer of medical, diagnostic, and bioscience products. BDX was founded in 1897, and has paid increasing dividends for 42 consecutive years. The business has continued to evolve and expand with the medical supplies and equipment industry.
Current Events
BDX operations are divided into 3 divisions:
Medical (53% of YTD revenue)
Diagnostics (32% of YTD revenue)
Biosciences (14% of YTD revenue)
The company's revenue comes predominantly from international markets. Emerging market growth is driving BDX's expansion. The company's constant currency international sales have grown 9.2% year-over-year for the most recent 6 month period.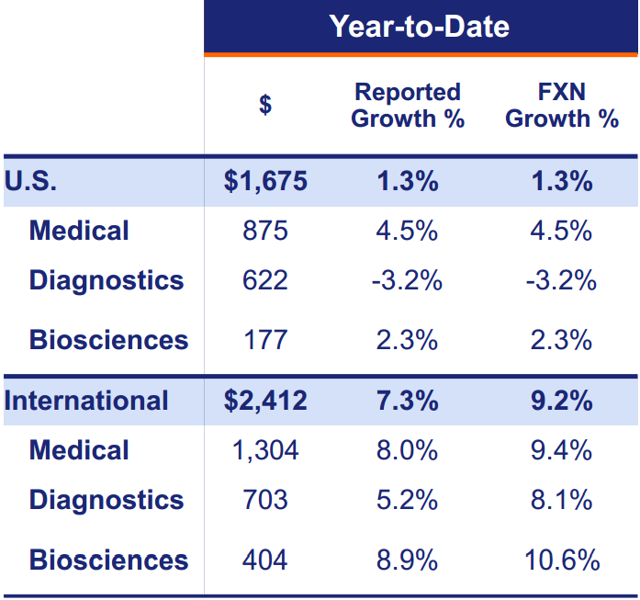 BDX's future growth will come from innovating new products and continued international expansion. In 2013, 13% of total revenue was from acquisitions and new products. BDX has a long history of innovation; the company will likely see its full product pipeline continue to grow revenue.
Demand for medical care products will continue to rise overseas as more people are lifted out of poverty through economic growth in emerging markets. BDX is well positioned to take advantage of this global trend. Currently, close to 25% of the company's revenues comes from emerging markets. Currency adjusted growth in China is around 17%. Sales of emerging market safety products are growing at 19% for 2014. BDX's strong emerging market growth will likely persist into the future as it continues to expand its offerings.
Shareholder Return
Shareholders of BDX can expect a CAGR of around 8.5% to 9% from growth (4.5% to 5%), dividends (2%), and share repurchases (2%). Share repurchases are most likely not returning full value to shareholders as the business has significant growth opportunities in which it can invest earnings instead of repurchasing shares. Constant currency year-over-year revenue growth in the company's emerging market - safety division was nearly 20%, and China revenue is growing at 17%. I believe reinvesting capital into high growth projects such as this would better benefit long-term shareholders.
Valuation
BDX appears to be somewhat overvalued compared to its peers. The medical device industry's P/E ratio as a whole looks somewhat inflated.
| | | |
| --- | --- | --- |
| Ticker | Company | P/E |
| BDX | Becton, Dickinson, & Co. | 24.49 |
| | Medtronic | 17.28 |
| ABT | Abbott Labs | 28.25 |
| SYK | Stryker Corp. | 40.15 |
| STJ | St. Jude Medical | 24.98 |
| BAX | Baxter International | 20.48 |
| COV | Covidien | 20.81 |
| BCR | C.R. Bard | 15.84 |
Source: Finviz
Comparison to Other Stocks with 25+ Years of Increasing Dividends
Consecutive Years of Dividend Increases
BDX has increased its dividend for 42 consecutive years. BDX's stability comes from the company's ability to adapt to changes in the medical device industry. The company was established in 1897 and appears to have a long growth trajectory ahead.
Why it matters: The Dividend Aristocrats (stocks with 25-plus years of rising dividends) have outperformed the S&P 500 over the last 10 years by 2.88 percentage points per year.
Source: S&P 500 Dividend Aristocrats Factsheet, February 28 2014, page 2
Dividend Yield
BDX current dividend yield of 1.87% ranks it at 74 out of 105 businesses with 25+ years of increasing dividends. BDX will be a significantly more attractive investment when its dividend yield rises (and its P/E ratio falls).
Why it Matters: Stocks with higher dividend yields have historically outperformed stocks with lower dividend yields. The highest-yielding quintile of stocks outperformed the lowest-yielding quintile by 1.76 percentage points per year from 1928 to 2013.
Source: Dividends: A Review of Historical Returns
Payout Ratio
The company's payout ratio of 42.50% ranks it at 53 out of 105 businesses with 25+ consecutive dividend increases. BDX's conservative payout ratio means dividend payments will likely continue to increase in the future.
Why it Matters: High-yield, low-payout ratio stocks outperformed high-yield, high-payout ratio stocks by 8.2 percentage points per year from 1990 to 2006.
Source: High Yield, Low Payout by Barefoot, Patel, & Yao, page 3
Long-Term Growth Rate
BDX has grown revenue per share by over 8% per year, ranking it at 15 out of 105. The company's strong per share revenue growth will likely continue as the company has a growth rate over 15% in emerging markets.
Why it Matters: Growing dividend stocks have outperformed stocks with unchanging dividends by 2.4 percentage points per year from 1972 to 2013.
Source: Rising Dividends Fund, Oppenheimer, page 4
Long-Term Volatility
BDX long-term standard deviation is only 20.23% ranking it (once again) at 15 out of 105. The company's low standard deviation is evidence of a company with very stable cash flows. BDX's earnings per share increased throughout the 2007 to 2009 recession.
Why it Matters: The S&P Low Volatility index outperformed the S&P 500 by 2 percentage points per year for the 20-year period ending September 30th, 2011.
Source: Low & Slow Could Win the Race, page 3
Conclusion
BDX is an excellent long term investment. It ranks highly based on the 5 buy rules from the 8 Rules of Dividend investing. The company will be an even better investment when the price to earnings ratio decreases. BDX's future is bright, and will most likely reward long-term shareholders.
Disclosure: I have no positions in any stocks mentioned, and no plans to initiate any positions within the next 72 hours. I wrote this article myself, and it expresses my own opinions. I am not receiving compensation for it (other than from Seeking Alpha). I have no business relationship with any company whose stock is mentioned in this article.