Unit price of Enterprise Products Partners (NYSE:EPD) has risen by 19% over the past 12 months, outperforming a 12% return for S&P 500 Index. The uptrend has been persisting since early 2009 and I believe it will not end here as the company still enjoys strong fundamentals and its valuation does not seem expensive at all.
EPD reported strong Q1 2014 results recently. Quarterly EBITDA came in at $1.27B, beating consensus estimate of $1.25B primarily owing to strong performance of EPD's NGL Pipeline and Services segment. Distribution coverage in the quarter remained very healthy at 1.5x. Capex backlog reached $6.8B which EPD expects to spend through 2016. On the operation front, the company completed approximately $2.5B of projects in the quarter which are expected to generate incremental cash flow in the year. Looking forward, management expects to bring $2.5B of the $6.8B project backlog on line in the remainder of 2014 and deploy the rest in between 2015 and 2016.
Taking the recent developments into perspective, I have performed a cash flow analysis to illustrate EPD's capacity to support continued distribution growth, and my conclusion is very positive. The first part of my analysis focuses on projecting the distributable cash flows ("DCF") from 2014 to 2016 (see chart below).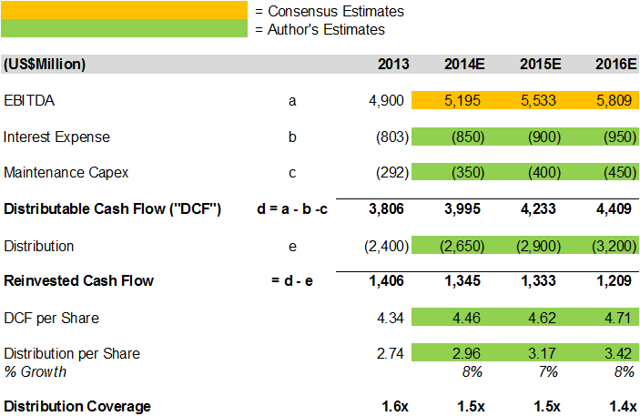 My analysis started with consensus estimates which expect EBITDA to increase from $5.2B in 2014 to $5.8B in 2016. Base on my forecast for equity issuance (discussed later) and a 4.5% cost of debt, interest expense was estimated to rise from $850M in 2014 to $950M in 2016. For maintenance capex, I projected it to increase from $350M in 2014 to $450M in 2016. It should be noted that my maintenance capex assumptions are higher than current consensus estimates ranging from $350M to $400M through 2016. Based on the conservative assumptions, DCF was projected to reach $4.4B by 2016. Given my estimate that diluted MLP units will increase to ~930M as a result of continued equity issuance (discussed later), this DCF growth profile can support a 9%-10% annual growth in total distribution or 7%-8% growth in distribution per unit and still has $1.2B-$1.3B reinvested cash flow per annum. In all, the first analysis suggests that with consensus inputs EPD's distribution coverage ratio would remain above 1.4x through 2016, leaving an ample margin of safety for any negative impact on distribution growth due to cash flow shortfalls.
My second analysis focuses on gauging additional borrowing and equity issuance that are needed by EPD to continue supports its growth over the coming years (see chart below).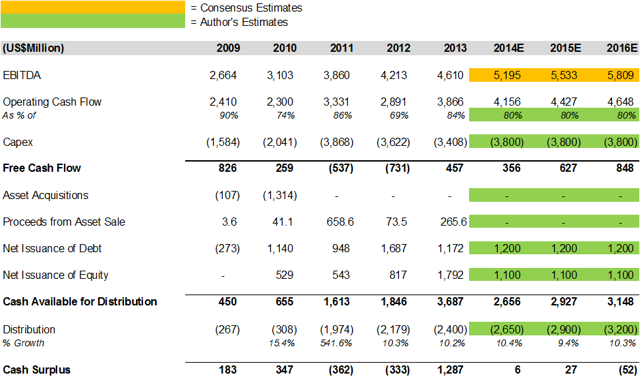 Similarly, this analysis started with the same consensus EBITDA estimates from 2014 to 2016. Given EPD's EBITDA to operating cash flow conversion ratio averaged 82% in the past 5 years, I assumed a flat rate of 80% through 2016, and this implies operating cash flow will rise from $4.2B in 2014 to $4.6B in 2016. In terms of total capex, market consensus now assumes a total cumulative capex of $6.8B to $7.0B from 2014 to 2016, which is fairly consistent with EPD's current capex backlog at $6.8B. This implies that the current consensus EBITDA estimates are likely derived from the total $6.8B-$7.0B capex that is expected to incur from 2014 to 2016, meaning that any additional growth capex would bring in incremental EBITDA to the current expected figures. To illustrate EPD's funding need (through debt and equity) in a conservative way, I used a total capex of $11.4B (or $3.8B per annum) over the forecast period and did not adjust the consensus EBITDA estimates. Even with these conservative assumptions, in order to support a 9%-10% annual growth in total cash distribution, EPD would only need additional funding of approximately $2.3B per year, which is lower than the annual total debt borrowing and equity issuance (net) in the past 2 years. Further, if the incremental EBITDA resulted from my higher-than-consensus capex assumption is factored in, there would be a lower funding need. As a note, my interest expense and MLP unit assumptions that were fed into the first analysis were projected based on my annual forecasts of $1.2B debt borrowing and $1.1B equity issuance.
In terms of valuation, I believe the current unit price does not fully reflect EPD's distribution growth potential. Based on current annualized distribution of $2.84 per unit and 9% cost of equity (CAPM model suggests a cost of equity at 7.5% based on 3% risk-free rate, 6% equity risk premium, and EPD's 5-year beta of 0.74), the current unit price of ~$73 only implies a per unit distribution growth rate of approximately 5% (see chart below). Given my previous conclusion (with conservative assumptions) that EPD can support a 7%-8% annual growth in distribution per unit while still maintain a coverage ratio of at least 1.4x over the coming 3 years, the implied 5% growth rate seems low.

In summary, EPD can deliver 7%-8% annual distribution growth (per unit) over the coming 3 years with its current capex backlog, and potential downside would be buffered by the healthy distribution coverage ratio. As EPD's current valuation seems to underestimate the distribution growth potential, investors are recommended to buy into the price uptrend and should see continued price appreciation down the road.
All charts are created by the author, and data used in the article and the charts is sourced from S&P Capital IQ, unless otherwise specified.
Disclosure: I am long EPD. I wrote this article myself, and it expresses my own opinions. I am not receiving compensation for it (other than from Seeking Alpha). I have no business relationship with any company whose stock is mentioned in this article.