BDCs have recently rebounded after falling an average of 11% mostly due to being removed from certain indices. This is an ongoing series to follow the volatility related bumps and dips through the end of June. I would suggest that investors keep plenty of dry powder and not expect to buy at the bottom of this cycle.
Previous Russell related articles:
The following table shows my long-term recommendations and suggested portfolios along with recent price points to indicate which companies are near three month or one year lows. I have also included whether or not I believe each BDC is at or getting close to a support level or 'floor'. Obviously these floors will continue to change and be tested through the end of June but for the BDCs that I believe currently have a support price this could finally be a buying opportunity. Since Part 2 it seems that all BDCs have either found support or are getting close.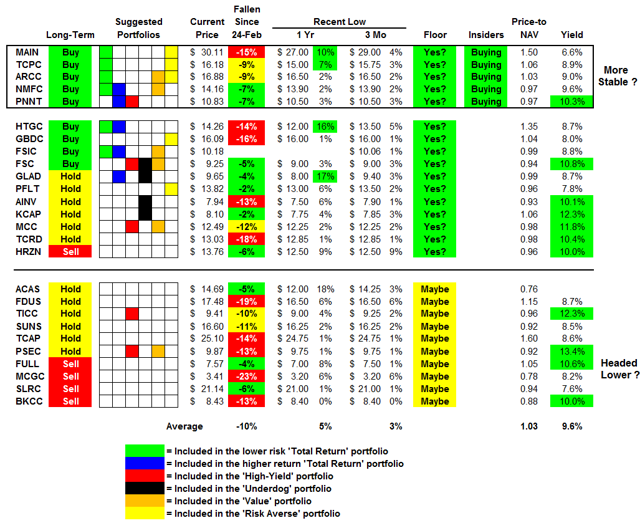 Support Group
There are now 16 BDCs that appear to be headed higher. Most of the BDCs that I consider to be higher quality and a 'Buy' are included in this group. The following chart shows the price performance for this support group compared to the average BDC after hitting a support level on May 8/9.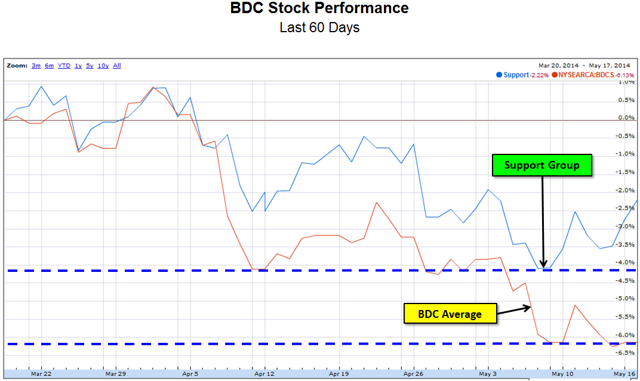 Insider Buying
There are five BDCs with insiders purchasing shares recently: Main Street Capital (NYSE:MAIN), TCP Capital (NASDAQ:TCPC), Ares Capital (NASDAQ:ARCC), New Mountain Finance (NYSE:NMFC) and PennantPark Investment (NASDAQ:PNNT). Coincidentally all of these BDCs have been considered a buy in my recent articles and most of them reported strong results for the most recent quarter with growing net asset value ("NAV") and covering dividends. Below are charts with some of the insider buying details for TCPC and ARCC.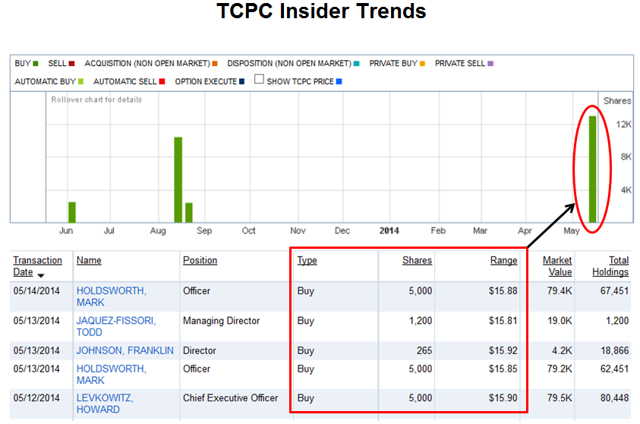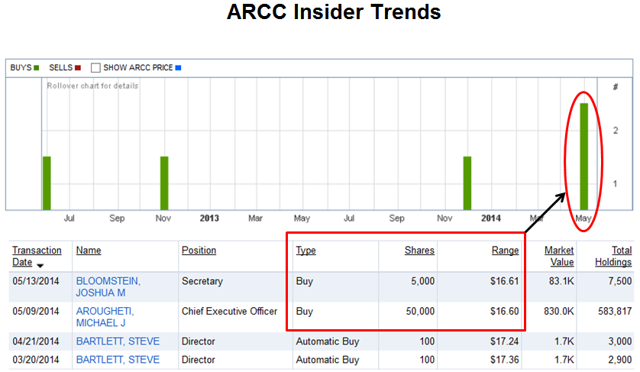 Next Steps for Investors
I am a conservative investor and would rather wait for sign of buying support and of course insider buying trends on top of recent strong earnings results. Over the next few days I will be watching Fifth Street Finance (NYSE:FSC) that has been bouncing near its 52-week low and could be ready to break out after recent upgrades by various analysts. At this point I consider BDCs that are at least 10% higher than their 52-week lows and headed higher to be safer investments during the Russell reconstitution. This would include higher quality internally managed BDCs such as MAIN and Hercules Technology Growth Capital (NASDAQ:HTGC). Medley Capital (NYSE:MCC) has reached what I consider to be a more appropriate price after being downgrading to a 'Hold' for the reasons discussed in my "MCC: May 2014" report.
I would use caution with the 10 BDCs that I have identified as 'Maybe' having a price floor including Prospect Capital (NASDAQ:PSEC) that is currently trading down related to recent SEC statements regarding some of its holding companies that are considered wholly-owned subsidiaries and should be consolidated as discussed in "Prospect Capital: What Comes Next?". American Capital (NASDAQ:ACAS) seems to be heading lower and will most likely test its recent low of around $14.25 this week. BlackRock Kelso Capital (NASDAQ:BKCC) remains down after cutting its dividend by almost 20% due to lack of coverage from net investment income ("NII") over the last three quarters. Full Circle Capital (FULL) will also be testing its recent low of $7.50 but this will most likely depend on the performance of a key portfolio company, Advanced Cannabis Solutions (OTCQB:CANN) that has recently had various warnings to investors by the SEC. Triangle Capital (NYSE:TCAP) has been removed from my suggested portfolios after reporting results that beat estimates but did not cover dividends for a second quarter in a row and is not expected to cover this coming quarter with a slight decline in its NAV per share. I still view TCAP as a higher quality BDC but I believe it has few more quarters of high repayments that will drag on earnings as discussed in "Triangle Capital Suffers From Repayments". TICC Capital (NASDAQ:TICC) is still a component in my 'High-Yield Portfolio' and ended last week higher (as did most BDCs) but is still near its recent low of $9.25 which seems to be a floor and should be watched this week.
Most of the BDCs that I currently consider a 'Sell' are trading at prices consistent with the average multiples, or even a bit lower, including BKCC, FULL, Solar Capital (NASDAQ:SLRC) and MCG Capital (NASDAQ:MCGC). However Horizon Technology Finance (NASDAQ:HRZN) is still overpriced and not covering dividends with a 15% NAV decline over the last two years but has a surging stock price over the last two months partially related to the successful exit of an investment that was on non-accrual.
The only BDC out of the 26 that I cover that has not reported results is Apollo Investment (NASDAQ:AINV) which will release earnings tomorrow and is expected to cover dividends.
I will update this information over the coming weeks including future insider transactions. Investors should remain patient and be in the process of performing personal due diligence on BDCs that fit their investment criteria (see suggested portfolios) to take advantage of upcoming opportunities. Investors should only use this information as a starting point for due diligence. See the following for more information:
Disclosure: I am long FSIC, HTGC, MAIN, TCPC, ARCC, NMFC. I wrote this article myself, and it expresses my own opinions. I am not receiving compensation for it (other than from Seeking Alpha). I have no business relationship with any company whose stock is mentioned in this article.
Editor's Note: This article covers one or more stocks trading at less than $1 per share and/or with less than a $100 million market cap. Please be aware of the risks associated with these stocks.