Canadian Solar (NASDAQ:CSIQ) announced strong results for Q1 2014 on Friday. All key metrics came at or above guidance and market expectations. The company delivered sales of $466.3M, compared to guidance of $415-430M; Module shipments came in at 500 MW, compared to guidance of 460-490 MW; and the gross margin was 14.7%, compared to guidance of 14-16%.
The total solutions business, or the project business, at 27% of sales, continues to become an increasingly larger part of the company's revenue stream. This project business not only has higher margins, but also provides downside protection from the volatile module business.
While the revenue upside and the growth in the project business is impressive, Canadian Solar's earnings came in at a subpar $0.07 per share. Gross margins were set back by about 100 basis points due to a fire in the company's cell factory. During the quarter, Canadian Solar purchased solar cells from outside parties, which increased the module cost per watt to $0.57 per watt - significantly higher than $0.54 per watt in the prior quarter.
Canadian Solar's guidance for Q2 shows modules shipments in the range of 600 MW-630 MW, with a 17-19% gross margin. The company also reiterated the stellar 2014 shipment guidance of 2.5 GW-2.7 GW and a revenue forecast of $2.7B-$2.9B.
The market seems to be not impressed with the results, and the stock price dropped about 10% after the earnings release. CSIQ is now selling at 50% discount from its recent high in January. With strong results and stable guidance, is this price drop a buying opportunity?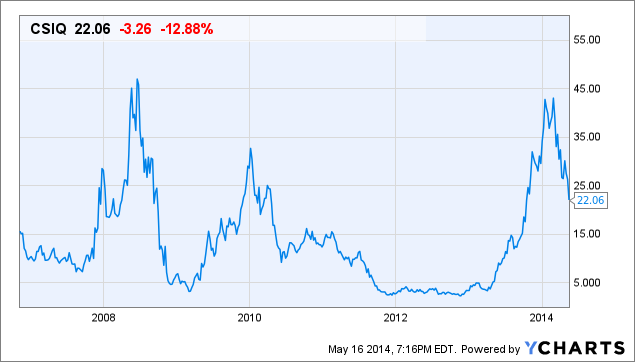 To analyze this company's investment potential, one has to start looking at the industry as a whole and look at the company's place in the industry. Unlike First Solar (NASDAQ:FSLR) [see our thesis here] and SunPower (NASDAQ:SPWR) [thesis here], Canadian Solar does not have a differentiated solar panel technology. Canadian Solar, JinkoSolar (NYSE:JKS), Yingli Green Energy (NYSE:YGE), Canadian Solar, ReneSola (NYSE:SOL), and Trina Solar (NYSE:TSL) are commodity manufacturers with very little product or technology differentiation. For more about our views on the commodity solar segment and the underlying risks, see our JinkoSolar thesis here.
Here is a summary of the positives and negatives of the company.
What We Like About Canadian Solar:
The company grew sales by about 28% in 2013, and the rapid growth is expected to continue for the next several quarters. While the company's growth lags that of some of its competitors, this is still a respectable performance.
ASPs were up in Q1, and are expected to be higher in Q2. Increasing ASPs provide dramatic leverage in commodity business, and the company is likely to outperform investor expectations as long as the ASPs do not collapse.
Canadian Solar's revenues are diversified across the world. Unlike some of its competitors, the company is not counting on strong China market to make the 2014 guidance, which we view as a positive. The upside here is that any strength in China's solar deployment can meaningfully improve the company's earnings.
The company is well-positioned in the North American market, and competes well with SunEdison (SUNE) (see thesis here) and other North American players in the DG and Utility markets.
Canadian Solar's project pipeline of 1.2GW is impressive and likely to grow rapidly - especially in China and in Japan.
What We Do Not Like About Canadian Solar:
Module costs at $0.54 per watt (adjusted for a one-time fire issue) are higher than that of the industry leaders' costs by about 15%. We do not find this level of a cost disadvantage acceptable for a module vendor (however, note that 27% of company business is projects).
The company has a high debt load, and the balance sheet is weak.
Canadian Solar needs to have access to additional working capital to continue to grow - especially on the module side of the business. Secondary stock offerings improve the financial position, but result in earnings dilution. Preferred debt or other debt will further weaken the balance sheet.
Unlike its main competitor, JinkoSolar, Canadian Solar lacks the preferential access to China's large domestic solar market
Currency conversion volatility adds to the unpredictability of the company's earnings.
Canadian Solar is likely to perform well in the current environment, with flat-to-increasing module prices. Depending on its project completions, we believe the current analyst estimates of $3.68 for calendar year 2014 are very conservative. The likelihood of a dramatic earnings beat for 2014 is high.
However, due to the high cost structure of the module business, the company is highly susceptible to aggressive competition or demand implosion. We believe that investors considering commodity solar companies should only consider companies with excellent cost structures. In this respect, with a cost of about $0.54 per watt, Canadian Solar lags JinkoSolar's cost structure by about 15%.
Canadian Solar's project business as less susceptible to price competition and, as of the end of Q1, 72% of the company's business comes from the commodity module/cell business. Given the current revenue distribution, we believe that Canadian Solar's negatives outweigh the positives and make the stock a high-risk investment.
While the near-term upside to Canadian Solar is considerable, the commodity nature of its manufacturing business, coupled with its cost disadvantage makes this stock unsuitable for long-term investors. If one has to invest in Chinese solar companies, JinkoSolar may be a better candidate.
For long-term investors, we believe the better options are Guggenheim Solar ETF (NYSEARCA:TAN) and Market Vectors Solar Energy Index ETF (NYSEARCA:KWT) [see here].
Our Sentiment: Avoid
Disclosure: I am long FSLR, JKS. I wrote this article myself, and it expresses my own opinions. I am not receiving compensation for it (other than from Seeking Alpha). I have no business relationship with any company whose stock is mentioned in this article.