This isn't going to be some in depth article explaining all the reasons why I continue to hold Ford long in my portfolio. I've made it extremely clear over the last year that I hold Ford not only for the company's domestic growth potential, but for what they're capable of doing overseas.
The company's stock continues to sit in a trading range, ping ponging between the 50DMA and the 200DMA. A move to test either of these averages to the upside or downside will likely establish the next trend for Ford's stock. I'm betting it's going to be to the upside when Ford breaks and holds the $16 level relatively soon.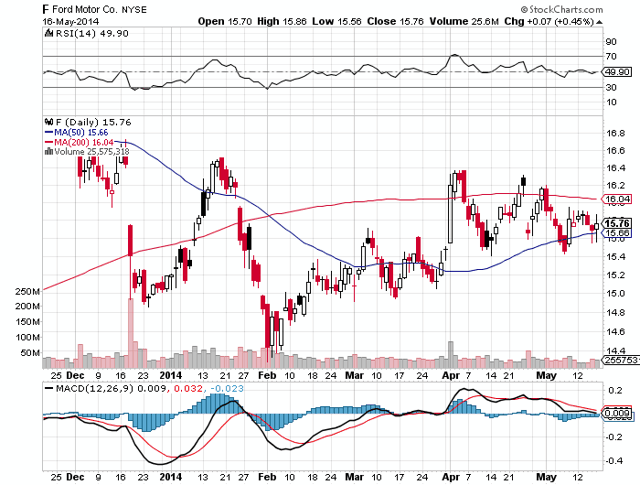 Regardless, the company is up a modest 2.1% so far in 2014.
Between Ford and GM, Ford seems to be the innovator - at least for the time being. GM has followed their lead into aluminum trucks, and has followed their lead to focus on Asian and European sales to help drive business.
There comes a point where investments start to eventually pay off for a company. For Ford, we saw this when they built their first factory in China - I wrote about this in an article many months ago when Ford's growth was just starting in China.
Now, if you will, think back hard - way back - to 2009. Ford had invested something like $500 million into a new plant in China that they were hoping to get into operation by 2012. The headlines looked like this:

Just now - 5 years later - we are starting to reap the fruits of this investment. Ford's growth in China continues to poke upwards.
China remains the world's number one auto market.
And Ford designs - say what you want about them domestically - turn enough heads in China for Chinese auto manufacturers to try and copy Ford's designs for their own vehicles.
As such, I was glad to see the news at the end of the week last week that Ford was going to continue to free up funding to continue to invest in their overseas growth. Like we've seen in the past, the effects of these investments may not be immediately noticeable, long-term shareholders could still stand to benefit.
Seeking Alpha reported last week:
Toyota (NYSE:TM) and Ford (NYSE:F) plan to sell asset-backed securities in China. Each have about 800M Yuan set to go to auction later this month.
The automakers will securitize their car loans in an effort to free up more funds for investment.
As I pointed out in my previous article, Ford's growth across the board - but namely in China - continues to grow.
(click to enlarge - source Forbes)

Of course, the risk inherent here is that this growth hinges on the global economy continuing to churn. While we've seen no real pulling in of the reins here in the U.S. from our Central Bank, global tensions - as we've seen of late - could continue to dampen the market slightly.
I continue to contend that it's only going to be a matter of time before Ford's stock responds to the growth numbers that the company continues to post.
I remain long Ford and contend that the stock remains attractively priced at these levels.
Disclosure: I am long F. I wrote this article myself, and it expresses my own opinions. I am not receiving compensation for it (other than from Seeking Alpha). I have no business relationship with any company whose stock is mentioned in this article.