The American Association of Individual Investors (AAII) conducts a popular bull-bear survey. The most recent results? Only 1/5 of respondents expect stocks to rise over the next 6 months.
When's the last time that the AAII survey only found 20% bullishness among its participants? Just 4 days before the March 9, 2009 bottom for the U.S. market.
It's a great data point for contrarian thinkers. However, a number of other data points do not support the argument that a near-term bottom in U.S. stock assets has arrived.
For example, in March of 2009, the CBOE Volatility Index (VIX) had been straddling the number "50." Today, the VIX is near 27. What's more, the VIX has been setting "lower lows" since mid-May of 2010. "Lower lows" do not create an impression that the market is experiencing the kind of bone-chilling panic to flush out the last of the optimists. Quite the contrary.
click to enlarge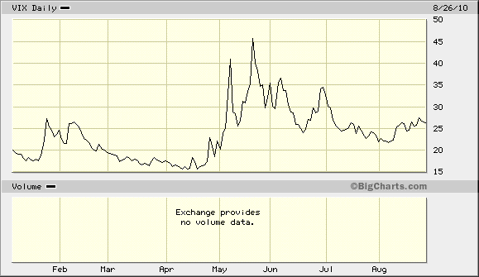 It's a given that the markets hate uncertainty. Perhaps the largest uncertainty weighing on the markets today is what the government plans to do to stimulate the economy.
How much of the Bush tax cuts will survive beyond 2010? The more, the better for the markets. What kind of government stimulus will the current Administration announce? Even at the expense of the deficit, some form of "don't-tax-but-go-ahead-n-spend" would likely benefit stocks, as targeted spending would push off a dreaded double-dip.
Right now, short-sellers and permabears are willing to "fight the Fed." They're also willing to fight the possibility that a terrible U.S. economy may actually benefit stocks in Q4.
Think about it. Corporate earnings will still demonstrate rising profit margins as well as exceptional balance sheets, in spite of and because of the macro-economic picture. Voters will create a shift towards pro-business Republicans in Congress because of economic weakness. Meanwhile, stimulative monetary and stimulative fiscal policy will likely be large, giving rise to a Q4 rally scenario.
In my firm, a Registered Investment Adviser with the SEC, I've focused on capital appreciation from emerging markets and income production from domestic markets. Admittedly, I am not likely to deviate from what's been working, even if U.S stocks stage a rally. That said, I will be keeping these U.S. stock ETFs on my watch list:
1. First Trust Internet (NYSEARCA:FDN). This exchange-traded fund tracks the DJ Internet Composite — an index with companies that generate 50% or more revenue from commerce/service over the "net." Predictions of Google's (NASDAQ:GOOG) demise are premature, while Salesforce.com (NYSE:CRM) only continues to widen its "moat."
2. Vanguard Telecom (NYSEARCA:VOX). Telecom products a la phones have been recession-proof… telecom services may be another story. But I'm comfortable with the yield, valuation and relative strength of the industry.
3. PowerShares Dynamic Food and Beverage (NYSEARCA:PBJ). If there's going to be a rally, Coca-Cola (NYSE:KO), Pepsico (NYSE:PEP) and McDonalds (NYSE:MCD) will be in the running of the bulls.
Disclosure: Gary Gordon, MS, CFP is the president of Pacific Park Financial, Inc., a Registered Investment Adviser with the SEC. Gary Gordon, Pacific Park Financial, Inc, and/or its clients may hold positions in the ETFs, mutual funds, and/or any investment asset mentioned above. The commentary does not constitute individualized investment advice. The opinions offered herein are not personalized recommendations to buy, sell or hold securities. At times, issuers of exchange-traded products compensate Pacific Park Financial, Inc. or its subsidiaries for advertising at the ETF Expert web site. ETF Expert content is created independently of any advertising relationships.