Over the past week or so, I've been taking a look at Bank of America's (NYSE:BAC) segments in order to determine a sum-of-the-parts valuation for the conglomerate bank. Thus far, I've examined Consumer and Business Banking, Consumer Real Estate Services, Global Wealth And Investment Management, and Global Banking. In this piece, we'll take a look at BAC's Global Markets segment in order to determine its worth to the consolidated company.
The Global Markets segment, or GM, is BAC's division that offers sales and trading services to its clients, including research, across the equity and FICC markets. It provides clearing, financing and market-making services as well, in addition to a range of other investment banking-related activities.
As with the other pieces, all data for this article was pulled from company SEC filings.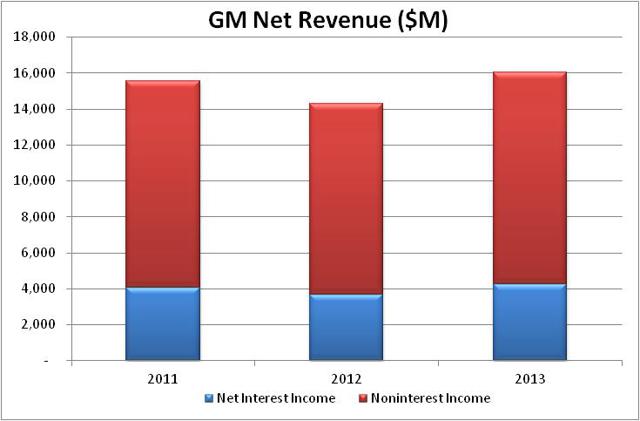 To begin, we'll take a look at GM's revenue figures for the past three years. We can see that 2012 was a down year for BAC's GM division, as it produced roughly $1.5 billion less in revenue than the prior year. This would have been troubling, except that revenue rebounded very strongly in 2013, producing just over $16 billion. This revenue figure makes GM BAC's fourth-largest segment, just behind the Global Banking business. You can see GM's revenue growth came mostly from gains in noninterest income, as you'd expect for a Markets business. This means BAC's growth in fees received from its clients increased at a rapid rate in 2013, considering the size of this business, and that is where the growth will come from in the future. This isn't a banking business in the traditional sense; this business makes its money on fees for services provided, and BAC did a nice job of growing those fees last year.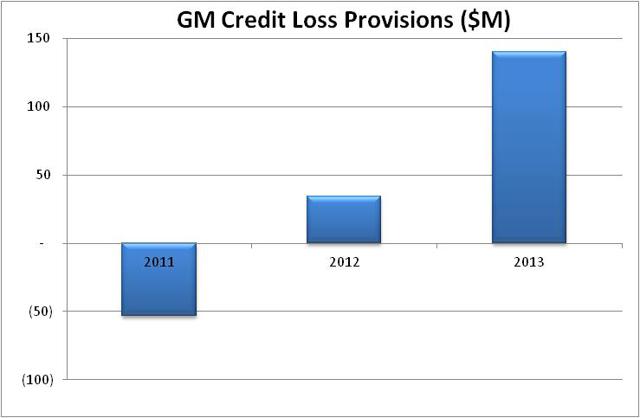 Since this isn't a traditional banking business with a lot of credit risk, BAC's credit loss provisions for its GM business are virtually inconsequential. In 2011, we saw negative credit loss provisions, indicating BAC was over-provisioned for such events, but the most recent two years have seen successively larger credit loss provisions. While I still think $140 million is inconsequential, if the number continues to grow, it may become an issue at some point. However, given that last year's number was still only 90 basis points of revenue, BAC is in good shape here.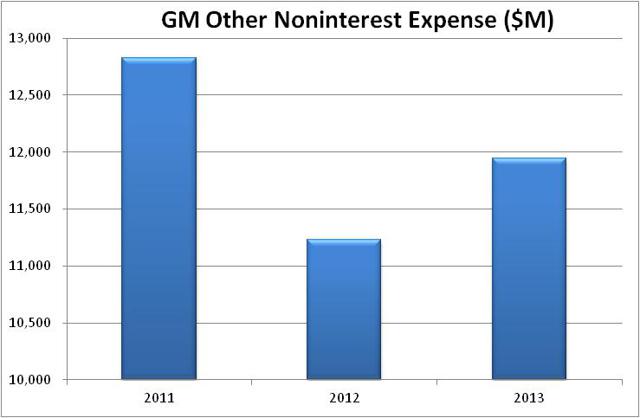 The biggest expense in this business, like many others BAC has, is personnel costs. As part of Project New BAC, the company has been reducing all kinds of costs across its divisions to increase profit margins. We'd see New BAC's effects in non-interest expense, and if we look, we do to some extent. In 2012, non-interest expense plummeted $1.6 billion, juicing margins in GM. However, last year saw that number jump about $700 million, erasing some of the gains made in the previous year. While the number is still well below 2011's high, I want to see this number dip back towards the $11.5 billion area this year, or I will become concerned that BAC is paying too much for its revenue in the GM segment.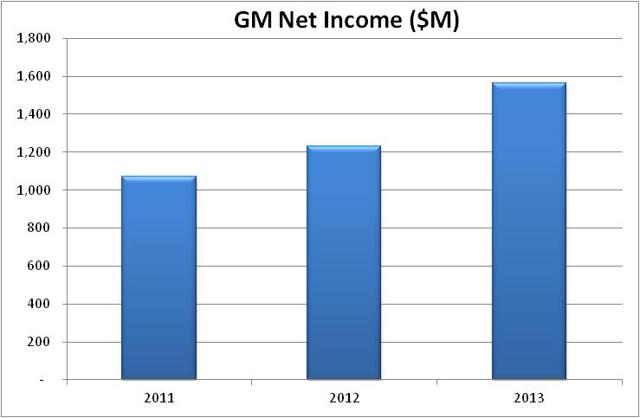 Finally, this is a picture of GM's net income figures for the past three years. As you can see, margins are relatively slim in this business compared to some of BAC's other lines. However, what we can see unequivocally is that GM is producing higher and higher margins each year. We see net income grow steadily in the past three years, from $1.07 billion in 2011 to $1.56 billion last year. That is tremendous profit growth, and I'm looking for that margin expansion to continue. GM has proven its worth as a profitable business, and with revenue growing, it should produce a hefty profit for BAC again this year.
For 2014, I'm expecting $16.3 billion in revenue, due to a soft investment banking environment, $11.5 billion in non-interest expense on New BAC's continued cost-reduction efforts, and inconsequential credit losses. This scenario would produce something like $2 billion in net income for 2014. While an ambitious target, the pieces are in place for it to happen. If BAC can add an additional $450 million in profits from GM, it will be a great year.
Disclosure: I am long BAC. I wrote this article myself, and it expresses my own opinions. I am not receiving compensation for it (other than from Seeking Alpha). I have no business relationship with any company whose stock is mentioned in this article.