A few weeks ago I wrote an article on Healthcare Trust of America (NYSE:HTA), a "pure play" health care REIT focused solely on one industry - medical office buildings (or MOBs). This Scottsdale-based "pure play" REIT is very popular with active investors, because the company has one "circle of competence", and unlike the "Big 3" Health Care REITs -Ventas, Inc. (NYSE:VTR), HCP, Inc. (NYSE:HCP), and Health Care REIT (NYSE:HCN) - HTA doesn't suffer from risks related to managing diversified business lines.
One of the impressive attributes for HTA (and one reason that I own shares) is because of the company's In-House Property Management and Leasing Platform. As reported in the first quarter earnings release, HTA has expanded its in-house property management and leasing platform by 562,000 square feet of GLA in 2014, bringing total in-house GLA to 12.6 million square feet of GLA, or 89% of the portfolio's GLA.
That's an important differentiator and one in which this "pure play" REIT has been able to build on its impressive track record of performance. For example, during the last quarter, HTA entered into new or renewal leases on approximately 300,000 square feet of GLA, or approximately 2.1% of its portfolio and tenant retention for the was approximately 75% by GLA. Also at the end of the quarter, HTA's leased rate by GLA was 91.2%, up from 90.9% a year ago.
By internalizing property management, HTA has added "pure play" benefits, whereby the company generates ongoing savings that can generate added economies of scale (for the tenants) through this process of getting more efficient, and obtaining national contracts, and having property managers and engineers perform their duties.
As a result of the increased asset management and leasing platform, HTA is doing a majority of leasing and negotiations directly with tenants, reducing the overall cost paid to third-parties, and maximizing the overall deal economics.
An Exclusive Seeking Alpha Interview with HTA's EVP of Asset Management
Recently I visited Scottsdale, Arizona and the headquarters of HTA. While visiting with members of the company's executive management team I was able to meet with Amanda Houghton, Executive VP of Asset Management. Houghton has served as EVP of Asset Management since December of 2011. From January 2011 to December 2011, she served as Senior Vice President of Asset Management and Finance. From January 2010 to January 2011, she served as Vice President of Asset Management and Finance. Houghton graduated from Southern Methodist University with a B.B.A in Finance and a B.A. in Public Policy. She holds the Chartered Financial Analyst designation and is a member of the CFA Institute and Commercial Real Estate Women (CREW). See the video of our interview here.
Because of HTA's disciplined approach to leasing and management, the company has become an exceptional stock to own. During the first quarter the company's normalized FFO increased 24.1% to $42.4 million compared to Q1 2013. In addition, Normalized FFO Per Share increased by 12.5% to $0.18 per diluted share, an increase of $0.02 per diluted share, compared to Q1 2013.
Also, as further evidence of HTA's improving circle of competence S&P recently upgraded HTA's investment grade credit rating to BBB, with a stable outlook. S&P specifically cited HTA's well occupied, on-campus medical office building portfolio, conservative credit metrics, and the successful progress of the company's in-house asset management and leasing platform as rationale for the upgrade. Scott Peters, HTA's CEO, commented:
We are pleased to announce the upgrade by S&P. This validates the industry-leading performance of our high quality portfolio of medical office buildings and the strength of our internal property management and leasing platform. This performance continues to provide stable and predictable returns for our stockholders.
In closing I own shares in HTA as well as the diversified health care REITs, Ventas, Inc. and Health Care REIT. One of the true advantages of owning HTA is because of its leasing and management platform. When it came time to invest in the health care sector, I felt like HTA could deliver sound results because of the aligned interests of tenants, management, and shareholders. Apparently Mr. Market agrees with me as HTA's shares are up over 26% since December 15th (shares closed last at $12.32).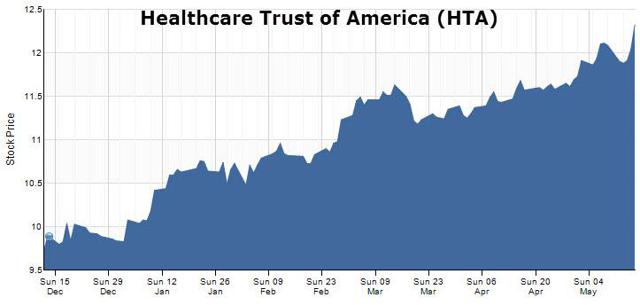 The Intelligent REIT Investor: For more information on REITs, check out my monthly newsletter HERE.
Source: SNL Financial
Disclaimer: This article is intended to provide information to interested parties. As I have no knowledge of individual investor circumstances, goals, and/or portfolio concentration or diversification, readers are expected to complete their own due diligence before purchasing any stocks mentioned or recommended.
Disclosure: I am long O, DLR, VTR, HTA, STAG, UMH, CSG, GPT, ARCP, ROIC, HCN, OHI, LXP, KIM, WPC, DOC. I wrote this article myself, and it expresses my own opinions. I am not receiving compensation for it (other than from Seeking Alpha). I have no business relationship with any company whose stock is mentioned in this article.