DryShips (NASDAQ:DRYS) continues to condense and coil around the $3 area, leading investors like Kurt Thorup to wonder when the time is going to come - if ever - that we see DRYS up above $4 again. We saw DRYS nearly touch $5 at the beginning of last year, but since then, the company has failed to impress.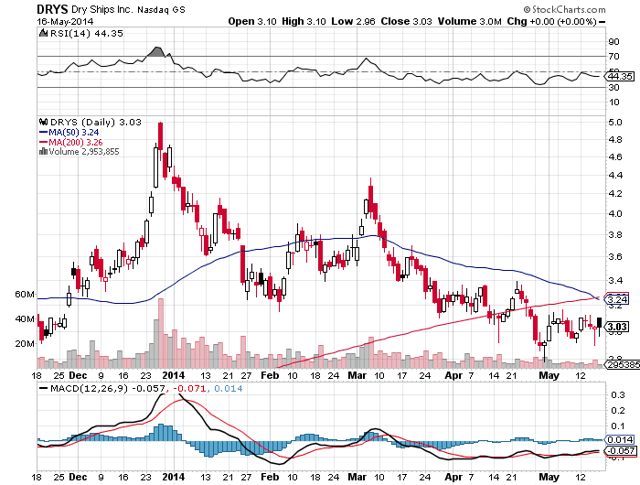 DRYS has continued to return 45.7% for its investors dating back to the last 12 months. To start 2014, however, it has been another story. The stock has been down 35.5% since the beginning of the year, leaving investors scratching their heads.
DryShips, Inc. is a company which provides mostly water-based transportation for all kinds of cargo. From DryShips' website:
DryShips Inc. is an owner of drybulk carriers and tankers that operate worldwide.

Through its majority owned subsidiary, Ocean Rig UDW Inc., DryShips owns and operates 10 offshore ultra deepwater drilling units, comprising of 2 ultra deepwater semisubmersible drilling rigs and 8 ultra deepwater drillships, 3 of which remain to be delivered to Ocean Rig during 2013 and 1 during 2015.
DryShips owns a fleet of 42 drybulk carriers (including newbuildings), comprising 10 Capesize, 28 Panamax, 2 Supramax and 2 newbuilding Very Large Ore Carriers (VLOC), with a combined deadweight tonnage of approximately 4.4 million tons, and 10 tankers, comprising 4 Suezmax and 6 Aframax, with a combined deadweight tonnage of over 1.3 million tons.
This past year has shown a couple of bumps upwards in the Baltic Dry Index - the price index that governs dry shipping rates. Based on this, I considered DRYS as a potential bullish position some weeks ago. I'm updating this thesis, reminding investors that it's short-term based. I continue to contend that DRYS could likely be a lucrative short-term bullish position.
What I'm not doing is pouring money into DRYS and letting it sit there. I'm watching and waiting for the company's next move upwards, then likely advocating another exit - as I called last December.
I'm not one for swing trading all the time, but sometimes, in the case of a company like DRYS, you need to keep them on the very same short leash that they are keeping their shareholders on.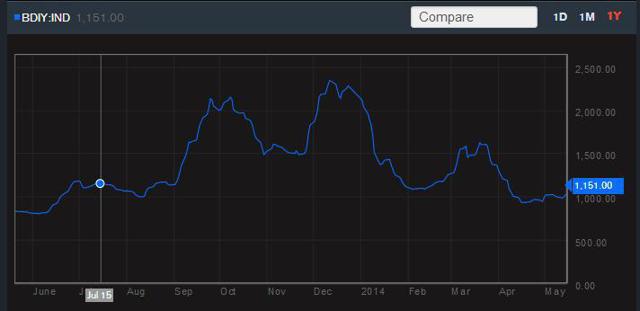 Source: Bloomberg
As you can see from the above chart, shipping rates aren't the worst they've been over the past year, but they're close.
Meanwhile, the company continues to issue shares to keep itself afloat - and while it has a decent cash position to dig its heels in right now, dilution is creeping up on shareholders every day that shipping rates don't improve.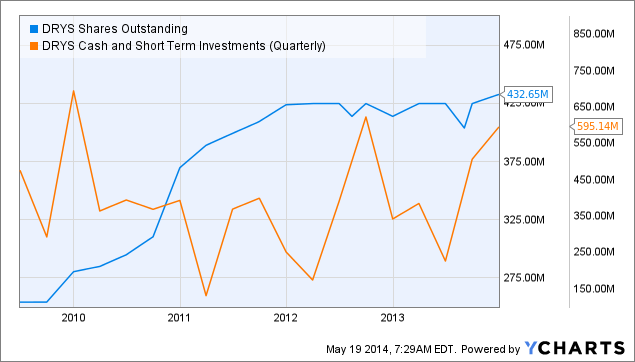 DRYS Shares Outstanding data by YCharts
I want to bet on the upcoming seasonal catalysts for the company. I think there's opportunity there, as I think there's opportunity in Ocean Rig (NASDAQ:ORIG), the company's robust subsidiary. Despite this, the dilution and the "interesting" dealings of the company's CEO make it tough for me to endorse anything but a short-term trade in DryShips.
However, as a play on the recovering niche of dry shipping, I continue to contend that there's likely going to be some short-term upside potential in getting into DRYS around these levels. My initial price target was to wait for $2.85 - we've come close enough, and I'll consider dabbling into DRYS this week.
Best of luck to all investors.
Disclosure: I have no positions in any stocks mentioned, but may initiate a long position in DRYS over the next 72 hours. I wrote this article myself, and it expresses my own opinions. I am not receiving compensation for it (other than from Seeking Alpha). I have no business relationship with any company whose stock is mentioned in this article.