Let me preface this by saying that Chipotle Mexican Grill (NYSE:CMG) is one of my favorite places to eat and has a great business model. Despite this, recent rises in food prices should be a major concern for Chipotle investors going forward. In CMG's 2014 Q1 earnings call, we learned that beef, avocado, and cheese prices were rising and that "food cost rose a little more than expected" to 34.5 percent of revenue.
In CMG's 2013 Q4 earnings call, their Co-Chief Executive Officer Steve Ells stated that 34.5 percent of revenue was the food cost threshold for increasing menu prices, and in the 2014 Q1 earnings call, the threshold was increased to 35-36% before increasing menu prices further. Chipotle will be raising their menu prices for the first time in 3 years across the board by the 3rd quarter of 2014. This is clear indication that Chipotle's management is acknowledging food cost will increase in the near future. But is Chipotle prepared for a dramatic increase in the price of corn?
You see corn is fed to cattle which supply dairy products and ultimately beef. Corn is an also an ingredient in several of Chipotle's products, including their tortillas, chips, and salsa. A rise in corn prices will increase food costs as well as hurt restaurant level margins. Let's take a look at the chart of the Teucrium Corn Fund ETF (NYSEARCA:CORN) below. CORN broke up and out of a massive descending wedge on heavy volume in early 2014. I expect CORN to reach $41 by September of this year.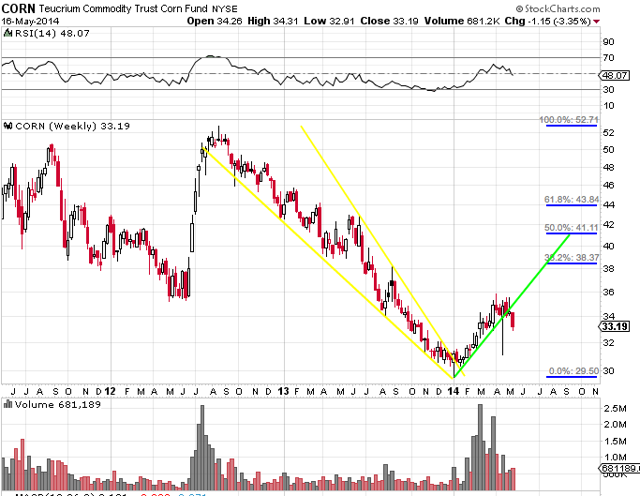 Source: Stockcharts.com
The catalyst to push corn prices higher is the El Nino weather effect. According to an article in Barron's, National Meteorologist agencies in the United States, Australia and India predict a more than 50% chance that El Nino will arrive by summer. Also, Tim Alford of Armored Wolf, a commodities investment firm, believes that corn is a good El Nino play. The severe heat wave and wildfires in southern California are recent examples of the volatile weather that may impact commodity prices later this year.
Let's take a look at Chipotle's daily chart. In late April, CMG broke down below the 50-day moving average on very heavy volume. Bollinger band width is signaling a very large move is coming. It appears that CMG is developing its right shoulder on a very large head and shoulder pattern. If this pattern plays out, Chipotle's stock will target $325 a share. I have a more conservative target which is $429 a share. The best shorting opportunity will be in the $520-$538 price range.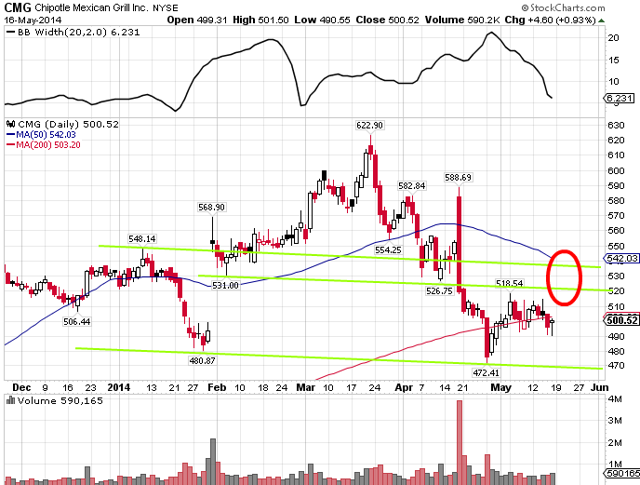 Source: Stockcharts
In conclusion, I expect El Nino to have a dramatic effect on commodity prices, including corn. If corn prices rise, it will cause Chipotle's food costs to increase substantially and force management to increase menu prices further and/or lower their growth projections.
Disclosure: I have no positions in any stocks mentioned, but may initiate a short position in CMG over the next 72 hours. I wrote this article myself, and it expresses my own opinions. I am not receiving compensation for it (other than from Seeking Alpha). I have no business relationship with any company whose stock is mentioned in this article. I intend to go long CMG put options in the 520-536 price range.