Every time I write a bullish article about GM and why the company is going to be fine in the long term - once the recall mess is over - more headlines pop up that shoot down the short-term trade for the company.
And don't get me wrong, I'm sticking by my sentiments that there's 18% upside growth for General Motors (NYSE:GM) possible before this year ends. Past the 8 month picture, GM seems a much better bet than throwing money in for a short-term trade here.
I don't want people to think that I've changed my long-term outlook on the company. If they can continue to sell vehicles and execute below the surface, while mopping up the recall mess, I do think the company is significantly undervalued.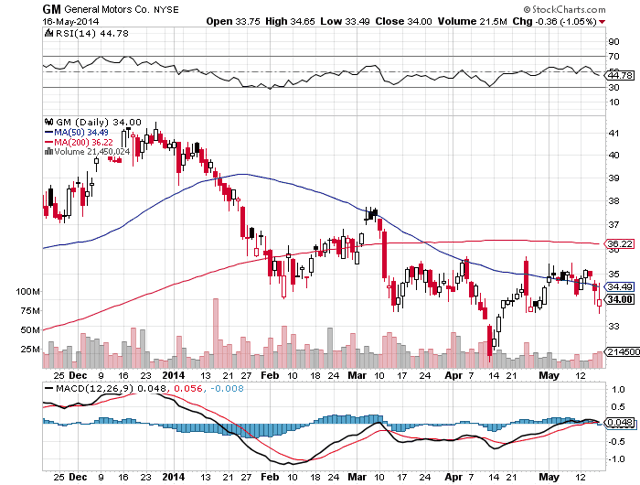 As you can tell by the company's 6 month chart, it's getting to be tough to get potential investors into this mindset - even when the lads on CNBC like Jim Cramer come out and suggest that for the long term, these levels could be representative of a value for General Motors.
GM opened trading on Friday down - but when news of the company's consent order and corresponding fine with the DOT broke, the stock walked itself back up.

On the news going mainstream, volume picked up a bit and GM even went green for the majority of the afternoon.
Seeking Alpha reported:
General Motors (+0.1%) will pay a $35M fine as part of a consent order it signed with the DOT. The action marks the first time an automaker has been charged the maximum fine level by the government.
The automaker faces additional fines for questions posed to it by regulators which remain unanswered.
As part of the consent order, GM agrees to make "significant and wide-ranging internal changes" to how it conducts safety reviews.
Great news for GM longs, right? Case over and settled, a slap on the wrist for the company, right?
Not exactly.
Yes, you're correct that GM is a $55 billion company and that $35 million is a drop in the bucket for the company. It's wrong to take this $35 million figure and compare it to the Toyota recall, however. You'd be wrong to assume this fine is going to be the last one that GM encounters with regards to the recalls.
The fact that this fine marks the first time an automaker has been charged with the maximum fine level by the government tells me something - the severity of the issue with GM is trumping a lot of other cases.
Criminal liability still has to be looked at and dealt with in this issue - the forthcoming fines, if any, are going to be the heavy hitters. Even the above note reported by Seeking Alpha continues to note that further fines could be upcoming.
While I'm bullish on the stock, a $35 million settlement and a consent order would absolutely, in no way, be justice for the negligence that the company should be liable for in this case. And that's coming from a General Motors bull. As I've often noted in the past, there is a damn fine line here that the company and regulators are going to have to walk.
The conflict of interest is that insiders and politicians that helped to bring GM back to its current state are the ones that are going to be key in determining whether or not the company should suffer further penalties, including criminal penalties.
Is the government worried about what it would look it like if it resurrected GM, only to then cripple it yet again with fines and charges from the company's wrongdoing? A bit of a catch 22, perhaps.
The company continues to act in a proactive manner with regards to recalls.
Again looming below the surface are even more headlines regarding recalls - it seems like I haven't woken up a day in the past three weeks without seeing more recall headlines issued by Ford (NYSE:F) and GM. I know the companies are being proactive, but it's starting to get a little out of control. Seeking Alpha pointed out that it now makes it a total of 11.1 million vehicles recalled this year - that's a lot of vehicles:
GM's latest recall of another 2.7M vehicles pushes its total number of cars and trucks called back for fixes in the U.S. this year to 11.1M - more than GM recalled during the previous six years combined.
GM's recent moves are proactive and is evidence of a new standard in safety oversight, S&P Capital says in maintaining a Strong Buy recommendation, but RBC Capital says GM is now more of a 2015 story as the negative headlines squelch budding investor interest.
The latest charge takes off the table GM's goal of a 10% EBITDA margin in North America in Q2, RBC analyst Joseph Spak says, adding that given greater focus on quality and recalls, it's fair to assume warranty accruals have to be raised, an added cost of business.
However, if you're considering purchasing simply on Friday's headline - or if you in any way think that this case is closed, be wary of the additional risks that GM could face moving forward.
Barring anything crippling, GM should be a good long-term investment still - these headlines will likely pass in time. Short term, there remains some real risk in General Motors.
Best of luck to all investors.
Disclosure: I am long F. I wrote this article myself, and it expresses my own opinions. I am not receiving compensation for it (other than from Seeking Alpha). I have no business relationship with any company whose stock is mentioned in this article.
Additional disclosure: I reserve the right to open or close any GM position in the future without notice.