I'm sorry - I hate to pile on the short side of this one, but better some investors start to realize that the risk of total loss is becoming very real here.
Since the NQ Mobile (NYSE:NQ)/Muddy Waters feud began, I haven't really taken sides. I advocated staying as far away from the mess as possible and letting the cards fall where they may.
The older I get, the more skeptical I become. And, the more skeptical I become, the easier it is for me to subscribe to short sellers that do their research and come out and blatantly call a company fraudulent. Surely, if the short seller has it wrong - it's libelous - but more often than not, shorts are onto something.
When the short seller knows beyond a reasonable doubt that they have the research right, they beg the company to come and sue them - in order to be able to gain access through subpoena power to the company. Don't you think Bill Ackman would like Herbalife (NYSE:HLF) to sue him, so he could gain access to company documentation through subpoena power?
At best, short sellers are often right and helpful in pointing out financial fraud. Additionally, they serve an important part in today's market by creating a balanced system of supply and demand, ergo helping make a market. At worst, shorts sometimes get things wrong and make allegations that provide buying opportunities for those who do their own due diligence and conclude that a company is legitimately valued. A short getting an overvaluation wrong is, in essence, the same as a long getting an undervaluation wrong. The only difference is that the short seller is often pinned as the "bad guy," which is why despite mountains of evidence, they are sometimes attacked and refuted (ibid, Bill Ackman).
Short selling is an important part in helping determine whether some companies can stand up to massive scrutiny with regards to their business practices - such is the curious case of NQ Mobile . A legitimate company should be able to stand the test of regulators, short sellers, and scrutiny through transparency and simply operating a fundamentally sound business. When companies can't do that, they often run through a laundry list of things that they can do to create obfuscation and uncertainty around the situation - hoping it'll result in a "wash."
We're currently in the process of finding out whether or not NQ will either be exonerated as a company, or proven to be a massively fraudulent enterprise. The answers are on their way in the coming months, it would seem.
NQ Mobile is a global mobile security and productivity company that's co-headquartered in both Beijing and Dallas. As of June of 2012, NQ claimed it had about 200 million registered user accounts.
Carson Block, of research firm Muddy Waters, claims that the company is a massive fraud and a "shell game." Among other things, Mr. Block has claimed on Bloomberg TV that almost 90% of NQ's major revenue was non-existent, claiming the company is its own biggest customer. Muddy Waters made allegations across the board, claiming that NQ's market share was about 1.5% versus the 55% that the company claims. They alleged that NQ's software wasn't safe and actually made mobile devices more vulnerable to security breaches.
Essentially, Block claimed that the company was committing blatant business fraud. NQ responded by hiding behind its audit results and subsequently moving cash around to show that the balances they held were legit. Except, the items in question weren't whether or not they had the cash - it was regarding the means in which the company acquired it in the first place. NQ claims they're innocent, Block claims the company is taking every step possible in the aforementioned obfuscation checklist.
Chinese companies like the former Sino Forest and Longwei Petroleum (OTC:LPIH) are commonly targets for short sellers, and for a good reason - there's seeming to be an increasing number of U.S. listed Chinese companies that are fraudulent, which can sometimes be ignored by (or even assisted by) the Chinese Government. The short seller that finds the fraud can usually turn it into a lucrative short investment. Those on the long side are generally crushed for their lack of due diligence and the Chinese government generally fails to put perpetrators behind bars. Thus, the ridiculous amounts of Chinese based U.S. listed frauds.
Muddy Waters' original thesis on NQ Mobile is available for full viewing here.
As you can see, NQ was clipped on Thursday of last week and then had a bit of a "dead cat bounce" on Friday, where it regained a small portion of its losses.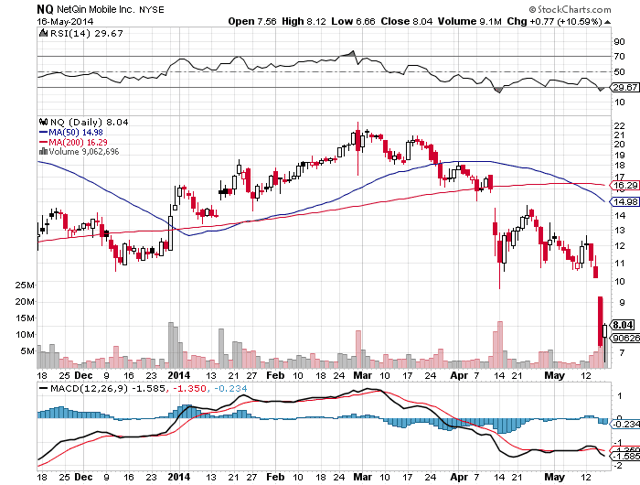 In response to Muddy Waters' original claims, NQ said that it was going to appoint an independent investigation to look into the claims of it being a fraud. The results of that report, which the company said were "so far, so good" two weeks ago, are supposed to come alongside the company's annual report - which was due on Thursday of last week.
Neither of the two surfaced.
As reported by Seeking Alpha, the company has still failed to disclose the final results of its audit, alongside of its 2013 Annual Report:
NQ Mobile (-26.6%) needs additional time to finish its 2013 annual report (Form 20-F), and will thus delay filing it.
NQ previously said it'll release the results of an independent investigation (led by Deloitte and law firm Shearman & Sterling) of Muddy Waters' fraud allegations at the time its annual report is filed.
The company asserted two weeks ago it has "thus far found no evidence that the Company engaged in the fraudulent conduct that was alleged by Muddy Waters."
Other recent news for NQ has still carried the undertone of the original argument that the company was a fraud. Investors continue to wait for either NQ's exoneration - or its demise.
Bulls were excited about the progress of the company striking a new deal with Sprint - announced early this month:
NQ Mobile's NQ Live interactive wallpaper replacement will "provide the default music user experience" for second-gen HTC One phones sold by Sprint. In addition, NQ's Music Radar solutions will act as a music search/discovery platform for the One. (PR)
The deal comes four months after NQ announced Sprint plans to have NQ Live power its Sprint Live content platform.
But, what good is that deal if the company is fraudulent on a fundamental level?
In addition to the news of the annual report being late (after an extension), SA Contributor "The Pump Stopper" published breaking news last week, claiming that an FOIA request turned up that NQ Mobile was, in fact, being investigated by the government. If true, and if the company knows about this, they've failed to disclose it thus far. The article read:
I have shocking NEW information: Per a SEC Freedom of Information Act Request - there is an ongoing Law Enforcement Investigation into NQ now as well!

Muddy Waters has criticized that the Special Committee isn't truly independent and even offered to pay for an independent accounting firm to evaluate the credibility of the investigation. Now it looks like there is a truly independent party that works for the US Government here to investigate as well!

I highlight the specific relevant language out of the FOIA document:

"We are withholding records responsive to your request under 5 U.S.C. 552 (B) (7) (A), 17 CFR 200.80 (7) (I). This exemption protects from disclosure records compiled for law enforcement purposes, the release of which could reasonably be expected to interfere with law enforcement activities."

From the Department of Justice Guide to the Freedom of Information Act:

"The first subpart of Exemption 7 of the Freedom of Information Act, Exemption 7, authorizes the withholding of 'records or information compiled for law enforcement purposes, but only to the extent that production of such law enforcement records or information . . . could reasonably be expected to interfere with enforcement proceedings.'"

THIS IS IRREFUTABLE EVIDENCE THAT A LAW ENFORCEMENT INVESTIGATION INTO NQ MOBILE IS CURRENTLY UNDER WAY
I highly recommend using the above link to read the entire FOIA request, as well as the full content of TPS's article.
So, moving forward into the coming week, the question anyone has to ask themselves is why they would involve themselves in a company that is so risk-laden, despite the massive gain potential?
Yet, I continue to see longs and supporters on Twitter and in SA comments defend this company - perhaps without having enough of a grasp on the potential severity of the situation.
I guess if you absolutely had to take a long position in this company, you could do it by nibbling some cheap OTM call options or by selling puts. But, it's best to avoid this situation in its entirety here. There's no need to hold NQ in your portfolio for the time being.
Until a day where NQ is demonstrably exonerated, the risk of total loss is real.
More on NQ Mobile from QTR:
Nov 4, 2013 - Avoid NQ Mobile: Someone's Full of It
Jan 27, 2014 - Can You Trade NQ Mobile's Uncertainty?
Disclosure: I have no positions in any stocks mentioned, and no plans to initiate any positions within the next 72 hours. I wrote this article myself, and it expresses my own opinions. I am not receiving compensation for it (other than from Seeking Alpha). I have no business relationship with any company whose stock is mentioned in this article.