Over the past few weeks I have fielded hundreds of questions from investors, asking why tech and small-cap stocks have been crushed so badly…and what they should do about it.
Having covered tech and small-caps since the early-90s, I can say that the recent market action is neither unfamiliar nor abnormal. When exciting new technologies (like 3D Printing and Cloud Computing) capture investors' attention, hype can drive any related stock into stratosphere.
Some deserve to be coveted, but many do not. Similarly, many good companies have been the victim of their own success. Indeed, entering 2014, hundreds of stocks had moved up too far and too fast.
Himax (NASDAQ:HIMX) is a perfect example. We first introduced HIMX as a pick to triple via Seeking Alpha at a price of $3.44. Six months later, the stock had indeed tripled. Simultaneously, it reached the top of our proprietary "Risk/Reward Channel" (depicted by the parallel lines below).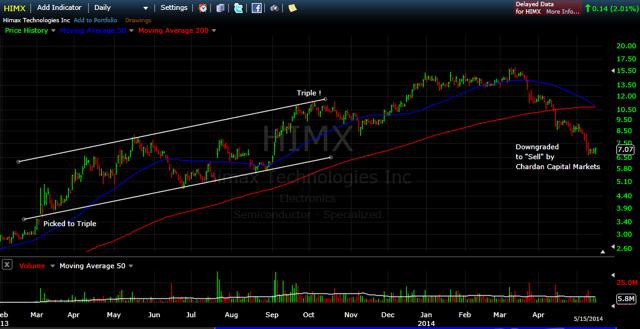 Click to enlarge
With the stock having tripled and the risk level reaching a peak, it was an ideal time to exit the position. However, euphoric investors pushed the shares ever-higher. It peaked at $16 before collapsing to less than $7 in recent weeks.
This example clearly illustrates the importance of closely monitoring the valuation and risk/reward of any stock holding. With the Russell 2000 approaching bear market territory, the importance is even greater. Luckily, the downturn has reset many valuations, presenting enticing bargains that investors can buy and hold for the next upturn.
One of those stocks is Glu Mobile (NASDAQ:GLUU). Despite delivering blowout Q4 results and nearly-impressive Q1 results, the shares have pulled back from $5.65 to $3.80 in recent weeks.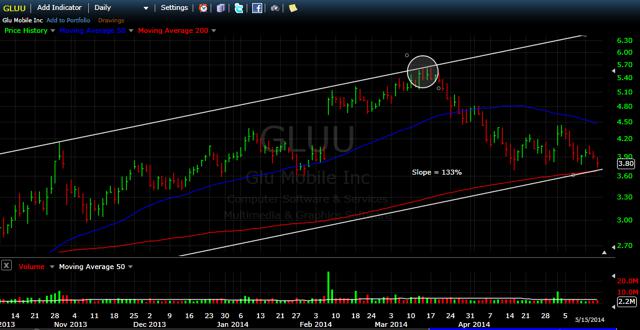 Click to enlarge
As you can see, GLUU reached the top of its Risk/Reward Channel in early-March and has been declining with the Russell 2000 ever since. As a constituent of the Russell, fund managers are obligated to sell shares of GLUU as investors pile out of their Russell ETFs. In addition, King Digital's (BATS:KING) weak start as a public company has helped to drive GLUU to the lower end of its channel (which is now very close to its 200 day moving average).
Last week, I conducted an exclusive one-on-one with Eric Ludwig, GLUU's CFO. I came away impressed with the company's progress and bullish on the stock. GLUU has developed a leading-edge monetization platform to improve the profitability of each game it develops. Deer Hunter 14, the first major test of this platform, was a resounding success (powering the Q4 and Q1 upside surprises).
Investors should view this as a sign of things to come. Deer Hunter won't be popular forever, but Deer Hunter isn't the story…the monetization platform's transformational ability to make games more successful is. That profitability driver is a potent complement to the global mobile-device boom, which is driving the revenue-growth prospects for companies like KING, Zynga (NASDAQ:ZNGA), and GLUU.
Newer investors have the benefit of not having to wait for these forces to be put in place. Longer-time investors had to suffer through a painful transition from feature-phone revenue to mobile phone revenue, as you can see in the following chart: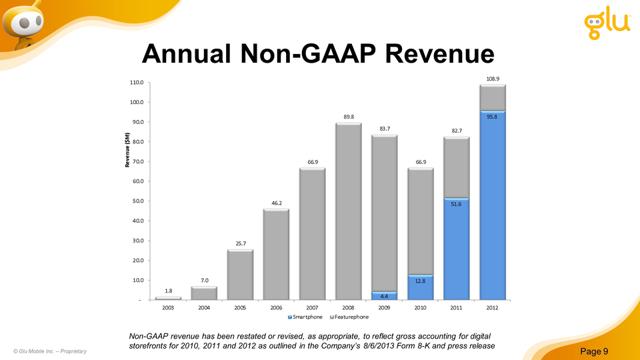 Click to enlarge
With this transition behind them and the new monetization platform operating on all cylinders, the company has delivered two straight blowout quarters. Further, management has a long history of hitting its guidance. Estimates are calling for 18% growth to $188 million in revenue, but the market is growing at closer to 30% annually. The top companies are gaining share as the market consolidates, so I believe GLUU can at least match the market growth rate and generate over $215 million in sales next year.
Either way, the stock looks much undervalued. Its enterprise value is currently just 1.5x next year's estimate. As investors wake up to GLUU's new-found capabilities and execution, I believe the stock can fetch 3x my 2015 estimate, or $8 per share. Looking out a year, investors will start valuing the company on 2016 revenue estimates, which should rise another 25%+ to over $275 million. A 3x multiple on that number gets us an enterprise value of $825 million and a share price of over $10, roughly triple its current levels.
I see a similar pattern in each of the three current picks to triple I have released on Seeking Alpha:
| | | | | | |
| --- | --- | --- | --- | --- | --- |
| Company | Ticker | Date | Initial Price | Current Price | Return To Date |
| | GLUU | 10/24/2013 | 3.14 | 3.80 | 21% |
| | PXLW | 6/3/2013 | 3.24 | 5.71 | 76% |
| | AERO | 1/30/2014 | 4.10 | 5.30 | 29% |
For starters, each of these companies has reported stellar earnings results over the past few months. Despite this, throughout April and May, investors have been selling virtually any small-cap tech holding with little regard for their true underlying value. Because of this, Pixelworks (NASDAQ:PXLW) has been driven to the low-end of its risk/reward channel: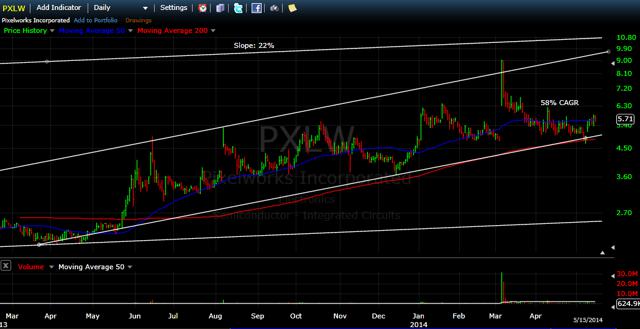 Click to enlarge
As has AeroGrow (OTCQB:AERO):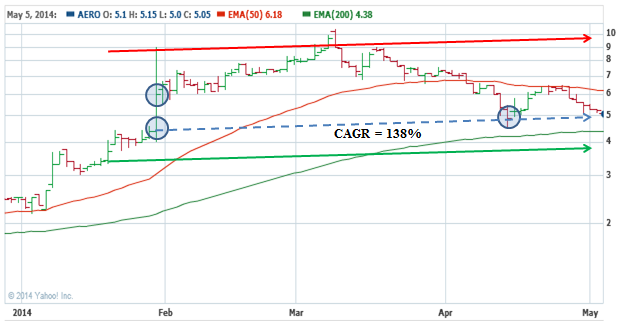 Of course, nobody can stop investors from panicking out of undervalued stocks. However, those who do their homework can take advantage of their mistakes. In that regard, I have had recent communications back and forth with representatives of AERO and performed an in-depth analysis of the progress made by PXLW during Q1.
On May 8, Pixelworks reported Q1 revenue of $13.5M, which was up 63% year over year and beats the Street estimate by $0.4M. Q1 EPS of -$0.04 beat the Street by $0.03. Management also guided to Q2 revenue of $14M-$16M versus the Street estimate of $13.7M.
The company reported that it is ready to start mass-producing a new SoC, which I believe will result in significant market share gains in the projector market. Simultaneously, the company will soon start sampling a low-power video display processor for mobile devices.
More recently, reports surfaced that Samsung is canceling plans to build an OLED TV factory. Apparently, the great image-quality of OLED was not enough to offset the prohibitively excessive costs associated with producing OLED TVs. Hot on the heels of that news, The Nikkei reported that Sony is giving up on developing OLED TVs, ending its joint venture with Panasonic. This is good news for PXLW whose technology works best with technologies that compete against OLED (i.e. LCD/LED).
Justifiably, the Street is expecting PXLW to grow 30% next year, resulting in $89 million in revenue. Earnings are expected to more than triple, from $0.14 cents to $0.44.
Our official price target is $9.72 (a PTT-standard triple from our 2013 initiation price of $3.24), but a much higher valuation is very feasible. A 3x EV-to-revenue ratio (justified by its 30% growth rate) or a P/E of 35 (on the 214% EPS growth) gets us to $15 per share. From that point, a 20% premium-offer from a tech-needy buyer (like AAPL) would give investors $18 per share, a triple from current levels.
As for AeroGrow, its most recent earnings report revealed that revenues increased 67% to $5 million. Sales to retailers were up a whopping 289%. Its quarterly operating profit jumped to $371,000 from a loss in the prior year and net income was $302,000, as compared to a $297,000 loss a year earlier.
Throughout the most recent quarter, I witnessed the following notice posted in conjunction with its AeroGarden Extra LED offering (the company's highest-priced item):
"Due to unprecedented demand, the AeroGarden Extra LED is out of stock until approximately the week of May 26. Place your order now and your garden will ship immediately upon arrival."
Needless to say, this can only be interpreted as bullish. The out-of-stock notification has since been lifted, but with several months of "unprecedented demand", I believe the company has experienced yet another quarter.
Looking at its valuation, investors need to know that Scotts Miracle Grow (NYSE:SMG) will have the option to raise its current stake in AERO to 80% (beginning on April 22 of 2016). The strike price (and required SMG cash outlay) will be determined later, based on AERO's trailing 12-month revenues on the exercise date (details are outlined in public SEC documents).
Though Scotts would technically have control of the company, current shareholders will still own 20% of a company with tens of millions in new funding. In addition, Scotts' incentive to make AERO successful would be greater than ever. The new-found capital would likely accelerate growth. When SodaStream (NASDAQ:SODA), another consumer-product company received a major cash infusion (via its 2010 IPO), sales growth quickly reaccelerated and skyrocketed from 5% (down from 16% in the prior years) to more than 50%.
| | | | | | |
| --- | --- | --- | --- | --- | --- |
| SodaStream (SODA) | 2008 | 2009 | 2010 | 2011 | 2012 |
| Revenues | 129,664 | 136,246 | 208,414 | 288,953 | 436,316 |
| Growth | 16% | 5% | 53% | 39% | 51% |
SODA's shares responded by tripling in 8 months. Indeed, being able to finance channel inventory is a major contributor to the growth of a winning product. SODA's market cap peaked at $1.5 billion. It's not hard to envision AERO eventually becoming as big as SODA. Here are some key reasons:
SodaStream's end product has to compete against name-brand icons, like Coke and Pepsi. AERO's end product doesn't have onerous name-brand competition. In fact, home-grown produce is likely to be seen as favorable, not inferior.
SodaStream's end-product is cheap to buy in stores, especially relative to effort to make it at home. I experienced this first-hand during my evaluation of the product. In contrast, fresh produce is more expensive to purchase, especially compared to the cost of making it at home with an AeroGarden.
As cannabis becomes legal in more states, AERO will have the option to address this $30 billion market. Marijuana is very expensive (as compared to produce and soda). Thus, the financial benefit of growing it at home (the complexity of which would require a pre-programmed and cannabis-optimized device like AeroGrow could provide) will be significantly higher than SodaStream can ever hope to match.
Based on all of this, the idea of AERO becoming as big as (or bigger than) SodaStream is a legitimate debate. Accordingly, the odds of it happening need to be baked into a valuation assessment. This was the basis on which that I correctly identified GlobalStar (NASDAQ:GSAT) as a pick to triple.
Opportunity is a major aspect of equity analysis. In this case, I believe that SODA's peak valuation represents AERO's long-term potential. Running the numbers, this would equate to a long-term target of about $50 per share (even after accounting for full SMG share dilution). In the meantime, we have an interim price target of $12.30, about 3.5x its current revenue run rate and triple our initiation price of $4.10.
Conclusions: Based on our research and recent tidings, I feel very comfortable with the valuation of AERO, GLUU, and PXLW. While it's true that a falling market could drag them down further in the short-term, each is fundamentally promising and executing well. Thus, lower prices would only make them greater bargains.
In the meantime, investors can short the Russell 2000 to mitigate its potential impact on their small-cap selections.
Disclosure: I am long AERO, GLUU, PXLW. I wrote this article myself, and it expresses my own opinions. I am not receiving compensation for it. I have no business relationship with any company whose stock is mentioned in this article.
Additional disclosure: I am also short shares of KING. PTT Research Disclosure: Mr. Gomes' investment Methodology serves as the basis of his selection process, asset allocation, and trading decisions. Investors who seek to act on his research should first read his Methodology and Portfolio Tracker at PoisedToTriple.com.