MoSys (NASDAQ:MOSY) is ready to bring revolutionary technology to how data flows thru our internet pipelines with its Bandwidth Engine chips. In the past, MoSys' quest to become a revolutionary force in the access market was a vision, a concept and quite frankly a dream. I believe that post its first quarter conference call on May 2nd, it's exactly where it needs to be and it's time for investors to accumulate as much stock for both the short and the long term as it's just a matter of time before big time validation shines a light on this diamond in the rough.
Here's why MoSys will shine:
Second Source Agreement:
This morning MoSys announced its much anticipated second source agreement with GSI Technology (NASDAQ:GSIT). The agreement looks to be more than a second source and more of a Joint Venture. GSI Technology supplies both Alcatel-Lucent (ALU) and Cisco Systems (NASDAQ:CSCO) and as MoSys CEO Len Perham stated on the conference call, GSI Technology is on the approval list of Len's top ten customer list. This news was telegraphed on the last conference call and it's good to see it now have a second source in place.
Today's news was important, MoSys is a fabless semiconductor company and it has an agreement with Tawain Semi (NYSE:TSM) to fulfill its manufacturing and production capabilities. To date, MoSys has been winning more than a respectable amount of design wins for its B/E family of chips, but at the same time we have not seen a sincere forecast from its customers making it impossible for MoSys to tell investors that there's a revenue ramp coming on this specific date. I believe that now the second source is secure, MoSys will start to get serious consideration of order flow for its chips.
MoSys is dealing with a who's who of the networking world, such as: Cisco Systems, Juniper (NYSE:JNPR), Fujitsu, Alcatel Lucent, Brocade (NASDAQ:BRCD), Huawei etc. and it's hard for me to believe that anyone of those names would establish an order agreement without MoSys having a second source in place. These top tier companies have a long established reputation and they're certainly not going to allow a small company like MoSys to jeopardize it no matter how good, exciting or high barrier to entry its chips are. There is always a risk that something catastrophic could happen to Taiwan Semi and that leave MoSys in the unthinkable position of not being able to deliver on its orders as promised. Now with the second source in place that risk has gone and the top tier companies can now know they can depend on MoSys delivering.
CEO: Len Perham:
MoSys is run by Len Perham, a legend in the semiconductor space. Len has a track record of success that's second to none. His most recent success was the sale of NetLogic to Broadcom (BRCM) for 3.7 billion or 10 times revenues. In MoSys he's doing what he did at NetLogic and at IDTI, bringing a revolutionary technology to the top tier OEMs in the world.
In September 2011, Len Perham sold Net Logic to Broadcom for $3.7 billion (all-time highs) when the technology market wasn't doing all that well, especially semiconductors. Why did Broadcom purchase NetLogic for 10 times revenues during a period of time when the semis were selling at deep discounts? I believe, from my due diligence that for better than 2 years, Broadcom had dedicated a specific team to design and produce a competing chip to NetLogic's. In that period of time, it recognized it couldn't compete and it elected to just buy out NetLogic for what NetLogic's board thought was fair value.
Research & Development (R&D):
I want anyone that purchased MoSys per my articles to understand that there's been 6 years of R&D dedicated to Bandwidth Engine, in addition there has also been a number of years more invested on some of the specific IP related to Bandwidth Engine prior to it being planned through 1 or 2 acquisitions MoSys made in those 6 years. In all, I believe that MoSys has invested more than $275 million in Bandwidth Engine and it has delivered on its initial vision to:
A) Evangelize the Bandwidth Engine 1 technology - MoSys has introduced and engaged the top networking and data center companies in the world to test and evaluate its revolutionary system on a chip (SoC) Bandwidth Engine 1 in its labs. The results of this first generation chip have finally produced revenue for the company this past quarter which shouldn't be the sole focus of investors at this juncture. Bandwidth Engine 1 proved that MoSys has found a sound, creative way to increase data flow on a line card at a cheaper price, less power consumption and less board space than Dram.
B) Improve upon the vision - Prior to Bandwidth Engine 1 being put into production, MoSys announced the development of Bandwidth Engine 2. This generation was to double the speed and bring more capabilities to the chip. In fact, it broke Bandwidth Engine 2 into 3 specific chips: Macro, Burst and Access. The chips just finished final testing and evaluating and now sit in production, albeit one quarter late. I believe that these chips are ahead of the curve vs the competition and they're the chips that both partners and customers are ready to pounce upon in the near future.
C) Expand product portfolio -Like MoSys' CEO has done in his successful past, he has expanded the product portfolio by introducing products that support his core product. With MoSys he introduced the LineSpeed family in 2013 which should start to produce revenues by year end, reaching $10-$15 million in revenues in 2015.
D) Position itself with top shelf partners - MoSys is working closely with Xilinx, Altera (NASDAQ:ALTR), LSI (NYSE:LSI) and others as it brings its innovative approach into the top routers and servers in our networks. I see the partnering aspect of the business heating up over the next 12 months as Bandwidth Engine 2 goes into production.
Sell-off:
MoSys trades at $3.25 per share ($160 million market capitalization) vs. the $5 per share it was at just 2 months ago. A lot of the March sell off was small cap related, but the recent sell off post earnings is something I believe is overdone and misdirected. I see MoSys as a biotech without a binary event. The company has a product that has gone thru phases I, II, and III and received the equivalent of FDA approval with Bandwidth Engine I being on the marketplace. It just released its Bandwidth Engine II family into full production for its tier one customers. In fact, it announced on the call that it received a new tier one customer that week.
Institutional Holders:
MoSys has 49.5 million shares outstanding and I can account for only 18-20 million shares in the float. Hence, the shares are very well held and MoSys is being followed by some of the most astute investors on Wall Street. Here's a list of the top 15 institutional holders as updated on May 15th: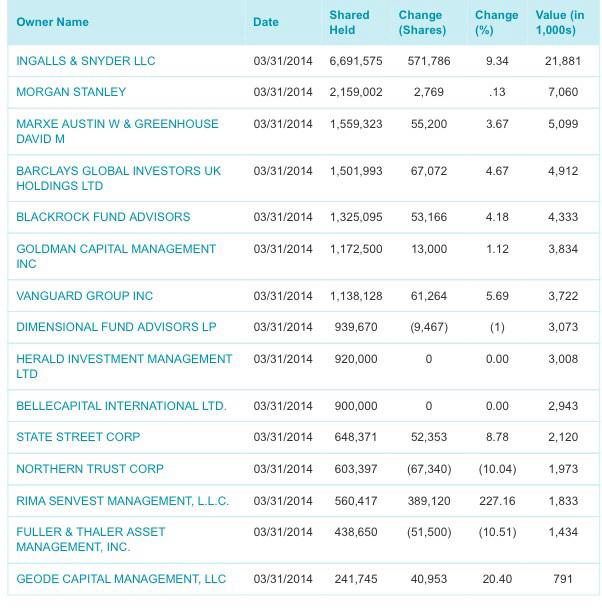 Looking at the list you can see that out of the top 15 holders only 3 funds decreased their positions, selling a meager 128,000 shares while 10 funds increased their positions, buying an impressive total of 1.3 million shares. Obviously the top holders are comfortable with MoSys and have faith in CEO Len Perham that has delivered for them in the past.
Conference Call Highlights:
Here are some of MoSys CEO Len Perham's comments from the most recent conference call that show MoSys is where it needs to be.
" Simply stated, 2014 is off to a good start. We won multiple new designs with customers in Japan, China and U.S. during this quarter, primarily for various members of Bandwidth Engine 2 family."
"We substantially increased the total units shipped" (Shipments in Q1 matched the same number of units in of all of 2013).
"We also see the first Bandwidth Engine 2 design wins we were awarded in mid-2013 turn on, in the third and fourth quarter of this year."
"We should record substantially more design wins in 2014 than 2013"
"The high level of sales activity on both B/E and the LineSpeed product families is very encouraging."
Short Seller(s):
MoSys currently has a short position of 3.3 million shares or approximately 15% of the current float. The average daily volume is 200,000 shares which would make the days to cover - 16 days. I believe that the real float could be 15 - 18 million as the portfolio manager of top institutional holder Ingalls & Snyder owns 2 million shares and the ex Chairman, Carl Berg may own close to 8 million shares. With the shares below $4 I believe that the float is more like 5 million shares as most longs know the CEO's track record and the technology behind the company. I want to be very clear here: I would not want to be short this stock at this valuation. The number of solid holders that are clearly accumulating are seeing the value added and the high barriers to entry the product brings to the networking sector. The announced second source GTI Technology should fuel the potential for increased sales in the near future and justify a much higher valuation.
Chart: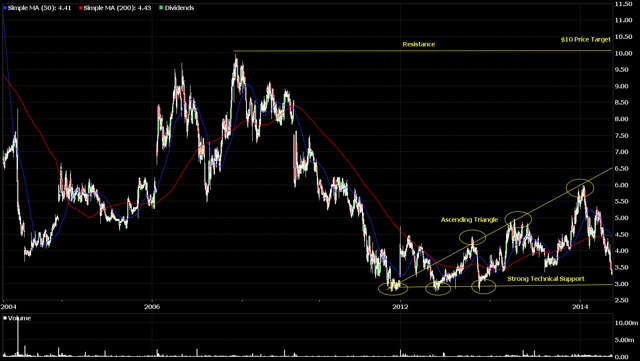 Looking at a long-term MoSys chart we can see that it is trading in an area of strong support, an area that has offered great buying opportunities in the past. With today's news, look for a run in the shares to short-term resistance of $4.50 and then look for a further move to $6.00 - $6.50.
Conclusion:
MoSys has taken longer than anticipated, but what great chip technology didn't take longer. The competition is tough and the testing is grueling. Today, I bring you the stock at roughly the same price it was when I initiated it back in 2012. Every time I've recommended it, the shares have made an impressive rally days, weeks and/or months later. I see no better price, no better climate and no better market position to get long MoSys especially as today it announced a second source agreement with GTI Technology, it has a huge short position, a great holder base and a CEO that could put his money where his mouth is (insider purchase) like he has done multiple times to date.
Disclosure: I am long MOSY. I wrote this article myself, and it expresses my own opinions. I am not receiving compensation for it. I have no business relationship with any company whose stock is mentioned in this article.