Since writing about recession-resistant stocks, I have been thinking about some high-yield stocks that might also perform well during negative market conditions. Having a high yield offers some measure of downside protection and with overall market valuations being what they are, that kind of protection is of interest to many investors.
Just before the Great Recession hit, AmeriGas Partners (NYSE:APU) had a yield of about 7.5%. And during the recession, APU achieved a total return of 0.1%. That gain doesn't sound like much, but of course that was a fantastic return during that particular period. It is most certainly a recession-resistant stock.
But what about the dividend - can it keep that high payout up? I will first look at some metrics over the last 10 years, followed by some thoughts on the future.
Note that APU is a master limited partnership and the distributions are reported on a K-1.
10 Years of Strong Dividends: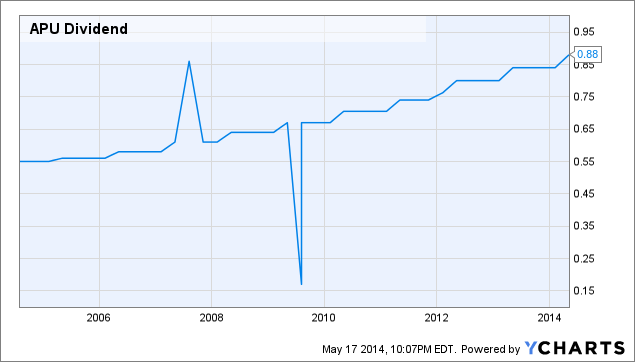 APU Dividend data by YCharts
YCharts seems to have an error. That drop shown in 2009 should actually be a spike up to $0.84.
APU has increased dividends every year for the last 10 years at an average annual rate of 4.8%. That is in line with management's goal to increase the dividend at about 5% per year. In addition, the company paid out two special dividends - once in 2007 and once in 2009.
The Payout
APU pays out a large percentage of its cash flow. In fiscal years 2011, 2012 and 2013, APU averaged a dividend payout of 86.7% of cash flow from operations (Source: Yahoo Finance). Using dividends paid divided by free cash flow gives us a payout ratio of 129%.
Although that payout ratio might raise a red flag, there are two positives regarding it:
Management is determined to keep paying the dividend even in lean years.
Earnings are expected to increase significantly in fiscal 2014.
APU's earnings rise and fall wildly and are difficult to predict. Much depends on the winter weather in the US. We do know that last winter was very good for APU (cold) and as a direct result, APU is expected to increase EBITDA by 8% in fiscal 2014 - which ends in September for the company. Any projection after that is likely to change significantly.
Historical and Expected Earnings: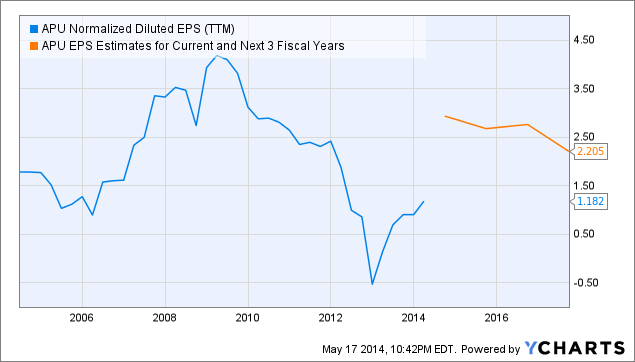 APU Normalized Diluted EPS (TTM) data by YCharts
Conclusion
The management at APU has stated a goal to raise dividends by 5% per year and in the past 10 years it has done so, through good years and poor ones. There were even two special one-time distributions that boosted dividends further. In addition, on April 28, 2014, the company announced its latest quarterly increase (from $0.84 to $0.88).
I believe that the dividend is very safe for the foreseeable future. APU has increased the dividend for 10 years in a row and has shown a dedication to continuing the trend into the future.
Dividend Discount Model Valuation
The Dividend Discount Model method of calculating Fair Value is a variation of the DCF method. The DDM was the brainchild of John Burr Williams in the 1930s who thought that a stock's worth should be calculated as the present value of all the dividends to ever be paid on it.
Assuming a TTM dividend of $3.52, a growth of 5%, and a rate of return of 10%, we find that the Fair Value of the stock according to this method is $70.56. It makes sense that the actual stock price is lower than the Fair Value. Despite their impressive dividend record to date, the earnings of the company fluctuate considerably and adds a level of uncertainty. Nonetheless, the calculation does tell us that the market has not yet priced in a long-term 5% dividend growth for APU. If the company can keep that growth rate going, investors may have some substantial capital gains in addition to the impressive yield.
Disclosure: I have no positions in any stocks mentioned, and no plans to initiate any positions within the next 72 hours. I wrote this article myself, and it expresses my own opinions. I am not receiving compensation for it (other than from Seeking Alpha). I have no business relationship with any company whose stock is mentioned in this article.