Markets this week will probably struggle early in the morning for direction the first few days of the week because we have no major economic data coming out. Looking at the week ahead it sure appears that the financials will continue to face headwinds with interest rates having been so weak lately and rumors now circulating that Ben Bernanke is of the mindset that he believes rates will remain below the recent historical average during his lifetime. This would certainly be good news for stocks, especially the high yielders, and the economy in general but bad news for savers who allocate most of their portfolio to bonds and CDs.
Chart of the Day:
It is going to be a rough day for those traders who were betting on the final and best offer in the Pfizer (NYSE:PFE)-AstraZeneca (NYSE:AZN) saga being accepted because it was not and that means nothing will likely happen for another six months.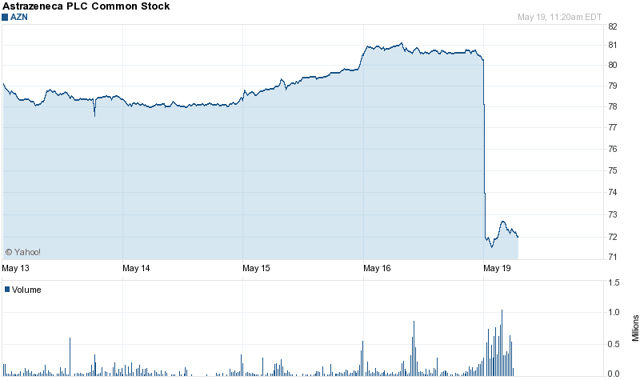 Source: Yahoo Finance
We have no economic news today and will have to wait until midweek until there is anything significant.
Asian markets are mostly lower today:
All Ordinaries -- down 1.28%
Shanghai Composite -- down 1.05%
Nikkei 225 -- down 0.64%
NZSE 50 -- down 0.35%
Seoul Composite -- up 0.08%
In Europe, markets are mixed this morning:
CAC 40 -- up 0.17%
DAX -- up 0.11%
FTSE 100 -- down 0.28%
OSE -- down 0.13%
Good News For VeriFone
We were sharp critics of VeriFone (NYSE:PAY) when they were trying to compete head-to-head with all of the tech start-ups and the new payments systems being developed a year or so ago. Our stance at that time was to be bearish as the company was not picking its battles wisely and they were not going to beat companies like Square at their own game of offering tons of services and equipment for free and trying to live off of razor thin margins. Once VeriFone strung together enough bad press releases to blow the stock out of the water and force changes at the top we shifted our view, which in hindsight was the correct call.
It has been a roller coaster for shareholders of VeriFone Systems over the past two years, but the company is headed in the right direction and appears poised to prosper as the next generation of POS systems are rolled out.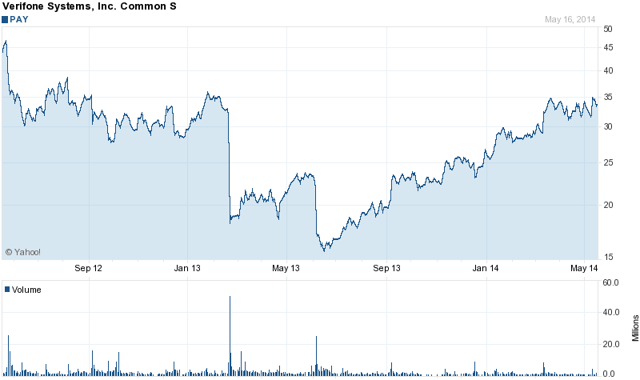 Source: Yahoo Finance
The stock continues to remain strong, and the company's shareholders have received some very good news as of late in regards to two events. First the company is involved with Apple (NASDAQ:AAPL) and their mobile payments system in store. Apple does not offer the scale to roll-out and take serious market share but this does set the stage for VeriFone to leverage this win into bigger sales opportunities. Forbes had an interesting article on the device with a picture of it on the iPhone5S, located here.
The bigger news in our opinion is that Square has decided to shut down its Square Wallet app after three years. The private company, started by Jack Dorsey of Twitter fame, had spent considerable time developing the app and trying to leverage their recent POS gains into getting consumers interested in using the app. Apparently those efforts were not as successful as previously thought and the company is now moving in a different direction by cutting its losses.
Are Consumers Ready?
This does raise some questions in regards to Google (NASDAQ:GOOG) (NASDAQ:GOOGL) and their mobile payments efforts as well as Visa (NYSE:V) and eBay's (NASDAQ:EBAY) PayPal unit. Everyone is pushing to try to convert the public to graduate from using plastic cards to using their mobile phones. A natural progression and one which many believe will happen, however it took decades before the American public switched from cash to plastic and has taken far longer than the experts predicted for the US to switch to "smart" cards with chips. That is still a year or so away from becoming a reality, but it does make one wonder whether the consumer is ready and willing to use their phone for mobile payments at this time. The technology is there, no doubt, but is there a demand for it?
We have seen some retailers roll out store apps which include gift cards and other payment options within the app which can be used at checkout in their stores. Our thinking is that these types of purchases need to be watched and if successful will indicate that Google, Visa and PayPal have a possible future in mobile payments processing, but until then VeriFone appears solidly entrenched.
Disclosure: I have no positions in any stocks mentioned, and no plans to initiate any positions within the next 72 hours. I wrote this article myself, and it expresses my own opinions. I am not receiving compensation for it (other than from Seeking Alpha). I have no business relationship with any company whose stock is mentioned in this article. AAPL has previously been recommended.