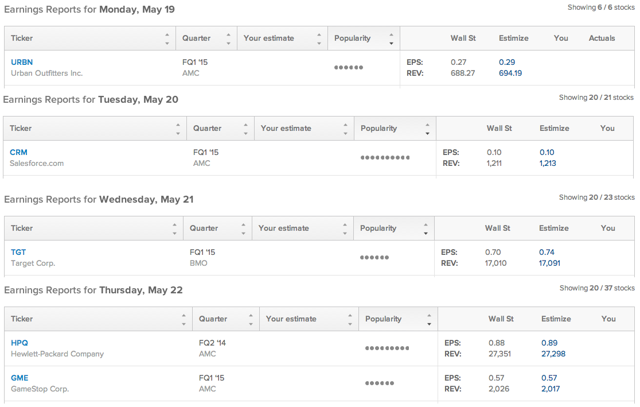 Monday Urban Outfitters (NASDAQ:URBN)
Urban Outfitters owns and operates a chain of retail clothing stores. So far this quarter we have seen weak sales from retailers including Macy's (NYSE:M) and Wal-Mart (NYSE:WMT) which both missed analyst estimates. This quarter the Estimize community is expecting Urban Outfitters to post earnings 3 cents per share lower than FQ1 of last year and for year over revenue to grow by 7%. Urban Outfitters has posted earnings and revenue growth in each quarter over the previous two years but contributing analysts on the Estimize.com platform expect the company to buck that trend Monday afternoon.
Tuesday Salesforce.com (NYSE:CRM)
Salesforce.com is a cloud computing company which offers a customer relationship management platform as well as other enterprise services. Since highs at the end of February Salesforce.com's stock has fallen 21% despite steady and strong revenue growth. Over the past two years Salesforce.com's revenue has increased on a year-over-year basis by a minimum of 28% in each quarter. This quarter both Wall Street and the Estimize community expect Salesforce.com to report flat earnings compared to last year while revenue grows approximately 36%.
Target is the second largest discount retailer in the United States second only to Wal-Mart. Retail sales have been generally weak so far this quarter as Wal-Mart missed the Estimize earnings consensus by 7 cents per share and the Estimzie revenue consensus by over $2 billion. Last quarter Target missed the Estimize community's EPS forecast by 8 cents per share after the company reported a major data breach back in December. On Wednesday the Estimize community expects Target to beat the Wall Street consensus by 4 cents per share in earnings and $81 million in sales.
Thursday Hewlett-Packard (NYSE:HPQ)
Hewlett-Packard is a multinational information technology company which has seen its revenue slip on a year-over-year basis for 8 consecutive years in the past two years. Rackspace (NYSE:RAX), a cloud hosting company, has been struggling lately to compete with larger players in the industry like Amazon Web Services as a price war has been raging. It's rumored that Hewlett-Packard or one of its rivals such as IBM might be getting ready to acquire Rackspace. On Thursday the Estimzie community expects Hewlett-Packard to come in 1 cent ahead of Wall Street's EPS projections while missing the forecast on sales by $53 million.
New and used video game retailer GameStop is set to report on Thursday. GameStop is facing major headwinds in the form of direct video game downloads and a trend in smaller, cheaper, mobile games that do not require a retailer for distribution. Most recently GameStop reported its holiday quarter, the most important period of the year for video game sales, and came up a few cents per share short on earnings. In March Wal-Mart announced that it will be entering the used game market, which could spell more hurt for GameStop. This quarter the Estimize community expects GameStop to report in-line with the Wall Street EPS consensus but come up $9 million short on sales. Although many analysts are focusing on the headwinds previously mentioned, the Estimize community expects new console releases of the PS4 and Xbox One from Sony and Microsoft, respectively, in the Fall of 2013 to provide a boost in sales of 8% and profit growth of 19% compared to FQ1 of last year.
Disclosure: None.