On May 14th, China's central bank called on the nation's biggest lenders to accelerate the granting of mortgages, a sign that developers' price cuts and incentives alone won't boost a slumping housing market and economy.
Macro Backdrop - 1Q2014 off to a weak start
April industrial production growth slowed. Property investment growth continued to fall due to declining sales, which further brought down fixed asset investment growth. Retail sales growth was still low. In general, April data still suggests weak economic momentum.

Source: Wind
Residential sales data is losing momentum across major cities in China.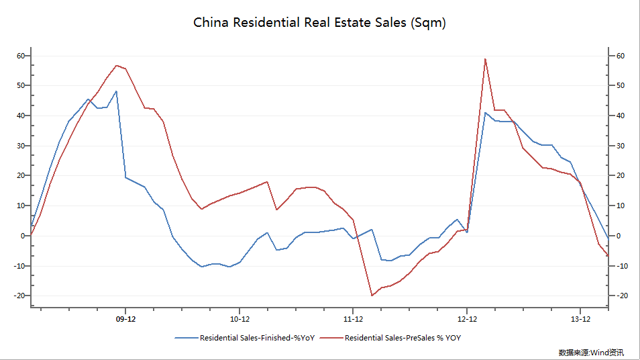 Source: Wind, author's research
The People's Bank of China told 15 banks yesterday to "improve efficiency of service, give timely approval and distribution of mortgages to qualified buyers," according to a statement posted on its website. It also urged lenders to give priority to families buying their first homes and strengthen their monitoring of credit risks, indicating the government's concerns about the rapid decline in property prices.
Large scale stimulus is still absent
The government is still concerned about the risk in the property market, hence large‐scale stimulus is unlikely. The requirement of commercial banks to give priority to individual housing mortgage demands but not property investment loans indicates that loosening on demand side of the property market is preferred by policymakers.
For the last four years, China has enacted restrictions to cool its housing market as prices soared. The government increased the minimum down payment requirement for second homes to 60%. The first-tier cities of Beijing, Shanghai, Shenzhen and Guangzhou raised the down payment for second properties to 70% last year after prices jumped.
The following table illustrates home mortgage policies set by major banks in Beijing, the most watched real estate market in China. It is worth noting that some of the banks, including a major state owned bank, have suspended residential mortgages in the region altogether.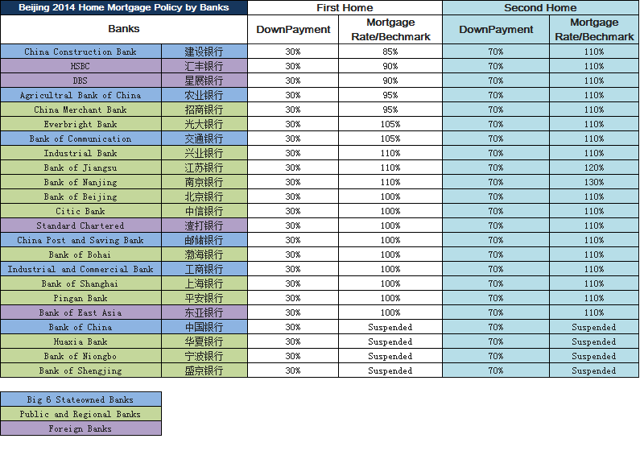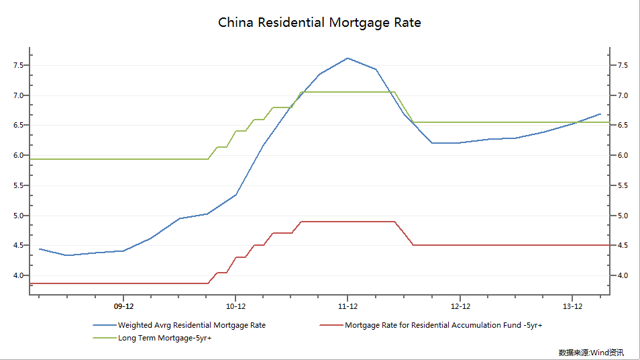 Source: Wind, author's research
Macro headwinds call for more powerful stimulus
The banks' motivation and ability to provide residential mortgages ties closely to the money base, rates environment and banks' ability to charge the spread. To me, none of these conditions are met.
Money base expansion continues to decelerate. In March 2014, M2 decelerated to 12.2%, the lowest growth rate since 1999, mainly due to slowed domestic lending activities.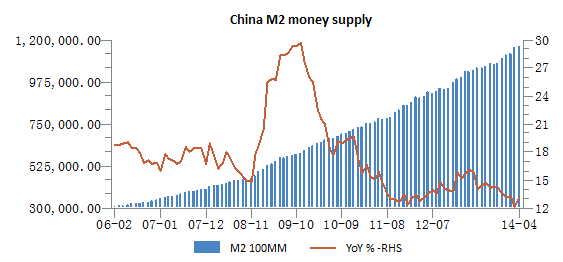 Source: Wind, author's research
China's banks are losing their grip on the nation's household deposits. Shadow banking products and Internet-based money market funds are driving deposits away. This shrinking deposit base has curbed the banks' ability to lend.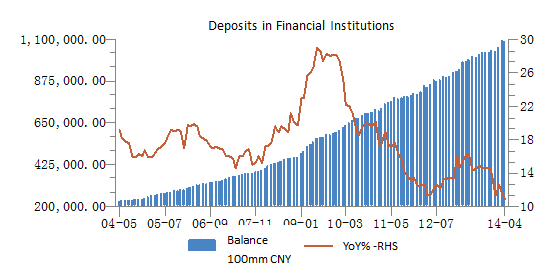 Source: Wind, author's research
As a result, loan growth has been coming down dramatically, almost reaching its all time low. Bank loans have been declined most in high-risk sectors such real estate.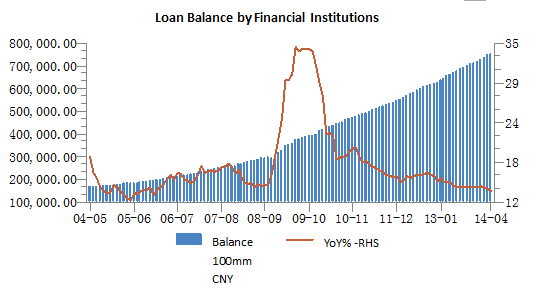 Source: Wind, author's research
Funds outstanding for foreign exchange is a measure that gauges the inflow of foreign funds. Its MoM growth slowed down upon the Fed's announcement of the tapering plan. Funds have since flowed out of emerging markets to the US and other developed markets.
On Wednesday, March 19th, the FOMC announced a third $10 billion reduction to quantitative easing, decreasing its monthly bond purchases to $55 billion and keeping with Fed watchers' tapering exceptions. This put further pressure on the balance of foreign funds outstanding and potentially shrink the money base.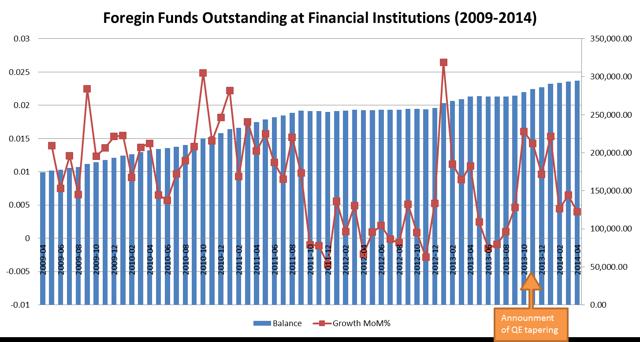 Source: Wind, author's research
Since 2009, the term structure of the Chinese government bond has flattened dramatically. The 1yr has risen 300%, from just over 1% to over 3.5%, while the 30yr merely rose from 4% to 4.8%. With a shrinking depositor base, banks are becoming more reliant on capital market financing. The flattened yield curve has really curbed banks' ability to earn a spread from their traditional business model, a natural duration mismatch by borrowing short and lending long. Hence, banks in the current rate environment lack pricing power and motivation to provide mortgage lending.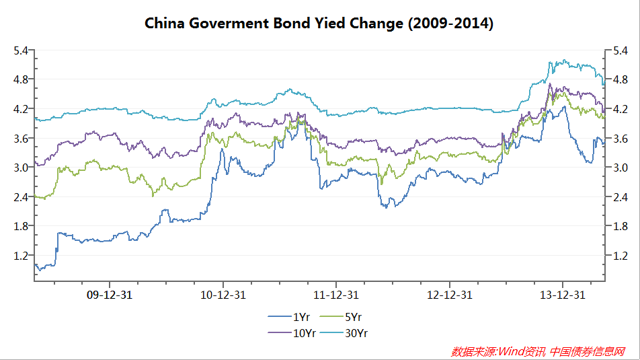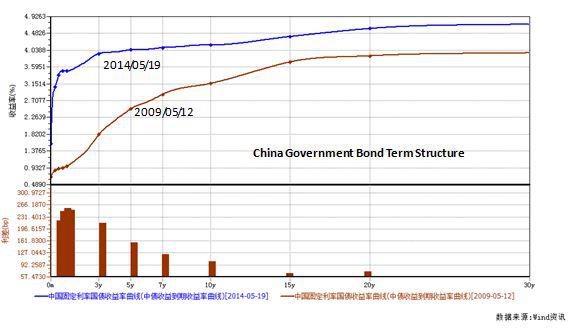 Source: Wind, author's research
Summary
It is rare to see the PBOC step in and give specific guidelines to lenders about residential mortgage policies. This is a sign that the real estate market is getting into real trouble. It is also points to the dilemma Chinese policy makers are facing. On one hand, they must not further inflate the real estate bubble by loosening credit, but they also need to find a way to kick start demand and sales to keep the funding going and the sector afloat. However, demand is not likely to be restarted just yet. With headwinds both domestically and overseas, the market needs more powerful stimulus to restart the engine.
Disclosure: I have no positions in any stocks mentioned, and no plans to initiate any positions within the next 72 hours. I wrote this article myself, and it expresses my own opinions. I am not receiving compensation for it (other than from Seeking Alpha). I have no business relationship with any company whose stock is mentioned in this article.