If AT&T (NYSE:T) is successful in its bid to takeover DirecTV Inc., this will signal a huge change in the telecommunications industry.
Currently, the agreement has yet to be hammered out, with both sides fine-tuning details. Since both boards have still to approve the proposed agreement, nothing has been confirmed yet. AT&T and DirecTV spokespeople have declined to make any comments.
Although the tentative news that AT&T may cut a deal with DirecTV is still under negotiation, the rumors of a merger has sent shares up in May. In April, DirecTV shares fluctuated between 75.00 and 77.50. This month, the range is between 85.00 and 87.50.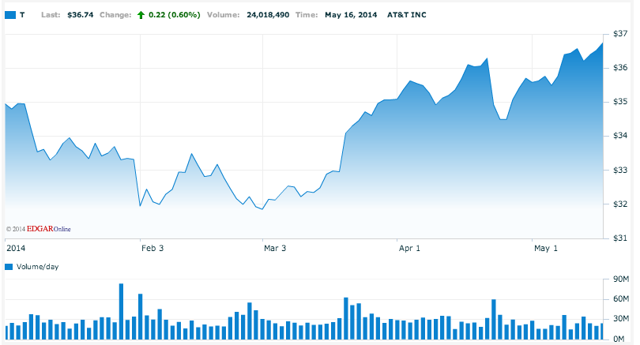 Source: Nasdaq.com
AT&T's Big Move
The acquisition is estimated be more over $50 billion. AT&T expects to pay in cash and stocks for acquisition of the largest satellite TV operator in the US, and it is anticipating paying $92-94 a share.
Three years ago, AT&T tried to acquire T-Mobile for $39 billion, but the deal fell through. If the takeover bid is successful, it will be one of the largest moves AT&T has made in years to grow its business on home turf.
Regulators Watching Telecom Industry
While there are many positive reports that the deal will come through, it is not clear sailing yet. The deal will be closely watched by regulators to make sure that the telecommunication industry is not adversely affected. Currently, the deal between Comcast's proposed $45 billion acquisition of Time Warner Cable is also under regulator's scrutiny.
Large Gains for AT&T and DirecTV
The deal will free up AT&T's high-speed Internet access. It will also boost AT&T's television offering, which is comparatively low. Their U-verse service has 5.7 million customers in total, by contrast DirecTV has 20.3 million customers in the United States alone. Additionally, it will open up AT&T's telecommunication reach in Latin America since the Satellite TV company already has 18 million subscribers.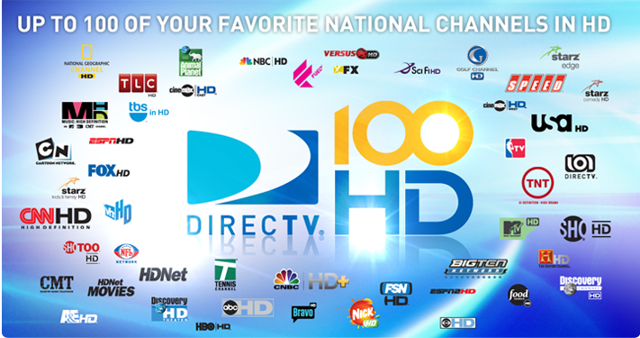 (navcom-solutions.com/images/uploads/hd_04.jpg)
The deal will also help DirecTV resolves some of its most urgent problems: It will put an end to the slow growth of subscribers in the United States.
Cable TV's Challenges In Changing Times
Since Cable TV operators have been gradually losing customers to new viewing options, they have compensated by adding broadband Internet services. DirecTV has not been in a position to use this alternative revenue model.
A Brief Overview of the Telecommunications Industry
Between 2008 and 2013, US Cable TV subscribers like Comcast, Time Warner Cable, Cox, Cablevision Charter, and others had a marketshare of 70 million subscribers. In that same period, Dish and DirecTV provided service to Satellite TV Subscribers, with Dish offering service to about 30 million and DirecTV to about 20 million. Meanwhile Verizon (NYSE:VZ) and AT&T provided Telecom TV to some 10 million subscribers. What's more, Netflix, the new kid on the block, has been incrementally increasing its viewers' market share. In 2008, they had some 10 million subscribers, but by 2013, they had as many subscribers as Time Warner Cable, with approximately 30 million subscribers.
Conclusion for AT&T Investors
Currently, all the news about a possible merger is good news for T stock, as supported by its recent jump.
AT&T has been talking about tying up the two companies before, but they were never able to close the deal because of pushback from several majority shareholders. However, after Comcast made its bid for acquiring Time Warner Cable, AT&T's interest in DirecTV was renewed.
With 2013 revenues of $24.7 billion, an increase of 6 percent over the prior year, DirecTV brings a growing business to AT&T. AT&T itself beat earnings estimates consistently for the past three quarters - and can be seen as increasingly competitive next to rival Comcast.
Investors should be very positive on AT&T in the dawn of this merger.
We invite readers wishing to join the discussion on AT&T and the telecommunications industry to click the +FOLLOW button above the title of this article.
Disclosure: I have no positions in any stocks mentioned, and no plans to initiate any positions within the next 72 hours. I wrote this article myself, and it expresses my own opinions. I am not receiving compensation for it (other than from Seeking Alpha). I have no business relationship with any company whose stock is mentioned in this article.