Aramark (NYSE:ARMK) is a global provider of food, facilities and uniform services to education, healthcare, business, industry, sports, and corrections clients. The company is primarily focused on North America, but operates in 22 countries. Based on sales, it is ranked #2 in North America in food and facilities services and uniform services in 2013. Internationally, it is ranked #3 based on total sales in most of the countries that it has significant operations. The footprint of this company is staggering. It has 272,000 employees to service 86% of the Fortune 500, provide meals to over 5 million students, cater to 100 million sports fans annually, and put over 2 million people in uniforms each day.
Aramark has not had much analyst coverage with only 7 analysts following this enormous company since its IPO earlier this year. In many cases, companies with limited coverage can prove to be undervalued. I believe that Aramark falls under this category of being under-covered and providing great value to investors.
2nd Quarter Results
Sales grew 4% to $3.5 billion. Adjusted operating income increased 6% to 197.8 million and adjusted net income was $75.2 million. Net income in the second quarter of 2013 was $53.6 million so this represents a considerable increase. This net income resulted in earnings per share of $0.31. These strong results came even as unusually severe winter weather tempered sales in North America. Along with the earnings release, management declared a $.075 dividend per share payable on June 9th and increased guidance from a range of $1.30 to $1.40, to a range of $1.35 to $1.45.
Food and Support Services - North America
The lion's share of Aramark's revenue comes from its North American segment. In the quarter, revenue for this segment was $2.4 billion increasing 3% with operating income growing 1%. North America growth was galvanized by new sales from education, sports, leisure, and corrections sectors. Positive growth even with the challenging weather is an exceptional sign. Management estimated that operating income growth was mitigated by weather by 5% to 6%. For example, it estimated that school closings reduced meals by approximately 10 million.
Food and Support Services - International
The international segment experienced tremendous growth over the quarter. Sales were $744.1 million which represents an 8% increase. Moreover, operating income grew at a prodigious rate of 26% over the quarter.
Uniform and Career Apparel
Sales in the uniform and career apparel segment were $361 million, up 4%. Operating income grew 8% which was driven by plant productivity initiatives.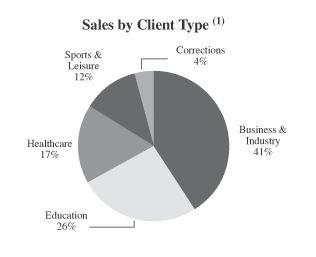 Source: Aramark Website
Improving Balance Sheet
The main bear arguments on Aramark are centered around it being highly leveraged and being categorized by low margins. Over the year, management has worked to reduce leverage and total debt decreased $600 million to $5.6 billion from the year prior. Further, as of March 2014, total debt to adjusted EBITDA has been reduced to 4.6x from 5.5x in March of 2013. Liquidity also remains strong as the company has $580.8 million of available borrowing capacity on its $770 million revolving credit facility.
Management has been prudent with the capital structure by taking advantage of a low interest rate environment. The company refinanced $4 billion in debt which reduced interest rates and extended maturities. These historically cheap levels of borrowing allows Aramark to invest in its business at an exceptionally low cost. These new investments coupled with productivity initiatives has allowed for margin expansion as evidenced by the 12% operating income growth in the first half of 2014.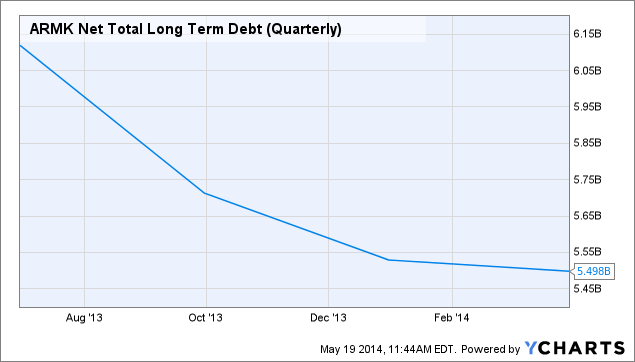 New Key Partnerships and Retention Rates
Aramark has recently reached key agreements with new clients such as the Chicago Public School System, the Tennessee Titans, and the University of Chicago Medical Center. Coupled with these lucrative agreements is a high retention rate in the mid 90% range. This combination allows for steady and significant growth. Guidance for the coming years was given of around 3% to 5% per annum.
Imperative to Decrease Costs
Management has sought to reduce food, labor and SG&A costs, and cited progress in this vein over the second quarter. The rollout of standardized enterprise-wide labor and productivity management tools has improved productivity and will continue to do so in the future. Improvements in supply chain productivity through SKU and menu management initiatives are both expected to have a constructive effect as well.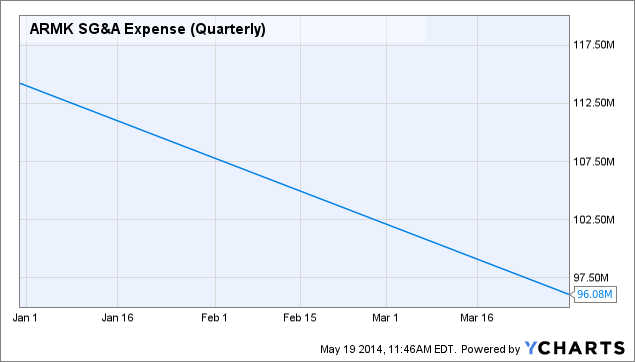 Industry Environment
The great recession beginning in 2007 had a significant effect on the food and services industry. Since much of Aramark's business comes from North America, the industry analysis will be focused on this geographic segment. As you can see by the chart below, sales for this industry plummeted during this recessionary period. However, the recovery has resulted in surging sales and it has recently surpassed the pre-recession level. It is clear that this industry is cyclical and its success is predicated on the results of the economy.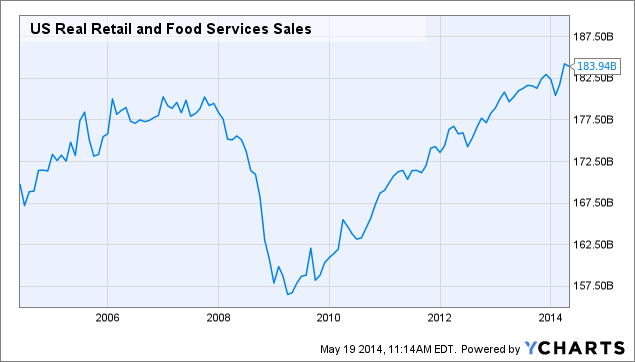 The future for the U.S. and many emerging economies that Aramark has exposure to is becoming brighter. The U.S. unemployment rate has dropped significantly. Although these results are not the best indicator, as the labor participation rate has fallen as well, it does historically prove to be a good proxy for the health of the economy. A leading indicator for this industry is construction spending. New businesses and jobs lead to an increased market for Aramark which will result in increased sales and improving margins. The chart below shows that this leading indicator is positive for Aramark in the coming years.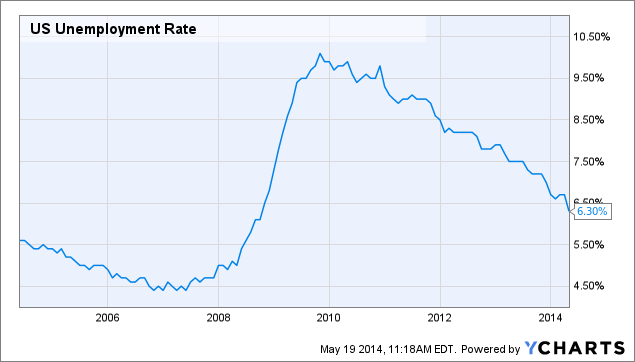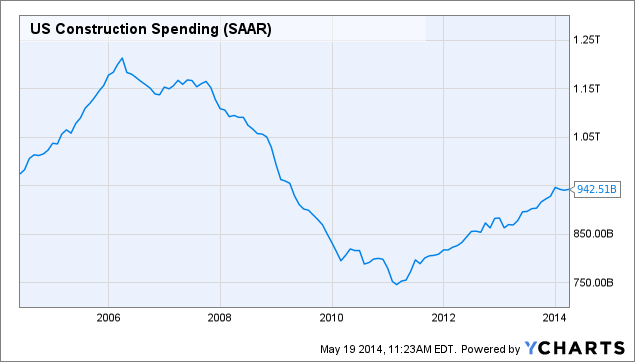 Competitor Analysis
The market that Aramark services is categorized by intense competition from a few number of enormous competitors. The main competitors for Aramark are: Cintas Corporation (NASDAQ:CTAS), Sodexo (OTCPK:SDXAY), UniFirst Corporation (NYSE:UNF), and G&K Services (NASDAQ:GK).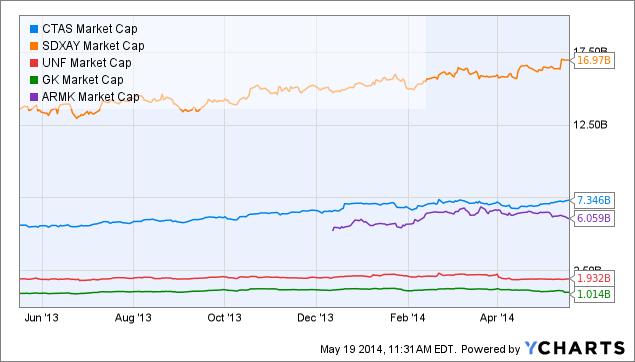 Aramark is the 3rd largest in this industry when compared to market capitalization. Although the margins for Aramark are currently a bit lower than competitors, it is trading at a significant discount to its competitors when it is based on a forward price to sales ratio. (Historical ratios are tough to compare, as Aramark recently went through an IPO so the data is limited). Management's initiatives to improve margins are beginning to payoff and given its size, Aramark should be able to match competitors. The determination of management to improve margins is evidenced by its substantial capital expenditures. Aramark currently spends the most in this avenue and look for margin expansion to follow this period of investment.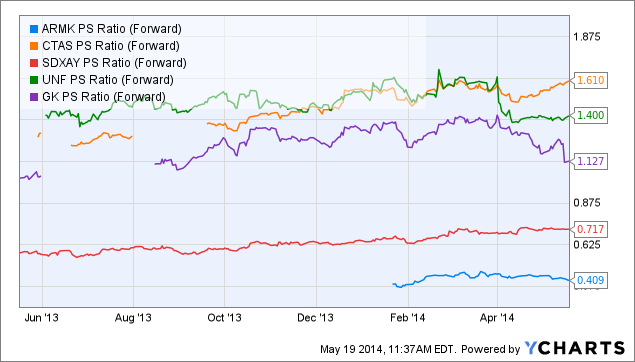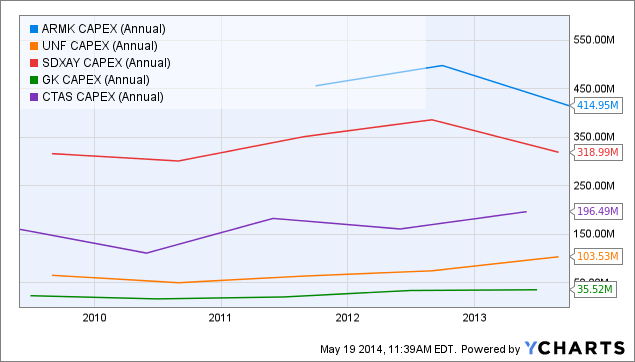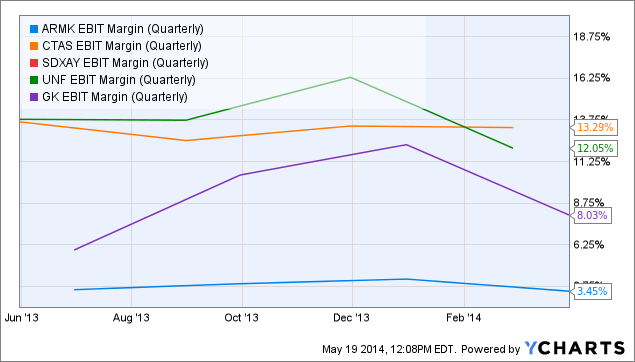 Bottom Line
Aramark is a newly publicly traded company that has yet to have its full potential priced in. Although margins are below competitors in the industry, the company has begun several initiatives to expand them and grow its market share overall. The cyclical industry is poised to expand with the trends in the economy overall. Coupled with this growth, the undervaluation as compared to competitors provides a tremendous opportunity. Aramark is not a stock that will double in the next year or 2; however, it will experience steady 3%-5% revenue growth and will improve profitability leading to great value for shareholders.
Disclosure: I have no positions in any stocks mentioned, but may initiate a long position in ARMK over the next 72 hours. I wrote this article myself, and it expresses my own opinions. I am not receiving compensation for it (other than from Seeking Alpha). I have no business relationship with any company whose stock is mentioned in this article.