The recent decline in Pengrowth Energy (NYSE:PGH) is a clear buying opportunity. Shares are down 5 to 7% since the company posted its Q1 2014 results. For long-term investors, Pengrowth offers a near 7% yield and is expected to grow cash flows 30% by 2015. In addition, the stock is dirt cheap, trading well under is NAV based on reserves.
Q1 2014 Overview
For a more in-depth review please see my earlier article.
Production: 75,102 BOE/D
FFO: $140 million
FFO per share: $0.27
Oil and gas sales: $387 million
Oil and gas sales per BOE: $57.24
Operating expenses per BOE: $15.39
Operating netbacks per BOE: $29.71
All things considered, Pengrowth posted a great quarter. Production was down Q/Q, however, key metrics such as FFO were up huge thanks to much improved pricing for Canadian crude and natural gas. However, some were disappointed by the increase in estimated costs related to Lindbergh, with the company citing the weak Loonie as the primary driver.
Why has Pengrowth Energy declined?
While Pengrowth is usually a stable income stock, it does tend to have more volatility after earnings. If I had to speculate, this recent decline has more to do with technical trends than with anything fundamentally wrong with the company.
Prior to the Q1 earnings report, Pengrowth was approaching the upper band of its bollinger bands. However, the stock price failed to breakout above this level. As a result Pengrowth's stock quickly fell towards the middle of this range and could still test the lower band at around $6.20 per share. As shown below, Pengrowth has previous had several such instances of this occurring YTD each with their own sharp pullback.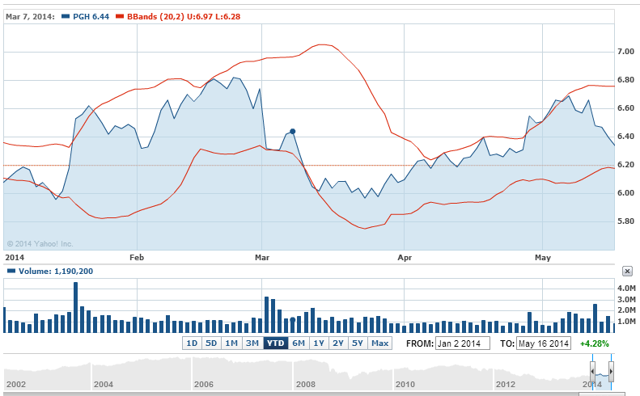 Is Pengrowth Energy still a buy?
Looking forward, Pengrowth still has a lot going for it. Its production was selling for elevated prices during the prior quarter, significantly boosting margins per BBL. In particular, its natural gas production realized pricing (unhedged) nearly doubled Q/Q.
Light oil prices, currently Pengrowth's bread and butter, surged to over $97 per BBL last quarter. I believe the current quarter's production is slated to sell at similar prices. In addition, realized pricing for heavy oil should remain decent as the discount to WTI narrows thanks to less pipeline bottlenecks and the increased use of rails for transporting crude. As for production numbers themselves, Pengrowth is likely to post a minor Q/Q decline, though FFO should remain robust thanks to improved pricing.
However, Pengrowth's greatest long-term catalyst remains Lindbergh. Phase I is estimated to produce around 12,500 BBL/D of thermal crude with a potential expansion to 50,000 BBL/D over the next five years. This production will provide a stable source of high netback production with a very modest decline rate. While legacy production will continue to slowly decline, Lindbergh will more than offset it this.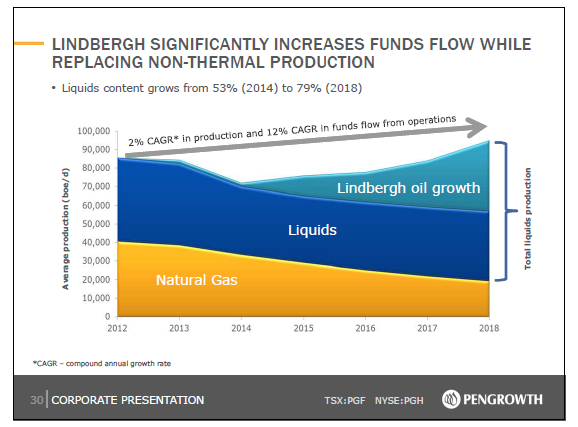 Starting in 2015, Pengrowth is projecting its FFO to increase by over 30% thanks to Lindbergh. Indeed, the production will be profitable enough that the company should be to fund the future expansions mostly with the incremental cash flow increases. Pengrowth has noted it will no longer need to sell assets or current production to fund Lindbergh capex.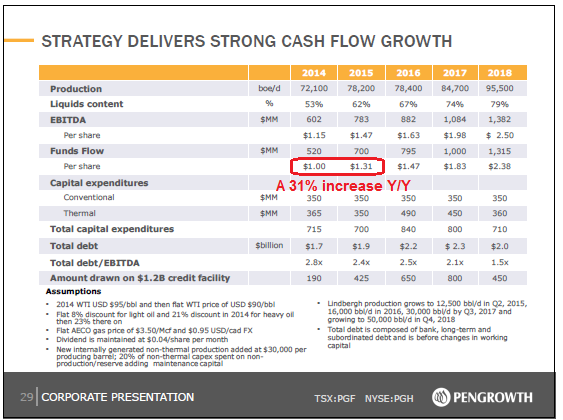 Conclusion
Pengrowth has been operating well considering that its focus is now almost entirely on getting Lindbergh up and running. However, with its legacy assets generating $1.00 per share of FFO per year, the stock is still pretty cheap even when assuming no growth. However, with Lindbergh slated to increase FFO to $1.31 per share, it becomes clear that the market is undervaluing the stock. Finally, while shareholders wait for Lindbergh to ramp up, Pengrowth is paying you for the wait with its nearly 7% yield, paid monthly. As a result, Pengrowth is among my highest conviction positions.
Disclaimer: The opinions in this article are for informational purposes only and should not be construed as a recommendation to buy or sell the stocks mentioned. Please do your own due diligence before making any investment decision.
Disclosure: I am long PGH. I wrote this article myself, and it expresses my own opinions. I am not receiving compensation for it (other than from Seeking Alpha). I have no business relationship with any company whose stock is mentioned in this article.