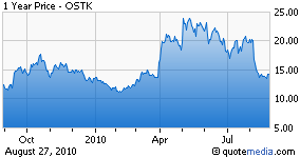 Overstock.com, Inc. (NASDAQ:OSTK) is an online retailer offering closeout and discount brand and non-brand name merchandise, including bed-and-bath goods, home décor, electronics and computers, and apparel, among other products. Overstock is organized into two segments including Fulfillment Partner Business Segment (80% of revenue), which functions as a liaison between value-conscious consumers and retailers and manufacturers looking to liquidate surplus inventory, and Direct Segment (20% of revenue) which sells directly to individuals and businesses.
We believe OSTK will underperform the market for the following reasons:
OSTK has incurred losses in eight of the last nine years since 2001, and barely turned profitable in FY09. Although the company has managed to control cost since its inception, it is still operating at a very thin margin due to low prices it has to charge to stay competitive. As of the end of FY09, OSTK's accumulated deficit was $256 million. The company has total debt of $61 million, and a debt-to-capitalization ratio of approximately 80%.
OSTK operates in the online liquidation services market which has become increasingly more competitive as traditional liquidators and other more established online retailers such as eBay and Amazon develop services that compete with OSTK. The company has been forced to spend heavily on marketing to help direct traffic to its website, which proves to be more challenging than ever given that competitive pricing between online retailers has intensified.
OSTK has a history of accounting irregularities and financial reporting violations which resulted in numerous restatements of its financial reports over the years. Although management admitted to weaknesses in internal controls in the company's Form 10-K, it said the weaknesses was due to an incompetent information technology system and the lack of "sufficient number of accounting professionals with the necessary knowledge, experience and training to adequately account for and perform adequate supervisory reviews of significant transactions that resulted in misapplications of GAAP."
Lastly, OSTK shares are expensive.
Disclosure: No position