Global search giant Google (NASDAQ:GOOG) (NASDAQ:GOOGL) has taken another step to improve its online search and translation offerings, and with this step it has also moved ahead in its smartphone and tablet offerings. The Mountain View, Calif.-based company has been working hard to offer better services to its users, and its latest acquisition of Quest Visual will add one more service that is surely going to see massive user adoption. So, what does this company do that will help Google? Let's take a look.
Quest Visual: Company Snapshot
Quest Visual is a privately held company, incorporated in 2010 and is based out of San Francisco, California. The tech start-up is a fairly small one and functions in the wireless communication equipment manufacturing industry. The company shot to fame three years back when it launched the revolutionary Word Lens software that enables a user to instantly translate words from one language to another using the device's camera.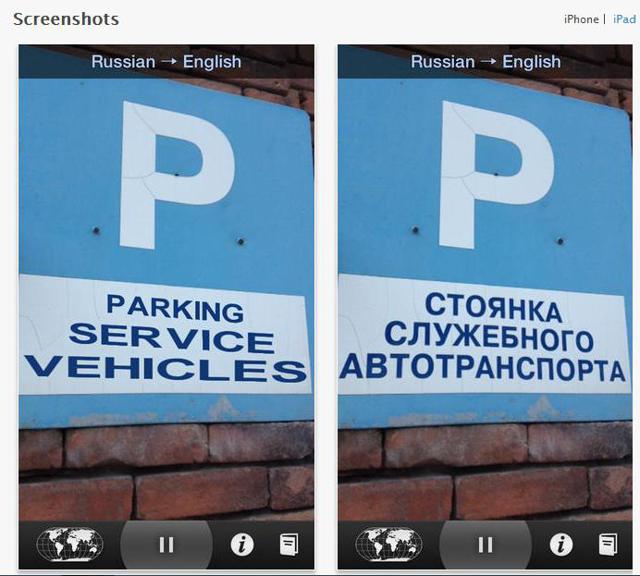 Source: iTunes
The app has been available for free in the Apple (NASDAQ:AAPL) App Store and Google Play Store for some time now and is doing fairly well with great user ratings. However, the point to be noted is, so far the app does not have a huge collection of languages - the users will be able to translate to and from English, Spanish, German, French, Italian, Portuguese and Russian only.
The terms and conditions of the deal remain undisclosed, something which is usual for Google. Very much like Apple, Google has the tendency to acquire small start-ups with strong tech and talent potential and incorporate their expertise in its own offerings. Recently, the iPhone maker acquired Beats Electronics and LuxVue and has well-established plans to use the acquired expertise in the upcoming iPhone, iPad and probably iWatch too.
How Does This Aid Google's Strategy?
The technology developed by Quest Visual fits very well into Google's game. Now that Quest is a Google company, the tech giant will not skip any of its current offerings with which the integration can take place. Google has already been vocal about its plans to incorporate the technology in its translation software, Google Translate. Along with this, Google can also think of adding the facility to its Google Maps and Google Glass offerings. In fact, Google Glass and Word Lens are not complete strangers, as a few members of Quest Visual's team had already tested the technology few months back.
With such synergies in place Google can benefit greatly. Google Maps is already the most popular map application available in the market. Surely, Apple and Nokia (NYSE:NOK) tried their hands at maps, but no one tasted success as sweet as Google's. Now, if Google goes ahead and adds the Word Lens capabilities, the users will find it very easy while traveling to different parts of the world. On my last trip to Paris, I was literally surviving on Google Maps. The only thing I felt was missing was the capability of the software to translate the language. Now this seems possible. Having one single app taking care of the location and language needs of a traveler is surely going to benefit Google.
Again, Word Lens in Google Glass is a fantastic idea. Though I myself don't own a Google Glass, I have seen others use it and while some may consider it a threat to privacy, I find the gadget to be increasingly interesting. The users of the glass can get automatic real-time translations of names of roads, directions, emergency contacts, names of food and many other things by just looking at the text. On top of this there are rumors of voice recognition capabilities being added to it. Google may be thinking of adding features similar to Google Now to Google Glass, which will work together with Word Lens to offer seamless hands-free translations.
Conclusion
Some very strong synergies can be seen between what Google does and what Quest Visual has to offer. Not only from a technology point of view, but from a revenue point of view, this acquisition can benefit Google. So far Word Lens and its language packs have been available for free to users. But according to analysts and industry experts, there are very high chances that Google will start charging for the offerings, at least for Apple users, if not for Android users. More importantly, the addition of features such as this will add to the tech major's competitive edge. The consumer electronics space is highly dynamic in nature, characterized by cutthroat competition, and offerings such as this help a company stay at the top and lead the change.
Disclosure: I have no positions in any stocks mentioned, and no plans to initiate any positions within the next 72 hours. I wrote this article myself, and it expresses my own opinions. I am not receiving compensation for it (other than from Seeking Alpha). I have no business relationship with any company whose stock is mentioned in this article.