By Brandon Matthews
When I launched SatwavesPro.com, I formed a goal of expanding the knowledge base of investors by providing a much broader look at the things that can contribute to the performance of any stock, including Sirius XM Radio (NASDAQ:SIRI). One of the biggest mysteries to shareholders of Sirius XM stock these days is why Sirius XM seldom seems to move up on positive news. The most typical answer given by most is that there is a large amount of stock manipulation occurring. It's an easy answer to provide, although it is seldom backed up by any particular facts.
Years ago and despite the company performing well, Sirius XM went into free-fall mode. There were reasons for this that many people saw that most Sirius XM investors remained oblivious to. A collapsing credit market and market crash was to come at a time when Sirius XM had a large debt obligation due, which made it an easy mark of short sellers and naked short sellers. Today the company not only survives but thrives, yet for the past several months its share price has remained flat despite reporting phenomenal and unexpectedly positive results.
Over the past few weeks, I have attempted to report on the overall condition of the economy, the market and its individual sectors. I have stated that the problems with Sirius XM are NOT reflective of anything wrong within Sirius XM. The problem lies in fact with the overall economy and negative market outlook. I'm not referring to auto sales, or jobs by the way. Clearly Sirius XM has demonstrated that it can weather such economic downturns thanks to its long term subscription contracts and OEM deals which provide a steady revenue stream even during tough times. So why hasn't the stock price soared as investors feel it should have?
Let's revisit the inclusion of Sirius XM into the Russell Indexes in June. It was at this time that Sirius XM shares began to stall from what had been a meteoric rise during the first half of the year. Most investors and analysts felt this was a positive catalyst for the stock. It is true that Sirius XM was added to these indexes which did in fact result in the forced acquisition of Sirius XM shares by funds which track the Russell. It is also true however, that this same inclusion added Sirius XM to the inverse ETFs and other funds which short the Russell Indexes. That is why Sirius XM shares saw an initial increase in its short interest.
Short ETFs are actively managed, and seek returns of as high as 200% or more, in a single day. The stocks are actively managed and traded, constantly being sold short and covered, sold short and covered…again and again. In my latest sector analysis, I noted that money has moved out of every sector and has not been allocated anywhere that I could see. I was wrong about that. Money flows into short ETFs are on the rise. As the chart below shows, there was no inverse relationship with Sirius XM and ProShares UltraShort Russell2000 ETF prior to the announcement that Sirius XM would be added to the Russell Indexes. Since that time however, a clear inverse pattern has developed.
click to enlarge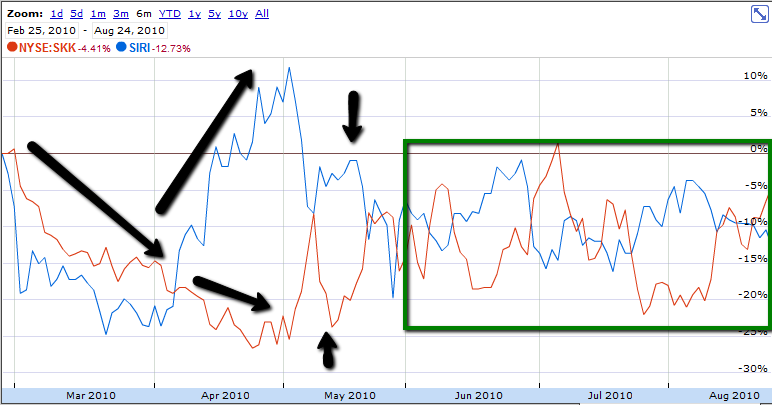 It is now more important than ever for Sirius XM investors to remain watchful of market trends. The bearish outlook continues to plague the markets and more investors are fleeing to short ETFs, which will have a negative effect on not only Sirius XM but any equities one might hold in their portfolio. Ironically, these Ultrashort ETFs can provide a very good hedge against economic uncertainties. In December, there is a very good chance that Sirius XM will be added to the NASDAQ 100, which will again add Sirius XM to the list of ETFs which short that index. Overall market conditions will dictate whether or not that is a good thing at that time.
Disclosure: Long SIRI