It looks like the Z3, BlackBerry's (NASDAQ:BBRY) low-cost Indonesian smartphone, has been off to a great start last week. On May 15, 2014, BlackBerry launched the BlackBerry Z3 smartphone in Jakarta, Indonesia, hoping to finally deliver a smartphone that could find broad market acceptance. After many years of faltering sales and massive pressure from analysts and investors to recapture its edge in smartphone innovation, the BlackBerry Z3 looks to be able to meet high expectations. The BlackBerry Z3 has been developed by Foxconn (OTC:FXCOF), an experienced consumer electronics manufacturer, and it is the first smartphone resulting from the BlackBerry/Foxconn five-year collaboration alliance. Under the contract, Foxconn will design, develop and manufacture new smartphones for BlackBerry, and will be able to draw on years of experience in the Asian electronics consumer markets.
Herding behavior and recency bias
BlackBerry investors know that the smartphone company has had a series of failures in the past which unfortunately leads some investors to fall prey to the availability or recency bias. Both biases allege that investors are more likely to remember the most recent events in a company's history, and evaluate new information in the context of their most recent experiences. In other words: If BlackBerry's phones Z10 and Q10 equipped with the new operating system fail to meet expectations (remember those massive inventory charges?), that must mean future product launches will be equally doomed to fail. Of course, this is a logical fallacy and past development failures do not imply that a company can't produce competitive and appealing smartphones. Add to that, that Apple Inc. (NASDAQ:AAPL) and its iPhone flagship product have generally caused extremely inflated expectations in the industry regarding new smartphone features and sales numbers. This clearly isn't helping BlackBerry which has been struggling in the hardware business for a while. Low analyst expectations with respect to BlackBerry plus past development failures are a good recipe for bargain basement prices.
Z3 launch appears to have been a major success
In my latest article about the BlackBerry Z3, I have argued that the phone specifications and the discount price are appealing to the price-conscious Asian consumer. It is also no secret that BlackBerry launched the Z3 as part of an all-in initiative in which Indonesia is only the springboard for a larger, comprehensive emerging market strategy that will see the introduction of the BlackBerry Z3 in a variety of other Asian countries.
So far, the launch in Indonesia has been successful and the phone sold out quickly on its first day. This wasn't really surprising given the strong pre-order volumes for the BlackBerry 10 model reported by Indonesian carriers.
The BlackBerry Z3 is also the first phone for which Chen will have to take full responsibility as its launch happens solely on his watch. As such, the success (or failure) of the BlackBerry Z3 has a variety of implications: First, consumer and market acceptance of the BlackBerry Z3 will give a strong indication of how the partnership between Foxconn and BlackBerry is going to play out. Starting off the partnership with a major success will be psychologically very important for both companies, but particularly BlackBerry. Secondly, the BlackBerry Z3 will show whether Chen does have what it takes to turn BlackBerry around and whether the high confidence in him is justified. A lot of positive momentum in 2014 was attributable to Chen taking the leadership of BlackBerry - investors have a high degree of confidence in him which would make a successful Z3 launch so much more important for the belief in the future of the company. Thirdly, investors have been disappointed by BlackBerry for a while which generally has led to low performance expectations. Should BlackBerry be able to deliver 'just' a solid performance, this would be a major positive for BlackBerry and its share price.
Asymmetric investments have in common that they are hated by many investors and looked down upon by analysts
I'd also like to compare BlackBerry to J.C. Penney (NYSE:JCP). Anybody following the retailer knows that the company is equally hated by analysts and faces overwhelmingly negative sentiment. This sentiment among investors and analysts has caused the market to agree on such low expectations with respect to J.C. Penney's performance results (including comparable store sales growth), that it was not too difficult for the company to outperform depressed expectations. Consequently, as J.C. Penney actually delivered a solid quarter last week, J.C. Penney's stock went through the roof: Up to 20% plus after results release.
It's not the end game
BlackBerry's criticism has been well deserved over the last three years, one only has to look at the stock chart and one can imagine what pain really feels like. BlackBerry has chased the train for a couple of years and the share price reflects BlackBerry's challenging state. However, the scale of BlackBerry's Z3 success can only be determined after the smartphone company has introduced the new BlackBerry 10 model in other large emerging markets such as Malaysia, Vietnam, India and the Philippines.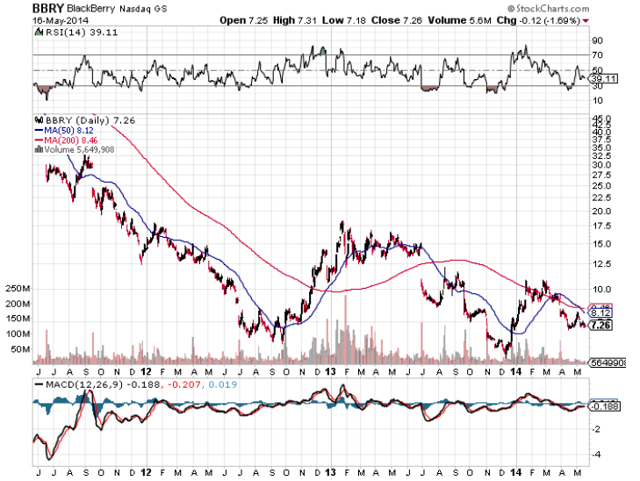 (Source: StockCharts.com)
Final thoughts
A success of the BlackBerry Z3 is first and foremost a psychological victory for BlackBerry and its shareholders. BlackBerry has lost many battles in the past, but continues to fight the good war. Chen will also have to take full responsibility for the BlackBerry Z3 launch, and it is likely that the investor community will attribute any success or failure directly to him and draw conclusions about his chances to indeed turn the smartphone company around. Sell-side analysts are also likely to put sales figures under the microscope which should make for extraordinary volatility around results release dates. In any case, the rollout of the BlackBerry Z3 is off to a good start. Given the low expectations investors/analysts have, BlackBerry retains significant rebound potential. Strong Buy.
Disclosure: I am long BBRY, JCP. I wrote this article myself, and it expresses my own opinions. I am not receiving compensation for it (other than from Seeking Alpha). I have no business relationship with any company whose stock is mentioned in this article.