One of the key tenets of my investing style is to invest in companies that generate consistent stable revenues. Once a stable revenue generator is identified, the next criterion revolves around the company's ability to generate stable consistent margins. A company that can produce consistent stable margins exhibits a sort of competitive moat that prevents its franchise from being plundered by upstarts. An investor can then make a reasonably accurate prediction as to the future earnings power of the company. The final step will be to just wait for the shares to fall to an attractive price below what you deem to be the fair value of the company. A patient, long-term investor can reap handsome rewards using the above mentioned method.
Sirius XM Holdings (NASDAQ:SIRI), the satellite radio broadcaster, is beginning to neatly fall into the above mentioned criteria. In the article below, I will detail the thought process behind my recent purchase of SIRI. The holding is far smaller than my usual position; however I view SIRI to be a worthy speculation at this level.
| | | | |
| --- | --- | --- | --- |
| Year | 2011 | 2012 | 2013 |
| Revenue in millions | 3,014.5 | 3,402 | 3,799.1 |
| Gross Margin % | 62.81 | 63.86 | 63.29 |
| Diluted average shares outstanding | 6,500.82 | 6,873.79 | 6,384.79 |
I would like to begin with an examination of SIRI's ability to generate consistent revenues from its existing subscribers. As we can see from the chart above, SIRI has grown revenue by roughly 26% since 2011 as demand for its product has remained strong. Going back to 2009, SIRI has actually increased its subscriber count by 8 million to its current level of 25.8 million customers. The following two quotes from the most recent 8-K neatly summarize SIRI's revenue generating ability.
Subscribers Reach a Record 25.8 Million. Net subscriber additions in the first quarter of 2014 were 266,799. The total paid subscriber base reached a record 25.8 million, up 6% from the prior-year period. Self-pay net subscriber additions were 173,480, while the self-pay subscriber base reached a record high of 21.3 million, up 7% from the prior-year period. Total paid and unpaid trials were 6.9 million at the end of the first quarter of 2014.

2014 GUIDANCE

SiriusXM reaffirmed its previously issued guidance for 2014:

• Adjusted EBITDA and Adjusted EBITDA Margin Reach New Record Highs. Adjusted EBITDA climbed 28% from the first quarter of 2013 to a record quarterly figure of $335 million, and the Company's adjusted EBITDA margin reached a record 33.5% in the first quarter of 2014.

• Free Cash Flow Per Share Climbs 64%. Free cash flow in the first quarter of 2014 was $223 million, up 56% from $142 million in the first quarter of 2013. Free cash flow per diluted share was 3.6 cents in the first quarter of 2014, up 64% from 2.2 cents in the first quarter of 2013.

• Net subscriber additions of approximately 1.25 million,

• Revenue of over $4.0 billion,

• Adjusted EBITDA of approximately $1.38 billion, and

• Free cash flow approaching $1.1 billion.
SIRI continues to deliver subscriber growth which leads to the all important revenue growth. The bear case concerning SIRI states that streaming music via "free" sites such as Pandora (NYSE:P) will effectively erode SIRI's moat. In my view, the evidence for this is simply not there. Streaming music requires heavy use of data packages which is just not cost effective compared to what SIRI charges per month. I concur with David Frear, CFO of SRI, who in my view disemboweled the bear case concerning the competitive threat offered via streaming music. The quote below is taken from the recent MoffettNathanson Media & Communications Summit.
David Frear, SIRIUS XM Radio Inc. - EVP & CFO Streaming. So I'm sure lots of questions about streaming. This is a very crowded space.

There are really only two great brands out of the streaming side, Pandora and Spotify, YouTube great brand as well, it has certainly the largest provider of music discovery in the world today. But there are no barriers to entry in this field and I think the thing that is -- it used to worry us a lot, the thing that worries us a little bit less, is that almost all of the business executions are music-only.

And it's very difficult to differentiate yourself in a music-only product. Well, free music sells. Lots people listen to free music platforms. And so iTunes Radio (NASDAQ:AAPL), which has only been out there for a few months, 20 million users. Spotify has 24 million active listeners from what we hear. iHeartRadio says that got more than 40 million registered users. Pandora is huge at 76 million. YouTube, I'm not even sure how many people are on YouTube, but it's absolutely enormous. And the biggest one of all, at least in North America, AM and FM radio, over 200 million weekly listeners. The problem is the business model associated with these, that it is challenging economics. And so as we look at it, it is definitely competition, it is here today. There are 150 million smart phones on the street today and it's really easy to hook them up in your car and listen to them.

We haven't yet found the competitive effect of this business there. We do think that having a curated and diversified service offering is what people are paying us for. And so we will see if this environment changes the competitive world for us but we haven't seen the change so far.

We are far and away the largest company in terms of monetizing content, that we have many more subscribers paying for our services than anybody else in the world. And they pay more on a unit basis than anybody else, significantly more than the $8 Pandora is getting.

We think that Clear Channel and other radio stations generally monetize at about $12 per listener and for us it's almost $150 per subscriber per year. What that translates into is that we are the largest radio company in the world by revenues and we have great margins, as many of you know.
I would like to examine SIRI's gross margins to determine if SIRI does indeed have a wide moat around its business. Gross margins for SIRI remain stable at roughly 63% and have remained at this level for quite some time. SIRI's ability to consistently generate an above average margin in my view is a testament to their competitive moat. The investment case for SIRI certainly looks appealing, however the story wouldn't be complete until an accurate examination of its main impediment is discussed.
In its formative years, SIRI took on a substantial amount of debt to launch its business. SIRI currently has $3.4 billion in debt on its balance sheet with roughly $965 million due in five years. SIRI's interest on the debt amounts to $200 million per year, with a coverage ratio of approximately 4.1 times. Standard and Poor's Rating services recently upgraded SIRI debt to BBB-, which will help lower the interest rate assigned to any new debt issued by the company. While I don't see it happening for a few years, a sharp backup in interest rates, especially for firms rated A or below, would severely impact the profitability of SIRI.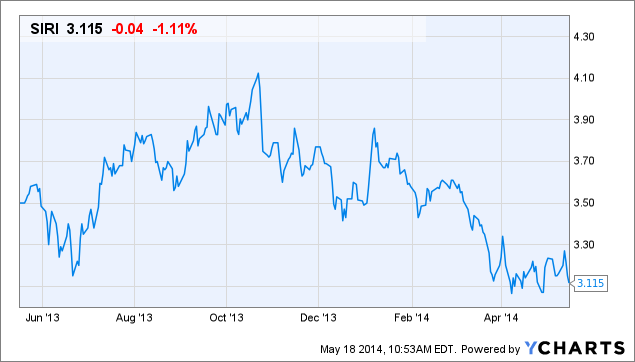 A backup of interest rates would also consume additional money left over for share repurchases. SIRI's impressive growth in free cash flow gives it the ability to reward shareholders through the repurchase of shares in the open market. SIRI currently has 6.033 billion shares outstanding with a float of 2.678 billion due to the over 50% stake in the company controlled by Liberty Media (NASDAQ:LMCA). LMCA recently made an offer to acquire the remaining portion of the company they didn't own for $3.68 per share. The offer in my view was far too low and luckily was dropped by LMCA as they look to restructure their holdings. SIRI currently has $1.7 billion remaining on its share repurchase program that would retire roughly 8% of shares outstanding at the current market price. As cash flow continues to improve, I expect management to aggressively repurchase shares, especially if they are trading below LMCA's offer price.
The question that remains for investors is how to properly value SIRI? In my view the traditional metrics, such as price earnings ratio, fail to capture the true story of SIRI. I am using free cash flow yield to build my investment case for SIRI. SIRI's free cash flow yield is expected to be 6% this year growing to 8% next year. Management seems committed to using the FCF to reduce shares outstanding which will boost the value of the enterprise over time. I am conservatively expecting a share price of $4 per share by the end of the year assuming management fully executes on its share repurchase plan. That would imply a return of more than 25% based on a share price of $3.12 per share. I view SIRI as a worthwhile speculative play and have invested a small sum in the shares. I thank you for reading and I look forward to your comments.
Disclosure: I am long SIRI, AAPL. I wrote this article myself, and it expresses my own opinions. I am not receiving compensation for it (other than from Seeking Alpha). I have no business relationship with any company whose stock is mentioned in this article.
Additional disclosure: Thank you for reading the article. Investors are always reminded that before making any investment, you should do your own proper due diligence on any name directly or indirectly mentioned in this article. Investors should also consider seeking advice from a broker or financial adviser before making any investment decisions. Any material in this article should be considered general information, and not relied on as a formal investment recommendation.