What happened?
On Friday, the stock price of World Wrestling Entertainment (NYSE:WWE) plummeted 43%. Media reports leaked details that the TV renewal deal with Comcast's NBC Universal (NASDAQ:CMCSA) (CMCSK) was done at a price of 50% higher than the prior contract, not the 2-3Xs some investors expected. Moreover, the company gave scenarios of 2014 and 2015 guidance that showed lower profitability compared to sell-side models. I estimate there was a $70 million OIBDA gap between the 2015 guidance at the 2 million WWE Network subscriber level the company gave versus the projections of the bullish analysts.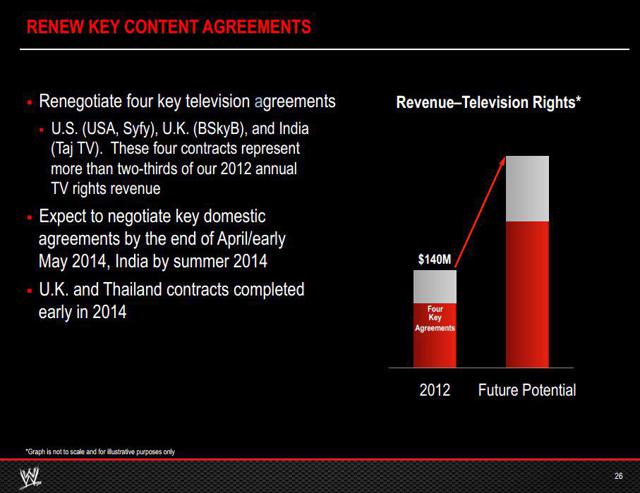 (Notice the footnote: "Graph is not to scale and for illustrative purposes only," but investors didn't listen, and still assumed 2-3Xs; hence the disappointment)
The magnitude of the move I believe was exacerbated due to sell-side analysts who in the past week told their clients a "short squeeze" would occur if the TV deal was completed at much better economics. This may have gotten short-term oriented funds long the stock. Consequently, when the renewal news and guidance were worse-than-expected, the panic "get me out at any price" selling ensued. The sell-side is partly to blame for being too bullish and getting "fast money" involved with incorrect predictions, but the company is also at fault for not managing expectations better.
What is the opportunity?
World Wrestling Entertainment is a unique asset. In today's world, entertainment content with a large and avid following is especially valuable and scarce. The company has more than 130,000 hours of wholly owned original content with more than 500 hours of new content created a year. There are more than 150 wrestling stars and 300+ live events annually. WWE is a 30-year old business and is one of the most popular brands in the world.
The company is undergoing a business model transition away from pay-per-view live events to a Netflix (NASDAQ:NFLX)-like online subscription model. It is trying to cut out the middle man of DirecTV (DTV) and cable providers for the 12 live pay-per-view events they do a year.
To give you an idea of the popularity, Wrestlemania 29 did 1.1 million pay-per-view buys with a list price of $59.95. The other 11 events had a list price of $44.95. With WWE Network, you get all 12 live events for $9.99/month and more than 1000 hours of on-demand content from the historical library that will keep growing larger as time goes by.
The WWE Network launched on February 24, 2014 and ramped to about 670,000 subscribers by early May. The company says they are on track to hit 1 million by the end of the year. The main reason I believe there was a big gap between the sell-side models and the company 2015 OIBDA projects is these business model transitions take time and are not easy. Even though the value of the WWE Network to a typical fan is tremendous, offering more content at a cheaper price for anyone who would watch a handful of pay-per-view events a year, you can't just snap your fingers to get people to change behavior ingrained over decades.
And here is the key issue. Not every consumer has an Apple TV (NASDAQ:AAPL), Roku, or video-game console device, which is required to watch WWE Network on your television. This transition will take a lot more marketing dollars and time, as these devices become as prevalent in homes as the set-top box from DirecTV or cable are, which obviously have extremely high market share among pay TV consumers.
The Netflix comparison isn't accurate, as Netflix is available on many more devices, SmartTVs, DVD/Blu-ray players, etc. It will take time for the WWE Network app to gain as much ubiquity.
What is the floor valuation?
WWE Network will generate at least $200 million annually in TV contract revenue, as it undergoes the transition from pay-per-view revenue and profits to the WWE Network. Also, live events will produce at least $100 million a year in sales.
The key risk is higher-than-expected marketing and start-up costs for WWE Network and a slower subscriber ramp trajectory due to the internet device app penetration issues I outlined. Even though I believe WWE Network is the right business decision long-term, there are likely to be hiccups along the way. This requires a conservative entry point to be compensated for the WWE Network subscriber ramp execution risk.
WWE generated about $50 million in free-cash-flow ex-films from 2008 to 2012. The company is a unique asset with attractive content, but due to the subscriber ramp risk, I'd be comfortable with a floor valuation entry point at 10Xs the historical annual $50 million free-cash-flow level, which is $6.66. We can add 97c a share in net cash, giving us a price $7.63 a share.
At that level, I believe you have enough margin of safety and a skewed risk/reward setup to the upside, especially as other media companies will be sniffing around to buy World Wrestling Entertainment at bargain prices. You can adjust the floor valuation multiple of 10Xs as you see fit. This is an art, not a perfect science.
Disclosure: I have no positions in any stocks mentioned, but may initiate a long position in WWE over the next 72 hours. I wrote this article myself, and it expresses my own opinions. I am not receiving compensation for it (other than from Seeking Alpha). I have no business relationship with any company whose stock is mentioned in this article.