After initially trading higher following the release of first quarter results, Glu Mobile (NASDAQ:GLUU) continued to trade lower afterwards. The stock is now at levels not seen since February 2014, closing recently at $3.35. The main problem with Glu's stock is that the market grew sour on mobile game makers. Unless the company was Activision (NASDAQ:ATVI) or Electronic Arts (NASDAQ:EA), investors are selling Glu now and asking questions later. Bearishness is also very high: the short float is 15.7%. With shares down 34% from yearly highs, are Glu Mobile shares a buy, sell, or a hold?
Strong first quarter
Quarterly revenues grew to $44.5 million, up sharply from $24.6 million last year. Revenue was also 17% ahead of the high end of guidance. Glu boosted R&D and sales and marketing expenses.
Three Months Ended

Three Months Ended

31-Mar-14

31-Mar-13

Operating expenses
($ millions):

Research and development

15,579

11,630

Sales and marketing

9,485

5,008

General and administrative

4,926

3,919

Source: Glu Mobile
Higher expenses meant earnings for the quarter were nil, but still better than losses last year.
Glu has many game titles in the pipeline. Contract Killer 3, Frontline Commando 2, Motocross Meltdown and Dino Hunter are only a few of the titles that will contribute to future revenue. The market is ignoring Glu's future potential, and choosing instead to correlate its prospects with that of Zynga (NASDAQ:ZNGA):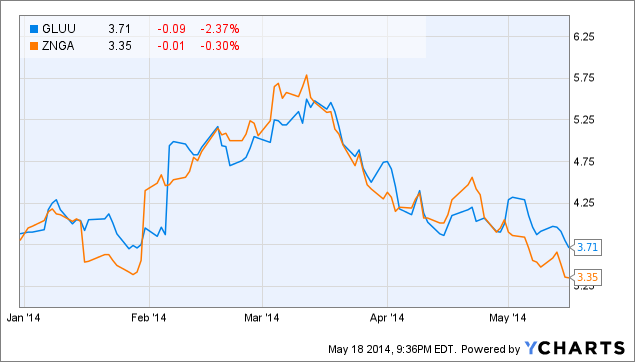 Zynga recently hired a Microsoft (NASDAQ:MSFT) Xbox Live exec to run Zynga Studios. The firm recently guided Q2 bookings that topped consensus estimates. It expects earnings will be lower than consensus (negative $0.08 to $0.07 per share compared to a loss of a penny).
The download count for the quarter for Glu was impressive. Mobile users made 105.6 million downloads for Glu's titles during the quarter. There were 7 million DAU (daily active users) in March 2014, and 64.5 million for the month.
Outlook
In the near term, the company expects non-GAAP revenue will be between $30.6 million - $32.7 million. Non-GAAP gross margin is expected to drop to 67%. Glue forecasts cash will be $33.5 million next quarter.
Glu expects top line growth for its casual games will be strong in the next 18 months. For 2014, Glu expects revenue (non-GAAP) will be between $155 million - $161.5 million.
Downside risks
Glu's stock has two major downside risks. The first is market risk. Ongoing bearishness in Zynga will mean Glu's stock will also face selling pressure. Speculators are souring on momentum stocks that were former high fliers. Shares of Groupon (NASDAQ:GRPN), whose prospects also depend on its presence on mobile devices, are down 49% this year. Zynga is down 12%.
Glu also filed an S3 that will give the company the right to issue $150 million worth of stock (common or preferred), debt securities, warrants, or subscription rights. Glu said in its Q1 conference call that it would raise funds to make acquisitions. Despite management's decent track record for making prudent acquisitions, any future acquisitions are not without risks. Still, Glu's acquisitions and investments in infrastructure should add to earnings in future quarters.
Robocop a drag
Investors expected Robocop to be net positive for Glu, Instead, royalty and hosting costs increased during the quarter. This added to the higher operating expenses, which totaled $30.1 million, up from $21.6 million last year. The higher costs, along with higher hosting fees, are two reasons Glu expects non-GAAP gross margin to fall.
King games
Investors should also expect King Digital Entertainment (BATS:KING) to be an ongoing competitive threat for Glu. King's addictive Candy Crush game accounted for a lower percentage of gross bookings (67% in Q1 versus 78% in Q1/2013), but bookings are still strong. King has 143 million DAUs, and 481 million MAUs.
Bottom line
On paper, Glu Mobile has strong prospects. Its revenue is growing fast enough to offset higher costs. Yet the negative overhang for the stock, along with Zynga, outweighs the risks of holding the stock at this time. Investors even irrationally sold down shares in mobile suppliers. This includes InvenSense (NYSE:INVN) and Himax Technologies (NASDAQ:HIMX). Part of the reason for the sell-off was that investors grew impatient waiting for those companies to potentially benefit from the Google (NASDAQ:GOOG) Glass project. Glu also built solutions in the Google Glass ecosystem last year. Clearly, Glu's investments in initiatives for the long-term will pay off.
Disclosure: I have no positions in any stocks mentioned, and no plans to initiate any positions within the next 72 hours. I wrote this article myself, and it expresses my own opinions. I am not receiving compensation for it (other than from Seeking Alpha). I have no business relationship with any company whose stock is mentioned in this article.