The following is a list of high dividend yield stocks with unusually high open option interest.

For each stock, we'll list the current option open interest, average option open interest, and the Put/Call ratio. To give you an idea of the liquidity backing up the dividend, we'll also list each stock's current ratio.

Options data sourced from Schaeffer's, dividend yield data sourced from Finviz.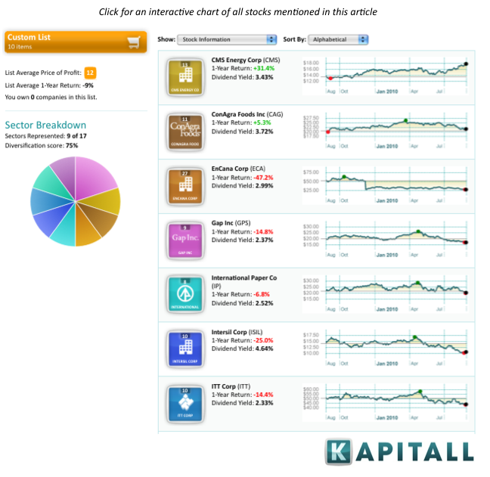 1. Sanofi-Aventis (NYSE:SNY): Drug Manufacturer. Market cap of $73.74B, offering a dividend yield of 5.18%. Current option open interest at 47,463 vs. avg. open option interest at 37,674 contracts (Put/Call ratio at 0.28). Current ratio at 2.4.

2. Intersil Corporation (NASDAQ:ISIL): Semiconductor Industry. Market cap of $1.28B, offering a dividend yield of 4.64%. Current option open interest at 20,554 vs. avg. open option interest at 17,035 contracts (Put/Call ratio at 0.18). Current ratio at 1.96.

3. MeadWestvaco Corporation (MWV): Packaging & Containers Industry. Market cap of $3.67B, offering a dividend yield of 4.28%. Current option open interest at 5,560 vs. avg. open option interest at 4,747 contracts (Put/Call ratio at 0.72). Current ratio at 1.97.

4. ConAgra Foods, Inc. (NYSE:CAG): Processed & Packaged Goods Industry. Market cap of $9.45B, offering a dividend yield of 3.72%. Current option open interest at 71,626 vs. avg. open option interest at 60,332 contracts (Put/Call ratio at 2.06). Current ratio at 1.94.

5. CMS Energy Corp. (NYSE:CMS): Diversified Utilities Industry. Market cap of $4.02B, offering a dividend yield of 3.43%. Current option open interest at 8,840 vs. avg. open option interest at 4,782 contracts (Put/Call ratio at 0.42). Current ratio at 1.51.

6. EnCana Corp. (NYSE:ECA): Major Integrated Oil & Gas Industry. Market cap of $19.69B, offering a dividend yield of 2.99%. Current option open interest at 68,644 vs. avg. open option interest at 43,613 contracts (Put/Call ratio at 0.87). Current ratio at 1.6.

7. Nordstrom Inc. (NYSE:JWN): Apparel Stores Industry. Market cap of $6.61B, offering a dividend yield of 2.65%. Current option open interest at 106,516 vs. avg. open option interest at 90,168 contracts (Put/Call ratio at 1.1). Current ratio at 2.4.

8. International Paper Co. (NYSE:IP): Paper & Paper Products Industry. Market cap of $8.69B, offering a dividend yield of 2.52%. Current option open interest at 202,654 vs. avg. open option interest at 174,736 contracts (Put/Call ratio at 1.26). Current ratio at 1.86.

9. Gap Inc. (NYSE:GPS): Apparel Stores Industry. Market cap of $11.00B, offering a dividend yield of 2.37%. Current option open interest at 106,320 vs. avg. open option interest at 91,598 contracts (Put/Call ratio at 0.28). Current ratio at 2.

10. ITT Corporation (NYSE:ITT): Diversified Machinery Industry. Market cap of $7.89B, offering a dividend yield of 2.33%. Current option open interest at 21,651 vs. avg. open option interest at 17,544 contracts (Put/Call ratio at 0.54). Current ratio at 1.65.


Disclosure: No positions